Marsh Broker Julie Reinhardt Recognized as a 2022 Utilities Power Broker
Julie Reinhardt, Senior Vice President, Marsh
Innovation in insurance tends to be thought of in terms of technology or underwriting, but a broker's creativity can make a huge difference when clients have unusual operations or new exposures. At least, that's what Julie Reinhardt's clients have found.
Reinhardt has come up with some pretty innovative solutions for her utilities clients over the past year.
"Our company is a utility and is diversified into other energy and industrial operations," said one risk manager. "We have access to mutuals, and with Julie's help, we've been able to extend those coverages to our non-regulated operations that are well outside the wheelhouse of those mutuals."
The client also lauded Reinhardt's help with complex claims: "Julie has been invaluable in helping us maintain a good relationship with insurers, and counseling us on dealing with the results of claims when approaching the markets, and bringing creative coverage ideas to the table when new exposure arise. Julie helped us secure a social-unrest policy. We placed that to protect a large project we started this year.
That policy was placed via the London syndicates."
Another client also recognized Reinhardt's innovating thinking: "I recently wanted to explore how our type of company would be able to use captives for managing our program, and Julie was able to connect me with a few people," said the risk manager.
2022 Utilities Power Broker Winners and Finalists
---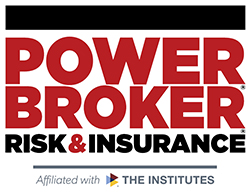 What is a Power Broker?
A Risk & Insurance Power Broker® is an individual who stands out among their peers for the exceptional client work they delivered over the past year. While brokers play many key roles in the insurance industry and risk profession, a Power Broker® award recognizes problem solving, customer service and industry knowledge.
Our goal is to broadly recognize and promote outstanding risk management and customer service among the brokerage community.
Who selects the winners?
Power Brokers are selected by risk managers based on the strength of the testimonials they provide to a team of 15 Risk & Insurance editors and writers.