Conference Targets Next Steps for Employers
NWCDC leaders discuss what 2014 attendees can look forward to.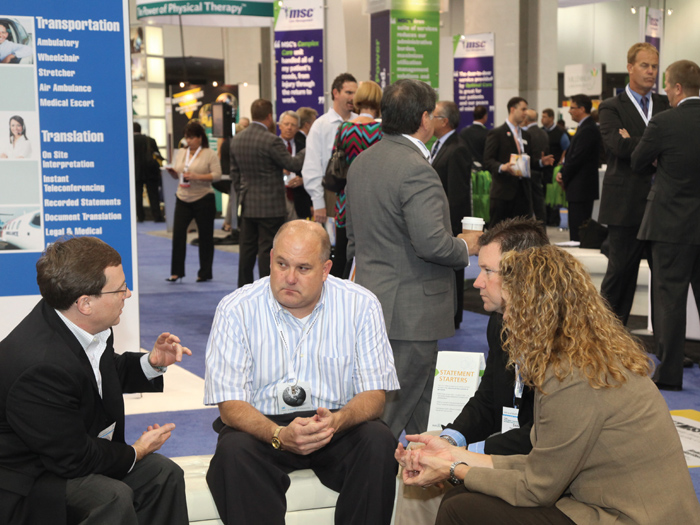 With session proposals streaming in, leaders of the National Workers' Compensation and Disability Conference® & Expo are working diligently to develop the very best program for the 2014 event. They weighed in with their thoughts on the issues most deserving of conference attention.
Denise Gillen-Algire
"I'm really excited about the continuing and increased focus on disability management and integrated disability management," said Denise Gillen-Algire, principal of Risk Navigation Group. "Employers manage disability for a variety of things, not just workers' comp — for nonoccupational injuries, say short-term disability or other programs. If you have an integrated approach, it allows synergies you wouldn't have, you don't have silos."
With her nursing background and experience as a nurse case manager, Gillen-Algire appreciates the holistic approach to injured workers that is enabled through integrated disability management. Closely tied in with integrated disability management is the idea of Total Worker Health, a strategy that integrates occupational safety and health prevention with health promotion to advance health and well-being among employees.
"It's looking at integrating occupational health and safety — pre-loss and post-loss and health promotion and a strong focus on well-being," she said. "You can't look at a person through a pinhole, you're looking at the whole person. It's important to understand how it impacts the effectiveness of productivity and workers' comp."
Gillen-Algire says sessions that address IDM and TWH are timely, given the Affordable Care Act's increased focus on health and benefits. Employers are finding that a focus on IDM can mean an improved bottom line.
"Keep in mind workers' comp is a big deal to us, but it's a very small percentage of total spend for employers in terms of health costs," she said. "What employers are saying is 'if I ignore this, it affects my health plan costs and productivity for workers.' There's definitely an increased focus on integrating those programs and medical management is smack dab in the middle of that."
Roberto Ceniceros
An emphasis on the needs of employers is the focus of the newest conference team member. "I'm looking to increase the number of employers speaking at the conference — providing information on their specific programs, how they operate their workers' comp programs within their companies," said Roberto Ceniceros, senior editor with Risk & Insurance® magazine.
For nearly two decades, Ceniceros has written extensively on workers' comp for a leading industry publication. He has also produced a popular workers' comp blog and developed a virtual workers' comp conference to address the many changes taking place in the system.
"The risk has become much more complex," Ceniceros noted. "At the same time, the vendor community has grown tremendously to help employers address those risks … while that provides a lot of services and help that employers need, it also raises another potential cost issue for employers."
Additionally, Ceniceros says it requires employers to become adept at managing the service providers as well as the risk. That has raised the expectations of employers attending conferences.
"As the level of risk has grown more complex, the response [of some employers] has grown more sophisticated," he said. "They are looking for higher quality levels of education."
Ceniceros said other people are new to the workers' comp system, having taken on the responsibilities, and are seeking information on system fundamentals.
"I think there is … always a need for knowledge on operating a program, on what employers have done in their particular shops because there are always differences in what employers need," he said. "Return to work has been around for as long as I know. But there is still always a need to understand how specific employers have put their RTW programs together and what they do day in and day out to make them more effective and efficient."
Mark Walls
"I'm very excited to see the different proposals we are receiving, which are going to give us a lot of great options to put together a program that will be very educational and beneficial to the attendees," said Mark Walls, senior vice president of workers' compensation market research leader at Marsh USA and founder/manager of the WorkCompAnalysis group on LinkedIn.
"The one thing that is certain in workers' comp is that there will always be change. It's constantly evolving and everyone in it has to be sensitive to that and be prepared to evolve with it," he said. "Things that were best practices 10 years ago are the norm today. Employers are constantly looking to enhance their workers' comp programs."
One thing that has not changed is the issue of rising costs, especially medical. With loss ratios above 100 percent reported by many workers' comp carriers, pricing increases are being seen across the nation.
"As medical costs have been rising, payers are investing heavily in different medical management tools to try to control those with case management, utilization review, medical networks, etc.," Walls said. "What we are seeing more and more is the need for people to really monitor the ROI on these medical management protocols. Are they actually saving them money and reducing costs, or simply shifting dollars around? It requires a lot of diligence to ensure their medical management programs are delivering better outcomes and savings rather than shifting dollars from one pocket to another."
Walls is also anxious to see sessions that help employers better manage their data for optimal outcomes. "Analytics and benchmarking have been buzzwords for a number of years, and there's been a lot of investment by vendors in that type of thing," Walls said. "What I hear is, 'it's nice to have all this data in one place but what do you do with it and what does it tell me?' So the first step is gathering the data, and the next is analyzing it to determine what it means and come up with an action plan. Data alone is not actionable. It's not just a matter of having data available, you need to do something with it."
Nancy Grover is the president of NMG Consulting and the Editor of Workers' Compensation Report, a publication of our parent company, LRP Publications. She can be reached at
[email protected]