Business Travelers Are Hopping Zoom Meetings Instead of Planes. Here's What It Means for the Future
The pandemic blossomed due to global interconnectedness. With business travel limited for the foreseeable future, the industry is changing faster — and sooner — than anticipated.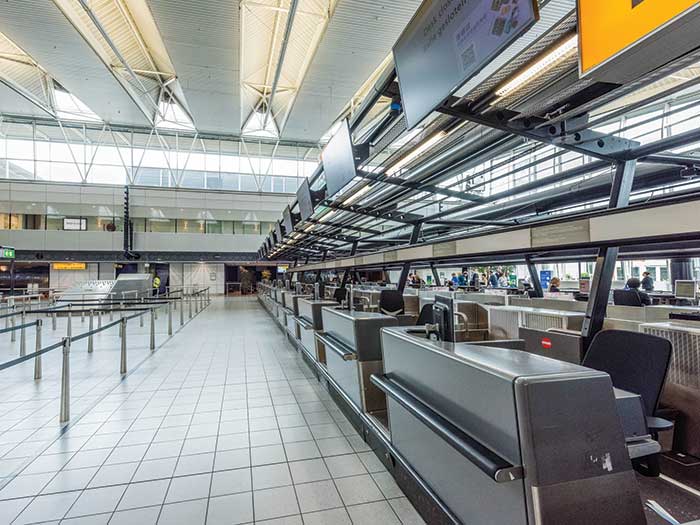 The interconnectedness of the world enables us to get on a plane and fly to the other side of the world in a matter of hours. It also grants us the luxury of Amazon Prime and the Internet.
Interconnectedness, both technical and personal, also carry tremendous risks.
Back when consumer spending was healthy, U.S. travelers took 462 million domestic business trips between 2018 and 2019. That number was expected to reach nearly 500 million by 2022, according to TravelPerk; then COVID-19 hit.
According to Suzanne Sangiovese, commercial and communications director at Riskline, international business travel and the free movement across borders such as the European Union could have been factors that drove the rapid spread of the novel coronavirus from its epicenter in Wuhan, China in December 2019.
"This is not the same world as the 1918 Spanish influenza," said Sangiovese.
"Trade, tourism, investment, supply chains — everything has been impacted by coronavirus. A lot of countries still have the free movement of people and labor. Because of this, viruses spread a lot faster when people don't need to go through border control."
"Every aspect of our life is impacted by our global economy and global travel in particular," added Crystal McElrath, partner at Swift Currie.
"Diseases can spread before data, projections or supplies for the disease do."
A New Duty of Care
Now, with nearly 3 million global cases of COVID-19 as of the end of April, business travel has halted almost completely.
According to the Global Business Travel Association, 98% of its member organizations suspended international travel and 92% suspended domestic travel. Most organizations have implemented work from home policies, and nearly half have restricted office access completely.
Despite the lack of employee travel, employers now have a new sense of accountability for their employees while they work from their respective homes, which could be geographically dislocated from one another.
"Travel risk management has now turned to workplace safety," said Sangiovese.
"Duty of care is really important … One of the best things employers can do is ensure that [they] have good policies in place that employees are following even when they're at home."
Insurers are also preparing to solve for an entirely unforeseen type of claim, and attorneys are gearing up for what could be many years of COVID-19 related litigation.
"We've never seen this disease or the legislation it has sparked, so this is a new frontier," explained McElrath.
"Our country hasn't seen a pandemic like this in 100 years, and many of the laws we have now were not in place then. For instance, we now have the Americans with Disabilities Act and Family Medical Leave Act — the latter of which has been significantly expanded by the March 2020 Families First Coronavirus Response Act (FFCRA). There is no
precedent for litigation surrounding violations of the EFMLA under the FFCRA. There is no precedent for COVID-19 exposure claims under workers' compensation laws."
Organizations must also keep employees constantly informed. Not only are they responsible for providing a platform to distribute information, but they also must make sure that that information is correct.
"There's an element of misinformation that's being spread with the virus that also impacts and heightens the risk," said Sangiovese. "People can possibly get infected by misreading the information that's out there."
Implications for Future Travel
Before the outbreak of COVID-19, business travel was already entering a period of evolution. A pandemic outbreak is surely a catalyst for more change.
"With the aviation industry, business travel really impacts carbon emission, and people were already thinking about traveling smarter," said Sangiovese.
Not only will employers be looking for a way to limit their carbon footprint, but they will now also be operating on slimmer budgets and with a more comprehensive mindset regarding the effectiveness of virtual interaction.
"The savings from the near-zero travel expenses in these months will not go unnoticed in a time when many businesses are looking for increased cost efficiency," said Isabelle Santenac, EY global insurance leader.
"With virtual technologies allowing for near-perfect remote experiences, any business trip will need to be approved with a much tighter business case than in the past."
On top of stricter budgets, employers will be seeking more efficient coverage for their travelers.
"Business travel insurance was already morphing into something far more comprehensive than flight delays and cancellations or the occasional medical emergency," said Santenac.
"This shift towards a comprehensive protection program covering several other risks such as civil unrest, natural disaster and terrorism is now being accelerated, and virus outbreaks will come increasingly into focus."
Business interruption costs resulting from pandemic were scarcely covered in insurance policies before the current outbreak, leaving many businesses on the hook for their own losses.
"Post recovery, we may see something like what we saw post-September 11th," said Sangiovese. "Prior to that, terrorism wasn't typically covered in insurance policies. I think we might start to see some of the same; virus outbreaks will start to get covered in the future."
Geopolitical Impact
In a post COVID-19 world, the considerations that employers take before sending workers on trips will likely be different, but so will the way business is conducted in general.
"The government restrictions on travel have forced many businesses to develop methods for conducting international business," said McElrath.
"Many organizations may find it is more prudent to continue those practices than to risk resuming the same level of international travel, at least in the next 18 months."
As business has become more interconnected, specifically in the 21st century, third-party partnerships and diversified supply chains have become more common. However, now that there are government travel restrictions in place, a localized business structure may be more appealing than it was prior to the outbreak.
"We'll definitely start to see some more protectionism in terms of economic policies and geo-political policies," said Sangiovese, regarding revamped travel and trade standards and checks.
"When business travel starts again, supply chains and where people conduct business could become more localized. Companies will have second thoughts about sending employees halfway around the world if they don't have to. If another form of communication virtually works, then employers will think twice about who they're doing business with and where supply is located."
How to Efficiently Manage Travel Risk
With new regulations, risk exposures and standards, there are certain strategies employers will have to diligently pay attention to in order to protect employees on the road.
"We expect business travel insurance to increasingly merge prevention and risk management," said Santenac.
"This means offering employees and risk managers the ability to rapidly receive pre-trip information for pre-risk assessment, track the employees in real-time and activate real-time communication when needed. This will be particularly relevant in the future, when we expect temporary travel bans for specific destinations that don't meet certain standards."
Providing protection while workers travel requires the support of good travel risk management and insurance coverage, which calls for sufficient understanding of your own employees' risk profiles.
From a risk management perspective, McElrath advised employers test their foundation with the following: "Conduct an audit of your insurance coverage with a broker you trust. Create a crisis response plan and a team — if your organization is large enough — designating who will be responsible for the various types of risks associated with travel, such as IT concerns, cyber security threats, PR responses, HR or personnel matters, safety issues, and legal considerations."
In a socioeconomic environment that no one could have prepared for, it has become increasingly important to brace travelers — and entire organizations — for the uncertainty of tomorrow. &
Emily Spennato is a former staff writer with Risk & Insurance.