With Fewer Medical Staff, Health Care Could Easily See Increased Professional Liability and Workers' Comp Claims
All industries face a talent shortage. Health care's staff deficit could harm us all.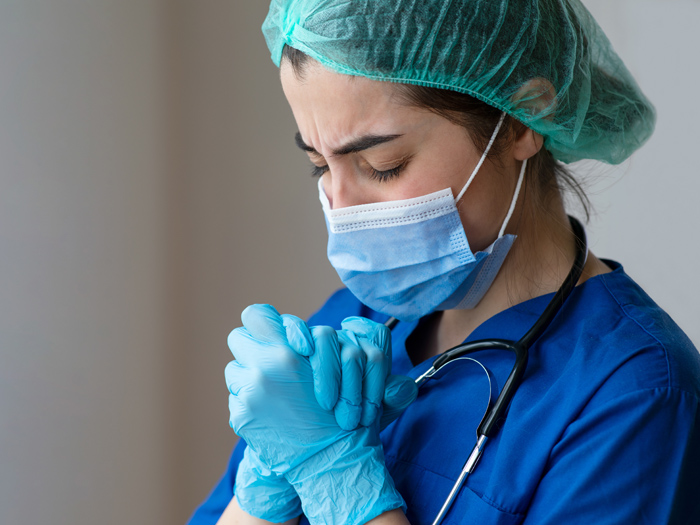 By the end of the first quarter of 2022, the U.S. saw a record 11.5 million job openings, the Bureau of Labor Statistics reported.
Every industry is feeling the strain.
The National Association of Manufacturers, as an example, is forecasting that 2.1 million manufacturing jobs could go unfilled by 2030. The hospitality industry reports an employee turnover rate of 73.8%. Higher education is starting to see an upswing since the onset of the pandemic, yet still faces a 40,000 deficit in staff.
And though every industry is facing a talent shortage, none will hurt near so many people as the health care industry.
Why? A shortage of providers can lead to delays in care, even more overworked and weary medical professionals deciding to leave the profession, and medical mishaps that could lead to an accidental diagnosis or worse, death, of a patient. These types of mistakes can have several implications, including for professional liability, general liability and workers' comp.
In 2019, the Association of American Medical Colleges (AAMC) released a study showing the U.S. had nearly 20,000 fewer doctors than required to meet the country's health care needs. At the time of release, AAMC's study said this dip in labor could reach 134,000 by 2034.
And, of course, that all changed when the coronavirus graced our shores.
"The pandemic placed a heavier weight on everything," said Jessica Tipping, division vice president — healthcare East, Global Risk Solutions, Liberty Mutual Insurance. "But the labor shortage was bubbling up before the pandemic … it was only exacerbated by the pandemic."
Ways a Pandemic Exacerbates Risk
A number of factors were driving professionals out of health care long before COVID. An obvious one: Baby boomers were aging out of the workforce, and the pandemic only accelerated retirement.
"The demographics of the workforce have shifted. In 2017, over half of nurses were age 50 and over, and nearly 30% were age 60 and older. Data from the American Association of Medical Colleges also showed that about a third of currently practicing physicians will reach retirement age in the next decade," said Akin Demehin, senior director of quality and patient safety at the American Hospital Association.
Though health care was just starting to prepare for the inevitability of losing staff, the pandemic convinced many to retire early, leaving the industry with less workers at a faster rate and in a desperate time.
That became a perfect storm for those left in the profession to feel extreme levels of burnout.
"Burnout can lead to added pressure, emotional exhaustion, depersonalization, diminished feelings of personal accomplishment, all of which are critical in health care and those that serve at the bedside," said Tipping.
Burnout in the medical industry is nothing new and has been recorded and reported on for years. What the pandemic did was place health care workers in the impossible situation of caring for patients who were dying en masse.
Professionals were pushed to their physical and emotional limits as this public health crisis took its toll. Younger professionals not near retirement started to exit the profession due to burnout.
Morning Consult, a decision intelligence company, found that, since Feb. 14, 2020, 18% of health care workers have quit their jobs and 12% have been laid off. On top of that, 31% of professionals still in health care said they considered leaving their job during the pandemic, including 19% who said they've considered leaving the health care industry entirely.
"There became this cycle of caregivers leaving sooner, [which made] hospitals question if they were prepared to replace them, and it changed things," Tipping said.
The Short-Term Impact
Imagine for a moment another pandemic rises, like some predict is likely in our lifetimes. What happens if there aren't enough trained medical professionals around to care for us? It's a scary thought.
Even on the small scale, having fewer medical professionals can impact care.
"At its core, health care is about people caring for people," said Demehin.
"Hospitals and health systems cannot maintain access to high-quality patient care without a qualified, dedicated workforce of nurses, physicians, allied health professionals and so many others vital to serving patients and communities."
By 2025, McKinsey reports the U.S. could face a deficit of 200,000 to 450,000 nurses available for direct patient care, equating to a 10 to 20% gap. That would mean that in order to course correct, the health care industry would need at least double the graduates of today to join the profession for the next three years — and every graduate would need to stay in the profession.
So what's actually happening in health care facilities?
"In the short-term, systems are working to adapt with what they have and even are working to survive," said Tipping. "Systems are decreasing or even discontinuing some services because of inadequate staff."
On the other hand, she said, some facilities are experiencing increases in labor costs because of overtime fees or the cost of using staffing agencies to help fill in the gaps.
In the same vein, some facilities are feeling the pressure to accelerate onboarding processes to get more staff at patient bedsides.
"This can often lead to workers feeling unprepared and obviously stressed and can lead to safety issues," said Tipping.
And as Tipping alluded, these exercises may be a short-term patch to help keep health care facilities up and running, but they can also have long-term consequences.
The Dangers of Having Less Medical Staff
As health care facilities pivot their efforts to get a better handle on the situation, they need to think of how these same efforts could impact them in the future.
For one thing, overworked and exhausted staff who are asked to work longer hours with more patients can easily miss a step or two. But one small slip up in health care isn't like missing a deadline in, say, a career in journalism.
"The more your workers are distracted and not on the ball, the more likely it will create issues with patient safety and patient care," said Monica DiCesare, chief underwriting officer, liability products, IronHealth, Liberty Mutual Insurance.
Accidents, misdiagnosis, unintentional medical errors and delays in treatment can be serious professional liability issues that health care facilities can face. Not to mention the potential for malpractice suits. If any slip-up were to occur, it could ultimately lead to morbidity and mortality rates increasing.
"That will lead to an increase in professional liability claims," said DiCesare.
Workers' compensation is another line that will feel the strain, as medical professionals who were left to take on the higher levels of patient care find themselves in harm's way.
"Facilities would likely see a rise in overexertion and repetitive motion type injuries," Tipping said.
"When you have reduced staff you're going to have folks who are just too busy to have a second or even third set of hands for patient lifting, to safely lift and turn patients," she explained. "When you don't have the support, you're going to have an increase and an arise of injury claims."
Another area that can drive workers' comp claims is violence towards health care staff. Tipping said that since the onset of the pandemic, there has been a rise in verbal abuse from patients and patient families toward health care workers.
"Without enough staff to help deescalate or intervene in violence, that can lead to an increase in physical assaults," she added.
Attracting and Retaining Health Care Talent
It's the question everyone is asking these days: How can we even attract and retain talent during a time dubbed "The Great Resignation?" For hospitals and other health care facilities, there are a few strategies and places to start.
"To mitigate staffing shortages, hospitals are ramping up recruitment efforts, and some are providing referral and retention bonuses, offering loan forgiveness initiatives, and implementing innovative new training programs," Demehin said.
"To address burnout and bolster retention, hospitals are increasing pay, expanding benefits and providing team members with mental and physical support programming. Some are creating early-warning systems to identify stressors before they become overwhelming, and many are pursuing innovations to help caregivers work more efficiently."
But perhaps even more important than attracting new talent is the retaining of talent already in the workforce. The workers already in the field are trained and ready to go, and so they have knowledge and experience that is vital to help curb potential risk.
"To keep current workers engaged, part of that is promoting a positive culture, which can be very challenging in these times," Tipping said. "But if you create a culture that promotes safety, encourages your staff to speak up and promote safety for themselves and for their patients, you can get some more buy-in to help mitigate at least some of the risks associated with a short staff."
Another method would be to review employee benefit packages. Finding ways to create a necessary life-work balance through benefits, vacation days, flexibility in scheduling where possible can go a long way in helping staff members feel not only appreciated but also mitigate some of the risks specifically associated with burnout.
"Your existing employees are critical to the operation of a health care system," said Tipping. "So working to help them manage their stress and prevent burnout is a great place to start." &
Autumn Demberger is the content strategist at Risk & Insurance®. She can be reached at
[email protected]
.