What The Institutes' Pete Miller Has Learned One Season Into the Predict & Prevent Podcast
Predict & Prevent is on the rise, promising to better protect society and save lives. Pete Miller shares the lessons he learned during the first season of The Institutes' podcast.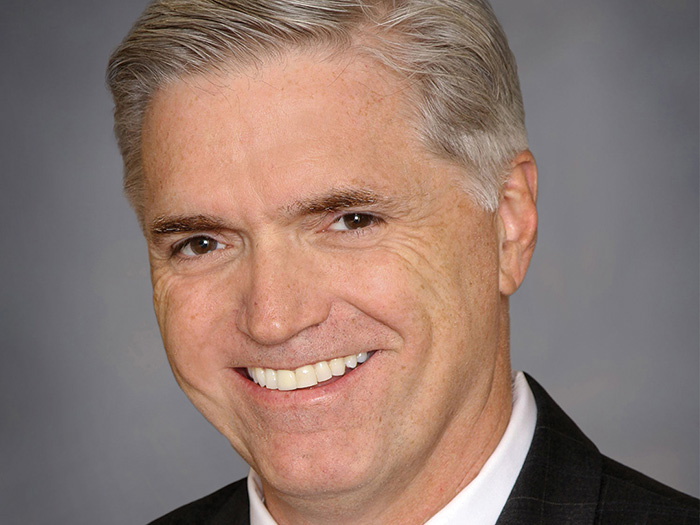 The best claim is the one that never happens.
That's what the team behind the Predict & Prevent™ podcast believes. But to truly predict and prevent a claim requires a deviation from the traditional "detect and repair" mentality of risk management.
Podcast host Pete Miller, CEO and president of The Institutes Knowledge Group, has spent this inaugural 8-episode season talking to guests from across the risk management and insurance industry about the prediction and prevention methods already in play.
From managing wildfire and other natural catastrophes to curbing property risks and workers' compensation injuries to reviewing insurance legislation, Predict & Prevent is on the rise, promising to better protect society and save lives.
Miller sat down with Risk & Insurance to talk about some of the biggest lessons he's learned throughout this first season of Predict & Prevent.
Risk & Insurance: For our readers who may not have had the opportunity to hear Predict & Prevent yet, could you give them the elevator pitch of what they can expect out of the newly released first season? 
Pete Miller: Let me start here: Why is predict and prevent a thing? Because I start at the outcome we want and work backwards, right?
For a policyholder, the best loss is the one that doesn't happen, and I think this industry is at a point in time, with technology and data, where it can add tremendous value to policyholders by helping them predict and prevent losses.
The purpose of this podcast is for us to explore that so folks who are involved in risk management and insurance can get ideas and spark their own thinking about how they can do that.
R&I: Now that you've gotten this first season under your belt, what have been some of your favorite parts? 
PM: Well, first of all, meeting the people. There are so many creative minds who are in this industry or are servicing this industry, like its vendors, who make me very excited about the future.
And they're already saving lives and making people's lives better and safer. It's been very interesting. I've gotten so many comments [from listeners] saying, "Hey, yeah, that's what we need to do. That's what our industry needs to do."
So, it's exciting to me. There's a growing awareness that now is the time for change, and we're at an inflection point. The guests help illustrate particular instances.
There's also just this general reaction I've been getting, like when I go around to people and they'll tell me, "Ah, you know what? I heard your podcast, and it's really cool because that's what we ought to be doing." I'll get LinkedIn messages and all kinds of outreach like that.
I see now how many people in this industry care about this issue. That's why I like the industry. And they're really, I think, starting to accelerate the message we're trying to get across.
R&I: A lot goes into making something like this. How would you describe the podcast-making process? Have you ever done this before? How'd you approach it? 
PM: I've never done it before. Fortunately, I work with really smart people. I think what was a really good idea was to try to get a strategy before we started. We didn't think of [each episode] as individual podcasts, but sort of, "Let's try to tell a story."
And that was exciting to me, because I like things organized and I can go, "Okay, this is how this all fits together."
Of course, we made a couple of deviations one way or the other when necessary.
There's a lot more to podcast-making, frankly. I know that everybody worked really hard at it. For me, getting preproduction videos of interviews with the guests was super helpful. And then being able to take advantage of the preproduction research into each guest's business and predict and prevent offerings. I looked at every single thing to make sure I was prepared for the recordings.
R&I: Who would you say are some standout guests?
PM: I was impressed with them all. There's two that I found very intriguing for what they're doing. First was Whisker Labs' Ting [Ep. 2: Hidden Dangers Uncovered], because to me, genius is being able to take something really complex and make it simple. And that's the Ting.
[Editor's note: Whisker Labs' Ting is a home intelligence technology that detects and alerts to potential fire hazards before they turn into electrical fires. It is a small device that plugs into the wall.]
They said that was preventing upwards of 3,500 house fires a year already.
Like I said, people who can take really complex ideas and can distill them and still cover all the complexities but make it an easy thing for people to use — that's genius. So that was one standout for me.
The other one I found really intriguing, and it's because I've got a nerd mind, was StrongArm Technologies, where they place a wearable device on warehouse workers [Ep. 5: Predicting Wildfires, Worker Injury with Better Risk Data].
[Editor's note: StrongArm has designed a small device that can be worn on the chest. It sends real-time alerts to workers who may be lifting, pulling or straining in a way that could cause injury, in order to help them correct their movements.]
During the recording, I asked Sean Petterson, CEO at StrongArm, about how the device works from person to person. I said something like, "Well, wait a sec, there's like a fulcrum arm calculation going on here. Because if you're six foot six, the hinge point at your hips means that fulcrum arm is longer. And if you're five foot one, it's shorter. So how do you know?"
That was very intriguing to me, because I knew the device must have to be learning in real time about the individual wearer.
Sean said, "Yeah, we take the first 15 minutes or so and we learn about the person that the device is on."
The arc of somebody bending their back, that distance is greater for a bigger person than a smaller person. And that's two different risk profiles. And I thought, "Ah, that's very interesting." Because what they're doing is they're basically getting real-time feedback and then making a decision on whether the fulcrum arm is longer.
I'm not trying to get too technical, but what was going through my brain was, "Wait a second, that's really cool."
R&I: What are some of the interesting things that you've learned on this journey, in terms of predict and prevent?
PM: I learned quite a bit. I've learned that, again, there's a lot of creative minds. I learned that there's a real appetite for this. I learned that a lot of people approach it through things like building codes. There's a general awareness that the industry really can provide a value-add service.
Change is hard, and there's 350 years of an indemnification business model already in place. But it's like, "Oh, wait a sec. For a lot of reasons, including costs, including replacement costs and inflation, let's try to prevent the loss."
And from my point of view, that's the right thing to do. It's just good business. It's like, "Hey, guess what? I just saved you a problem you never even knew you had." People are getting excited about that.
R&I: Do you feel the concept of "predict and prevent" has changed for you now that you've gone through this process? In what ways? 
PM: For sure. I tended to view it as "real time," because that's my background. I did a lot of work in AI in graduate school studies, as well as creating very early AI systems years ago. So I get excited about that.
But I think there's a bigger story around resiliency, in particular. Like building codes and similar areas on the preventative side. And there are resources and organizations that have been around for a while doing that, like IBHS and IIHS-HLDI — those have been around implementing crash avoidance systems and similar telematics.
I've started to see predict and prevent when there's a combination of real-time technologies with resiliency, and that makes this a much more effective strategic direction or approach. I think this is going to protect and save a lot of lives.
R&I: What excites you most about the next season?  
PM: It's endless; there's so many things.
I'm very, very interested in continuing to see not only the tools but also the business arc that says, "Oh, this is good for business — how can we demonstrate that?"
Most importantly, it's making people's lives better. There's a whole host of different things we can do. I think that the realization of where predict and prevent can be used is growing across more lines of business, and more products, and more devices. I'm very excited to continue exploring both the business case for it and the technology case, and shedding light on that case. &
---
Predict & Prevent™
An emerging strategy of harnessing technology and prioritizing resiliency to combat the biggest risk challenges facing society. Host Peter Miller, president and CEO of The Institutes, and leading experts examine how traditional risk management, which relies heavily on insurance and detecting and repairing after a loss occurs, is transitioning to Predict & Prevent™ to keep up with a changing risk landscape. The eight-episode season establishes what a Predict & Prevent strategy means, why it is urgently needed and provides a view to the future of risk management.
Available at Spotify, Apple Podcasts and other listening platforms.
Autumn Demberger is the content strategist at Risk & Insurance®. She can be reached at
[email protected]
.