Risk & Insurance News + Notes: Ida Expected to Be Among Most Costly Hurricanes on Record, Beazley Tech Report Finds Cyber Risk Blind Spot and More
A compilation of the latest announcements, partnerships and products that are likely to have an impact on the insurance industry today.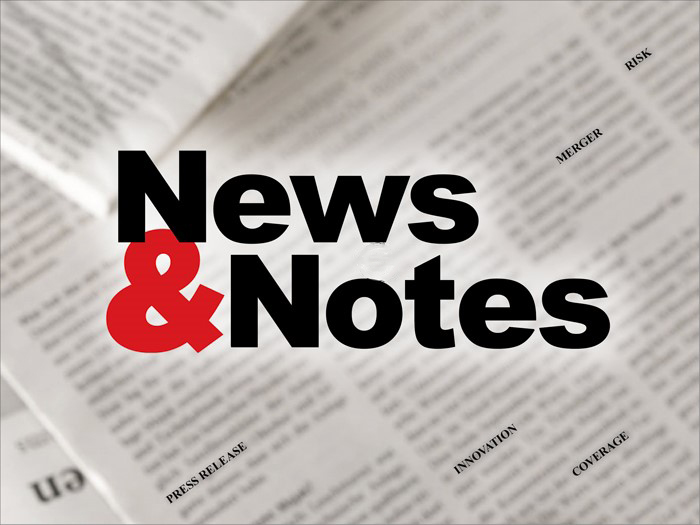 Ida Expected to Be Among Most Costly Hurricanes to Impact U.S. Mainland, According to Aon Catastrophe Report
The most recent Global Catastrophe Recap report from Aon revealed steep losses due to late-summer natural hazard events around the world.
In the case of Hurricane Ida, which caused substantial wind and inland flood damage across the southeast, mid-Atlantic and northeast regions of the U.S., "total direct economic losses were anticipated to reach well into the tens of billions (USD)," according to the report.
Private and public entities can expect their exposures from Ida to tally into the "double-digit billions (USD)," as Aon estimates that "a sizeable portion of the economic damage due to coastal and inland flooding was not expected to be insured."
"Ida will likely become one of the costliest U.S. mainland hurricanes on record both on a nominal and inflation-adjusted basis," as noted in an Aon press release.
Steve Bowen, managing director and head of Catastrophe Insight on the Impact Forecasting team at Aon, said, "As larger-scale disasters occur with more intensity and subsequently result in greater impacts, this has put a spotlight on areas where gaps lie in humanitarian and insurance protection."
"Hurricane Ida's catastrophic impacts in the United States highlighted how much work is yet to be done to better insure around inland and coastal flooding."
The report also outlines the humanitarian and economic impact of the 7.2-magnitude Earthquake that struck Haiti as well as droughts, wildfires and severe flooding in South America, Europe, Northern Africa and China in August.
"How governmental bodies work with private sector groups to improve hazard protection and aim to better and more smartly rebuild will be key to lowering future natural peril risk," noted Bowen.
Beazley Tech Report Reveals Potential Cyber Risk Blind Spot 
Beazley's recent report Spotlight on Technology Risk  found the COVID-19 pandemic to have been the "biggest catalyst of operational and strategic change in a generation."
With businesses forced to adapt their technology infrastructure to new ways of operating, a press released noted that doors were left open to "cyber criminals who have moved fast to exploit staff, processes and networks that were suddenly exposed beyond the corporate firewall."
Against this backdrop, technology risks were ranked higher than any other category of risk by the executives surveyed for the report.
Cyber risks, in particular, came in as the top concern of 38% of U.S. leaders surveyed and 29% among UK executives.
The industries which felt most exposed to cyber threats included energy and utilities, with 40% of businesses ranking this their top risk, followed by retail and technology media and telecoms (TMT), both with 38% of companies ranking cyber as a top risk.
U.S. companies appeared to feel more resilient than their UK counterparts with 55% feeling "very prepared to anticipate and respond to cyber risk" as opposed to 34% of UK respondents.
The report also revealed a blind spot around intellectual property (IP).
"The failure to recognize and protect the value of assets such as technological know-how, trademarks, patents or other intangible assets," was ranked as a top concern for only 11% of business leaders.
Given that intangible assets account for 75% of global business value, the report flagged the low-risk ranking assigned to IP as a "potential blind spot that may require more forceful remediation, particularly given that only 40% of businesses report they feel well prepared to manage it."
PRMA Summit to Highlight Industry Resilience and Adaptation this November
Mitigating the impact of COVID-19 is at the center of this year's Private Risk Management Association (PRMA) Summit. The three-day conference will take place November 7 – 9 at the Loew's Chicago O'Hare Hotel in Rosemont, Illinois.
Expected attendees include high-net-worth insurance specialists from across the nation The Summit's general session will focus on diversity, equity and inclusion (DEI) and a look at the future of claims given all of the opportunities available through technology.
Walter Bond, a motivational speaker and former NBA player, will kick off the Summit with an inspirational message about resilience, attitude and developing a "shark" mindset.
More than 50 speakers have been confirmed to deliver 20 informational sessions.
"Our goal is for participants to walk away with the knowledge they need to serve their clients best. They'll gain a deeper understanding of industry trends and have multiple opportunities for building connections, both of which will help them meet their clients' needs more efficiently," said Jason Ott, president of the PRMA Board of Trustees.
Guests who cannot attend the in-person Summit may register to attend the Virtual Summit from November 10 – 12.
Associated Insurance Administrators Continues Regional Expansion by Entering the Florida Commercial Insurance Market
Associated Insurance Administrators (AIA) will soon offer its workers' compensation and commercial specialty insurance products to independent insurance agents and brokers in Florida.
According to the Insurance Information Institute, Florida is the third-largest state in the United States in terms of direct premiums written for workers' comp coverages and one of the states showing the greatest increase in insurance coverage costs.
Patrick Albrecht, AIA president commented, "With our new Loss Control Hub, I believe that we will be able to help agencies guide Florida business insurance clients through the steps they need to improve their loss control and therefore lower their claims exposure."
"Beyond just saving money, loss control also helps save lives, and businesses that have fewer accidents inherently run more efficiently and profitably." &
Raquel Moreno is a staff writer with Risk & Insurance. She can be reached at
[email protected]
.