Risk & Insurance News + Notes: Ballantyne Brokers Announces Launch, Aon Reports Parametric Product Surge and More
A compilation of the latest announcements, partnerships and products that are likely to have an impact on the insurance industry today.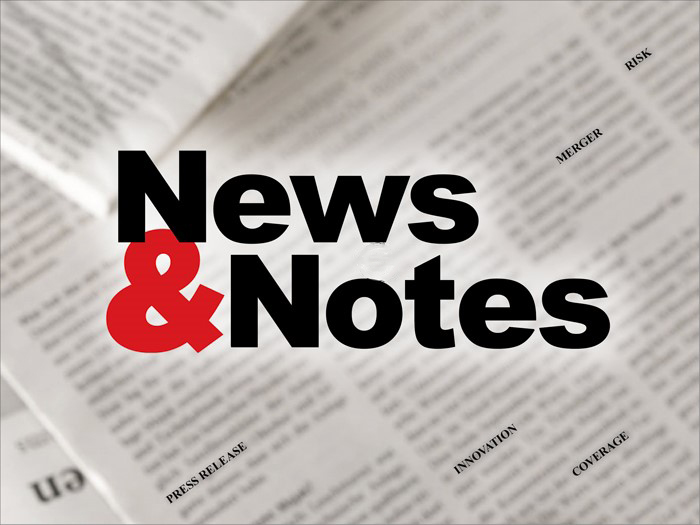 Ballantyne Brokers Announces New Brokerage Launch
Ballantyne Brokers Ltd (Ballantyne) officially announced the launch of its business.
The new brokerage was founded by London market brokers Ross Ballantyne and Richard Spragg, with Aon executive David Ledger joining the leadership team as non-executive chairman.
The brokerage intends to focus on providing reinsurance offerings through a cloud-based technology medium, with the combination of "cost-effective digital technology and traditional London market broking." Next steps include acquiring new talent to join Ballantyne soon.
Ross Ballantyne shared his excitement for the new venture: "We founded Ballantyne Brokers Ltd in the belief that excessive market consolidation disenfranchises clients and there is strong demand for a new broker in the market.
"As a new broker, we will leverage technology to ensure efficiency whilst delivering an outstanding client-focused offering, where every client is treated as a priority. I'm delighted that we've realized our ambition, and with support from K2 Insurance Services, we are building out our capabilities and welcome new team members who share our vision."
Cybeta Announces New Program to Target Ongoing Cyber Security Threats
Cybeta recently launched a program aimed to address the increased chances of cyber security attacks in a remote, digital world.
The program, an alternative data subscription service, is designed to serve as a tool to predict when cyber security attacks occur.
In order to combat cyber security breaches, Cybeta conducted algorithm testing in order to perfect its response. The result was the creation of two programs, "Threat Beta™ to predict cyber breaches and Threat Alpha™ to estimate breach losses," the company's release stated. With itscompleted algorithm, Cybeta said it can predict the likelihood of a cyber attack up to six months in advance.
"There is no cyber analysis we bring to our clients to discuss predictive risk mitigation strategy other than Cybeta's. It has changed a once guesswork discussion into proven science," said Paul Sparks, executive chairman for brokerage CAC Specialty.
"Clients come to CAC as we are successful in solving their complex problems and anticipating the ones that are coming in the future," he said. "Cybeta's solution is another tool in our toolkit that supports our clients today and in the future."
Parametric Products and Services Experiencing Demand Surge, Aon Reports
Aon recently announced the extension of an already-formed collaboration with CelsiusPro, a parametric technology developer. The extension comes as client need for parametric products continues to skyrocket.
The use of parametric products coincides with Aon's initiative to provide a wide range of options to its clients. Additionally, parametric solutions can be applied to several different sectors, including weather events like hurricanes.
Aon's Innovation and Solutions team reported that clients were looking to utilize parametric products rather than the "usual" risk transfer programs, with the intent of "improving cashflow following a loss event."
Aon and CelsiusPro work together to provide these types of parametric products whenever needed, which can include within a few hours if the event calls for it.
Paul Ramiz, director of Aon's Innovations and Solutions team, said, "Due to the speed of the pay out, parametric solutions offer clients immediate and quantifiable cashflow as opposed to the delayed cash replacement offered by traditional insurance. All parametric products are bespoke, so the client really does receive a solution that reflects their unique blend of risk."
BrokerTech Ventures Joins Highwing in Fundraising Venture
BrokerTech Ventures recently closed a fundraising initiative with a goal to raise $4 million for Highwing, an Insurtech company.
Highwing, of which inception stemmed from a brokerage, centers its work around "helping the insurance industry take control of their data," according to the company.
With the fundraised capital, Highwing is expected to utilize the $4 million to expand its Insurtech product capacity. The hope is to help product users "organize insurance applications and more."
"Our BrokerTech Ventures agencies could not be more thrilled to be co-leading the investment round in Highwing and [its] open exchange technology platform. Leaning into technology and innovation matters now more than ever," said Dan Keough, Holmes Murphy chairman and CEO and BrokerTech Ventures co-founder.
Highwing CEO Erik Mitisek commented, "BrokerTech Ventures is uniquely positioned as a first mover in insurance innovation and their strong combination of amazing broker partners and insurance wisdom from the best in the industry will propel Highwing forward." &
Emma Brenner is a staff writer with Risk & Insurance. She can be reached at
[email protected]
.