PFAS Legal Liability Exposures: What Thousands of Manufacturers Need to Know
Here's what manufacturers should do to mitigate PFAS risks before the EPA standard is released.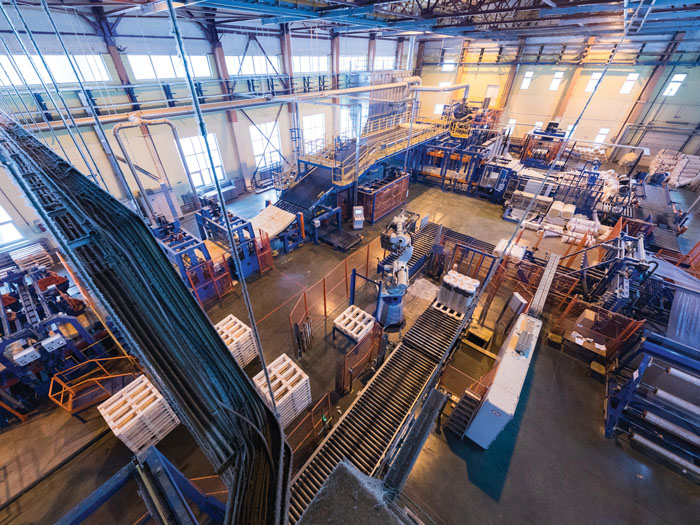 Though we're still awaiting an official EPA standard for PFAS contamination, lawsuits concerning the presence of these toxic chemicals in waterways have taken off in recent years: Since 2005, there have been 6,400 PFAS-related lawsuits, Bloomberg reported.
The chemicals — which have been linked to health conditions ranging from cancer to infertility to asthma — are used in everything from nonstick cookware to water-resistant clothing and firefighting foams.
They've been nicknamed "forever chemicals" due to their inability to break down naturally. One 2022 study estimates that PFAS components are likely to be found at almost 60,000 U.S. manufacturing sites.
"PFAS are used in almost every consumer good that we have in some way," said Jamie Langes, vice president of environmental underwriting for Philadelphia Insurance Companies. "Everyone, therefore, is likewise going to have to pay in some respect for PFAS. Just, to what extent?"
"It's somewhat overwhelming the scope of the use of these chemicals in almost every industry imaginable," added attorney John Ellison, senior partner at the law firm Reed Smith.
A broad swath of manufacturers are facing legal liability for the contaminants, in addition to environmental cleanup costs, causing many to start asking what they can do today to reduce future exposures.
Primary, Secondary and Tertiary PFAS Manufacturing Risk
There are currently three tiers of manufacturers that experience PFAS risk.
The first tier includes those who actually fabricate PFAS chemicals. These manufacturers face the highest level of exposure to legal liability risks.
The plaintiffs bar and state attorneys general have primarily targeted companies like DuPont and 3M — which conducted studies that found PFAS had detrimental health effects in animals as early as the 1960s. Lawsuits tend to allege that manufacturers polluted waterways through improper disposal of PFAS via on-site landfills.
"Primary manufacturers are increasingly, and consistently, named in PFAS lawsuits in different states," Langes said.
Since 2005, DuPont has been a named defendant in over 6,100 lawsuits related to PFAS; some estimates show 3M's PFAS liabilities could reach as high as $30 billion, Bloomberg reported.
The second tier of manufactures with exposure to PFAS liabilities includes companies that used PFAS chemicals to treat the products they produce, typically for water-, stain- or fireproofing.
The third tier encompasses companies that have supply chain exposures. These companies are likely assembling products out of components that have been treated with PFAS but don't use the chemicals themselves.
"If local residents find out that these chemicals could have potentially contaminated regional watersheds that they use for drinking water, then we do see the standard bodily injury claims as well as property damage claims," said Matthew Kern, senior vice president with Marsh's environmental practice and a 2022 Environmental Power Broker.
These latter two tiers have been less active, so far, but Langes, Kern and Ellison all agreed it will only be a matter of time before litigation picks up for them as well.
The standard of 70 parts per trillion proposed by the EPA for regulating the amount of these chemicals in water is quite strict. Kern likened it to "three drops of water in an Olympic-sized swimming pool." It will likely lead to even more litigation.
Shoemaker Wolverine Worldwide recently faced a lawsuit brought forward by homeowners in Kent County, Michigan, that alleged PFAS had contaminated their drinking water, ultimately settling for $113 million. Wolverine Worldwide had used PFAS to waterproof their shoes.
Uncertainty Over PFAS Brings On Policy Exclusions
With social inflation and third-party litigation funding on the rise, Langes, Kern and Ellison all agreed PFAS will be caught in the pollution liability crosshairs. Litigation has already increased over the past few years.
"It'd be hard to believe that the plaintiffs bar is not going to take a hard look at ways that they can pursue claims for liabilities arising out of exposure to PFAS through the wide spectrum of products for which it's used," Ellison said.
The liability exposures playing out in the courts have some environmental insurance carriers concerned about the future costs of PFAS remediation claims. Environmental insurance policy claims tend to fall into two buckets: Sudden and accidental claims occur after a spill results in pollutants being released into the environment, whereas historic pollution claims tend to cover the costs of remediating long-term damage.
PFAS tend to fall into the second bucket, but since there is no single standard for how to clean PFAS from waterways, carriers are starting to write exclusions for these contaminants. Making matters worse is that, once PFAS are in the water, the water cycle's natural functions can cause it to spread to other parts of the environment.
"Insurance programs have to be able to define what risk and exposures are in order to develop the policy contract, and because you cannot reasonably define PFAS exposures in the current regulatory environment, it's not an exposure that is widely accepted," Langes said.
"Pollution policies are adherent to environmental law to trigger remediation … There's not currently a way to say you definitely can remediate PFAS or how much money and how long it will take to clean it up. None of those parameters exist right now."
What Manufacturers Can Do
With massive legal liability risks looming and insurers writing policy exclusion for PFAS chemicals, manufacturers may be wondering what they can do to reduce their exposures.
The first action manufacturers should take: Finding out whether their facilities use or are in contact with PFAS chemicals. "Most people don't even know that they have PFAS in the materials that they use, because PFAS are not formally regulated at the federal level for reporting or permitting requirements," Langes explained.
"It's not required to be outlined on material safety data sheets. It's not really required of companies to report that they use it or generate it as waste."
To identify the extent of their exposures, risk managers for manufacturing companies should work with their environmental health and safety departments to determine where PFAS are being used in their products and how they're being disposed of.
"One of the first things risk managers should do is align themselves with environmental health and safety," Kern said.
Then, they should see whether they can remove the chemicals from their processes, as 3M did in 2002 with PFOS and PFOA, two of the most common PFAS chemicals.
When manufacturers eliminate these toxins from their production, it's not enough to simply remove the most common members from the family of chemicals and replace them with another similar form of PFAS. Langes said it's best to eliminate forever chemicals entirely, if possible.
"What manufacturers can attempt to do at this point is to really evaluate the chemical use that they have and decide to move away from PFAS entirely, and not just in a little way, where they choose a less toxic PFAS," she said.
In addition to being better for public health and drinking water safety, removing this family of chemicals from products can help manufacturers reduce their exposure to future claims. It can also help companies attract new customers who want to use safe, PFAS-free products. Simply put, it's good business.
"The younger generation of consumers, especially in the United States, are … looking for sustainable solutions. They don't want to use a lot of chemicals," Langes said.
"So [companies] can go with what their consumer base desires, and also remove the PFAS from overall use and their subsequent waste stream generation." &
Courtney DuChene is a freelance journalist based in Philadelphia. She can be reached at
[email protected]
.