Here's the Best Strategy to Manage Claims. Hint: It's a Little Bit Traditional and a Whole Lot of New
From establishing solid communication processes to utilizing technology while integrating a personalized touch, today's claims handling is a melding of innovative strategies and long-standing approaches.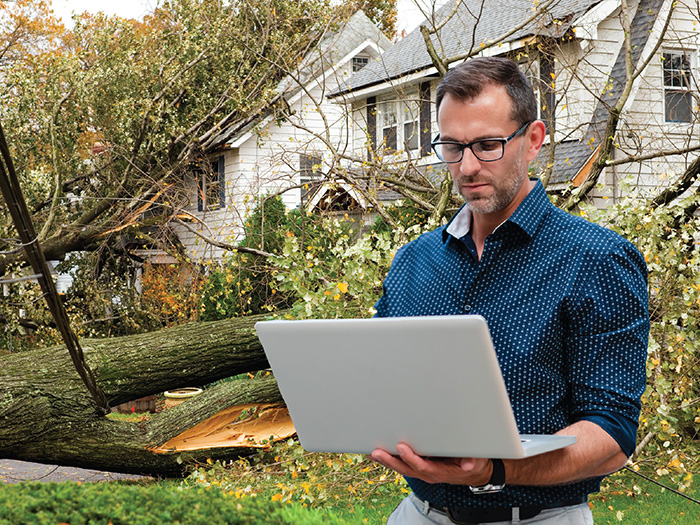 Claims handling is where the promise of insurance coverage becomes a reality, and while companies may have unique ideas about some best practices, there is broader agreement about others, like the importance of communication.  
"In a claims program with multiple stakeholders, communicating proactively and effectively is critical to success," said Max Koonce, chief claims officer, Sedgwick. "Whether you are communicating with jurisdictional resources, client program managers or impacted workers or consumers, a timely, thoughtful, and informative exchange of information is essential." 
Communication between claims and underwriting may be paramount.  
"There absolutely has to be near-constant communication between an underwriter and claims, materially understanding how claims may be eroding the underwriting profit and understanding what can be done to mitigate that erosion from happening," said Kevin Combes, director of casualty claims, Aon Global Risk Consulting.  
"It's critical that any underwriting organization is staying very, very close to claims, to not only understand what the trends are from a payment perspective, but also it just inures to understanding the risk better."  
Steve Deane, chief claims officer, global risk solutions, Liberty Mutual, agreed. "We've got a method and process in place for our frontline adjusters to share insights that they're seeing on individual claims. They've got a direct connection with our underwriting and risk control teams to say, 'Hey, on this one claim or on this small group of claims, I'm seeing something that doesn't seem quite right.' "  
Making the information accessible to multiple audiences can be essential.  
 "A big part of claims excellence is being able to tell the story and share the information, and that means a claims organization has to be able to present the data in three ways to be digested," said Andrew Morgan, EVP, chief claims officer, AmTrust Financial. He cites a financial context for the CFO and financial teams, an operational context for the frontline supervisors, and an actuarial context. 
But, he adds, it is also essential to keep everyone on the same page. You can do this by making sure you're actually speaking the same language.  
"What you define as expense in one context for your financial reporting may be slightly different than what you actually put in your reinsurance agreement," Morgan said. "Breaking down and understanding where each of these categories fit and how you make sure you're talking and speaking truly the same language is actually a maybe overlooked, but critical function." 
To facilitate this, Morgan prioritizes hiring staff with diverse work histories, such as former attorneys and HR executives. "Yes, they have claims experience, but they also have spent time working in other functional areas," he said. "Thinking about and asking how people are managing career mobility and opportunities to get people exposure across functions is probably a key aspect to companies not creating those institutional silos that are hard to break down." 
It is also essential to effectively communicate with clients in ways they are most comfortable with.  
So, if a customer has a question, the answer needs to be one that a non-insurance professional can understand.  
As Cat Reese, chief claims officer, SageSure, explained, "Their expectations are being set by Uber Eats and Amazon, not by competing insurance companies. So, when it comes to communication, especially on something complex like a claim, you have to be available in the channels that the customer wants to communicate in, and you have to be able to communicate effectively in those channels. You can't just say, 'Yes, we offer texting.' You have to be able to reply with something substantive If they ask you a question by text." 
The Evolving Pool of Professionals
While communication has long been key to excellent claims handling, other best practices are shaped by the pool of talent gracing the industry.
"The great resignation is having a massive impact on claim organizations throughout the US," said Combes. "Adjusters are either resigning or they're moving and that's creating quite a bit of disruption and chaos from a claim management perspective." Combes pointed out that one trait of an excellent claim organization today, amid the pandemic, is that organizations with solid talent development and retention strategies may be more insulated against the kinds of turnover that a lot of other claim organizations are experiencing. 
Brady Chan, director, claims management, Applied Underwriters, emphasized the benefits of empowering employees to escalate issues that arise during the claims process. This ensures the right resources are brought to bear in reaching the best decisions possible.  
"This process is critical to ensuring the growth and development of claims professionals," Chan said. 
Some who have not been impacted by the current shortage, see a bigger labor issue on the horizon.  
"There's a lot of great talent available in the industry," said John Meder, head of risk consulting and claims advocacy, Risk Strategies.  
"However, I have great concern for the number of people that are starting to retire from the industry. We're losing a tremendous amount of expertise and claims talent. But so far, there's not a shortage of individuals, and it has not impacted the industry the way people thought it was going to impact us five years ago." 
Others, like Reese, see claims as being impacted more than other industry segments.  
"We're very customer-facing," Reese said. "So, when we're competing for talent, other industries may be coming for our talent in a way that they aren't for underwriting or actuarial personnel, because the claims skills translate to other industries in a different way, in terms of customer service." 
Some even see an upside to the current labor landscape.  
"Somebody else's turnover and resignation becomes my opportunity to hire somebody new," said Morgan. "This has actually been really good, because we've had plenty of people looking for new opportunities." 
There's the talent shortage issue to keep top of mind, but keeping your team at its best requires constant monitoring, according to Kevin Rampe, head of North American Claims for Chubb.
"You must get your culture right," said Rampe.
"Claims represents the brand at a critical point in the customer experience. You need to deliver service to the customer predictably and at the high levels expected by the customer when they buy their policy."
Rampe also touched on the importance of communication.
"Communication must also be clear with all stakeholders in the claims experience so that full value is received by everyone with each claim handled. Finally, and related to communication, you must have clear expectations set for everyone involved."
Using Technology to Impact Best Practices
The increasingly prominent role of technology has also impacted best practices. As Reese explained, "We have so much more actionable data now than we've ever had since I've been in claims and we can use that to drive accuracy, to drive good results. We have many more tools in the tool kit because of technology." 
Nick Anderson, Nationwide's vice president of commercial lines claims, agreed. "Virtual estimating for material damage and property damage is a great example of how the impact of technology is changing claims handling procedures. Another example of this evolution is continued enhancements in disability and medical management within the workers' compensation space. Investments in predictive analytics and technology will only continue to impact claims handling." 
Meder describes how tech advancements have helped simplify processes in workers comp. 
"Where, in the past, you had a paper file and you had to go in and do a claim review to make sure the claim was moving in the right direction, today, there is artificial intelligence monitoring the claim 24/7, from when the claim originates to when specific individuals have doctor's appointments," said Meder.  
"Getting information is a lot faster, for instance, knowing when to get medical case management engaged, full utilization of your preferred provider organization networks, all helping the claims process to keep the costs down. And to speed up efficiency." 
Integrating a Personalized Approach
While the benefits of new technology are considerable, there are downsides as well.
A claim means there has been some sort of loss. An insured will likely be emotionally invested in the recovery process and technology may not be the best at fielding their questions. 
"Claims are still a very personal thing for a lot of people," Reese said. "We can use technology all day long, but technology's weakness is that it doesn't really have a lot of EQ, and we still need people in the process to provide that and make sure there's good interactions and understanding there." 
And it is important to remember that some customers may be tech-averse or need more handholding. "There needs to be recognition that it's not one-size-fits all," Deane said. "Simply referring them to a portal or citing your tech capabilities isn't going to resonate in the same way as it would for a customer who is more experienced or tech-savvy." 
Insurers must also be mindful of potential biases in machine learning and natural language processing.  
"A lot of the data that are directional for these platforms are based on historical trends, so there could be some bias essentially in how those AI models are actually looking at the data," said Combes. "It's going to be really interesting to see how Insurtech deals with the ethics in the years ahead." 
Finding the right balance between customized and off-the-shelf solutions is yet another challenge.  
"Do you implement a solution that is fully customized and is going to be really expensive to upgrade and to manage testing or do you come up with a solution that allows you to use what you may not think is a perfect solution but, because it's more off the shelf and plug and play, it's easily either replaceable or upgradeable?" Morgan asked.  
"Best practices have changed a lot in recent years," added Meder. "If you're not having—and most insurance brokers don't—your analytics, your claims, your risk control teams, fully integrated and working together on the same account, you're going to run the risk of having errors. These teams cannot work in silos. And the tools that are available today that were not available, three, four, or five years ago, are really helping us to achieve that objective." &
Jon McGoran is a magazine editor based outside of Philadelphia. He can be reached at
[email protected]
.