Plummeting Premiums and Boatloads of Uncertainty: COVID-19 Will Hit Workers' Comp as Hard as Any Line
Workers' comp entered 2020 from a position of strength, but the pandemic and an economic downturn present challenge.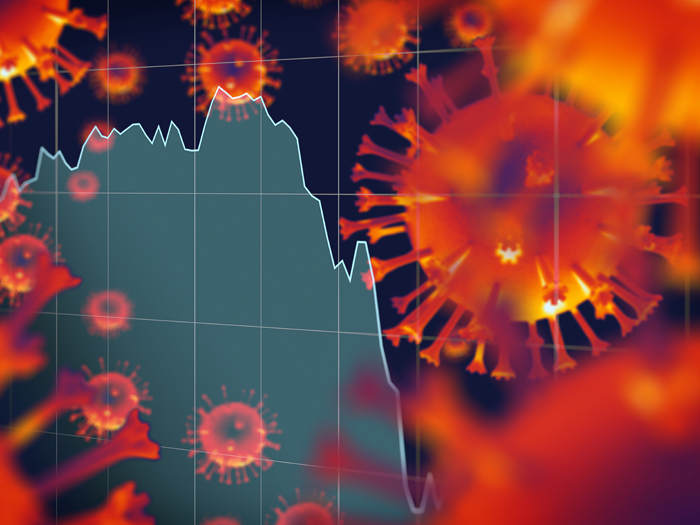 Twenty years ago, the National Council on Compensation Insurance began choosing a word or short phrase each year to describe the workers' comp market.
For 2020, that word is vigilance.
"It means that we won't get distracted, said Bill Donnell, President and CEO of NCCI. "This pandemic, it requires a lot from all of us. But it's critical to ensure that we are there when workers and employers and our communities need us."
Donnell spoke at NCCI's virtual Annual Issues Symposium May 12 (AIS Virtual). This year's event, under the theme "A New Decade In Sight," was attended virtually by more than 2,600 people.
The event featured NCCI's chief actuary, Donna Glenn, delivering the organization's State of the Line Report, a comprehensive look at 2019 workers' compensation industry results, market trends, and the impact of the pandemic.
There was good news to be sure. Per NCCI's report, 2019's workers' comp combined ratio was 85% for private carriers — the third year in a row the ratio has remained under 90%, and the sixth consecutive year that the workers' comp line posted an underwriting gain.
Calendar year 2019 saw declining claim frequency, a strong industry reserve position, and favorable metrics in the residual market, putting the market in a stable position to weather what comes next, Glenn said.
"The workers' compensation system faces significant uncertainty because of the COVID-19 pandemic and resulting economic fallout," Glenn said. "COVID-19 is a shock to the industry, impacting almost every aspect of workers' compensation."
Glenn affirmed that the system is "well positioned to face the COVID-19 stress," but cautioned that an uphill battle lies ahead, and that the impact of the pandemic, still unfolding, will be like nothing we've ever faced.
"Make no mistake, the shutdown cuts deep. Since mid-March, we've seen more than 30 million claims for unemployment," she said, with so many unknowns remaining, from the duration of the shutdown to the resiliency of businesses and sectors to recover.
"We've seen how things can change in the blink of an eye," said Donnell. "Quite frankly, the unknowns are scary."
Impact on Premiums — How Low Will It Go?
"It's clear that such a dramatic drop in employment will push premium volume lower in 2020," said Glenn. "Lower employment and fewer available work hours will reduce workers compensation exposure."
Small businesses, as we know, have been especially hit hard by the pandemic, she said. "And given that they typically choose first dollar workers compensation coverage, we expect workers' comp premium to fall even faster than the overall employment. We also expect to see lots of midterm premium adjustments and negative premium audits to reflect this reduced exposure."
The question for many is exactly how severe the impact on premium growth could be due to the economic slowdown.
"There's certainly going to be a substantial impact," said Robert Hartwig, clinical associate professor of finance, Darla Moore School of Business, University of South Carolina.
"Pre-COVID, the outlook for 2020 was for overall net written premium growth of 3.8% across the industry. Now, it is very much a question mark where we will wind up in 2020."
"NCCI's modeling of COVID 19 scenarios showed a very wide range of potential impacts on workers' compensation system costs," said Jeff Eddinger, senior division executive, NCCI.
"There are challenges and uncertainty ahead. We're looking at the deepest contraction in the U.S. economy since the Great Recession."
Hartwig said worker' comp will likely be hardest hit of the major lines due to its exposure to payroll risk. In addition, "asset price volatility is going to continue. And low interest rates are going to be with us for years to come. So at the end of the day, the COVID-19 exposures are very substantial indeed, and in many ways unprecedented."
Despite these uncertainties, Hartwig's outlook is positive.
"This is an industry that always perseveres and these risks are manageable," he said.
Donnell also offered a message of watchful optimism.
"Imagining the future and what it means for workers' compensation involves asking questions for which we don't have all the answers. Or in some cases, any answers," he said.
"We will navigate these stormy seas because we have better access to data analysis and insights. We know where to focus. We understand a heightened need for vigilance."
That vigilance extends to maintaining focus on the best possible outcomes for injured workers.
"This is our opportunity to rise up to the challenge. We want to be thought of as a caring and contemporary system, providing the best support for injured workers, attracting strong, talented people to our industry.
"Pre-COVID, the outlook for 2020 was for overall net written premium growth of 3.8% across the industry. Now, it is very much a question mark where we will wind up in 2020." — Robert Hartwig, clinical associate professor of finance, Darla Moore School of Business, University of South Carolina
"People in this industry are proud of what they do. And I believe that this is the decade. This is the moment that we can change the narrative," he said.
"Our system has been resilient and reliable for over a hundred years and it's up to us as stakeholders working together to see that this continues. We need to address the immediate crisis. We also need to look ahead once we emerge from this moment. We need to ensure that our system remains healthy for the long term."
Other trends highlighted in NCCI's 2020 State of the Line Report:
On an accident-year basis, the industry-reported 2019 workers' comp combined ratio was 99%.
NCCI expects the 2019 accident year's combined ratio to develop quite favorably over time.
Total net written premium volume for the line declined $47 billion 2018- 2019.
NCCI estimates that reserves held by private carriers as of year-end 2019 are $10 billion redundant.
During 2019, on a preliminary basis, lost-time claim frequency across NCCI jurisdictions declined, on average, by 4% from the prior year.
In 2019, on a preliminary basis across NCCI jurisdictions, average accident-year indemnity-claim severity increased by 4% relative to the prior year. Medical lost-time claim severity increased by 3%, on average.
Workers' comp Residual Market Pool premium volume was just under $1 billion in 2019, representing a market share of about 7%.
The AIS 2020 Highlights report is available online, as are all of the AIS Virtual presentations, on-demand. Additional sessions presented include:
Latest Trends in Worker Demographics, presented by Barry Lipton, practice leader & senior actuary, NCCI, addresses how changing demographics are affecting claims, underwriting, and loss prevention.
Gen rX—The Next Generation of Medicine, presented by Raji Chadarevian, director, Medical Regulation & Informatics, NCCI, covers how delivery, treatment, technologies, and payment systems are changing medical trends in workers' compensation. &
Michelle Kerr is Workers' Compensation Editor and National Conference Chair for Risk & Insurance. She can be reached at
[email protected]
.