Reagan Companies Broker Mike Lane Recognized as a 2022 Workers' Comp Power Broker
Mike Lane, Claims/Risk Management Consultant, Reagan Companies
Mike Lane bears the mark of a truly great insurance broker. When he joins a new company, his clients follow him.
"When he moved and settled in at Reagan, we decided to go with him," an office manager at one client said. "He is always friendly, helpful and very knowledgeable."
Lane began his career as an adjuster, which has given him a detailed view into the world of workers' comp premiums.
"I believe it is my job to identify and explain their exposures to my client and provide options for managing risk. I tailor solutions to match their risk appetite then execute on loss control and claims management to ensure the solutions perform as well as possible," he wrote in his application. 
Since making the transition, he's focused on understanding how claims affect organizations. He worked with numerous clients to get their experience mods adjusted, resulting in refunds this year. One client reported saving over $55,000. 
Moving forward, he plans to continue saving his clients money by performing claims reviews prior to submission so that they can reduce the impact open reserves have on their experience mod.  
"He has saved us a lot of money," one client said. "He knows all about [workers' comp] and can explain it very well to a layman." The client added Lane has been helpful in keeping them informed of all the new workers' comp laws and regulations, which is appreciated in an ever-shifting workers' comp landscape.
2022 Workers' Compensation Power Broker Winners 
---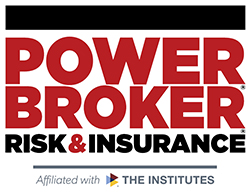 What is a Power Broker? 
A Risk & Insurance Power Broker® is an individual who stands out among their peers for the exceptional client work they delivered over the past year. While brokers play many key roles in the insurance industry and risk profession, a Power Broker® award recognizes problem solving, customer service and industry knowledge. 
Our goal is to broadly recognize and promote outstanding risk management and customer service among the brokerage community. 
Who selects the winners? 
Power Brokers are selected by risk managers based on the strength of the testimonials they provide to a team of 15 Risk & Insurance editors and writers.