Marsh Broker Richard Ashe Recognized as a 2022 At Large Power Broker
Richard Ashe, Senior Vice President, Marsh
Mold damage has become an increasingly difficult risk to handle. This has been exacerbated by increasingly severe hurricane seasons and buildings remaining vacant because of the COVID-19 crisis.
It was a problem encountered by Richard Ashe's client, a large real estate and investment firm, after its insurer denied full coverage for mold damage associated with water exposure because of Hurricane Florence.
Successfully arguing a technicality, he negotiated a final settlement of $3.6 million, which exceeded his client's expectations by $300,000.
The client said, "The claim was already two years old when Richard came in. He gathered all the history, went through all the information that had been provided to the carrier for proof of loss and, through leading the discussion on our behalf, achieved a positive outcome for us."
Another manufacturing client was named as a responsible party of a SuperFund site claim by the state regulator. 
The case involved waste material that had been disposed from a particular site —  the policy for which, because of prior claim activity, the insurer had decided to impose a much higher deductible of $250,000 and restrictive language.
But Ashe pointed out that neither the deductible term nor the restrictive language included the words "waste disposal," therefore the coverage limitations didn't apply, to which the insurer agreed.
2022 At-Large Power Broker Winners and Finalists 
---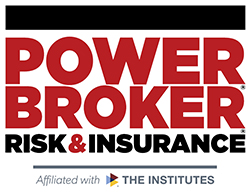 What is a Power Broker? 
A Risk & Insurance Power Broker® is an individual who stands out among their peers for the exceptional client work they delivered over the past year. While brokers play many key roles in the insurance industry and risk profession, a Power Broker® award recognizes problem solving, customer service and industry knowledge. 
Our goal is to broadly recognize and promote outstanding risk management and customer service among the brokerage community. 
Who selects the winners? 
Power Brokers are selected by risk managers based on the strength of the testimonials they provide to a team of 15 Risk & Insurance editors and writers.