Gallagher Broker John Chino Recognized as a 2022 Public Sector Power Broker
John Chino, Area Senior Vice President, Gallagher
John Chino's biggest challenge this year was cyber, and he proved a strong opponent.
Client Thuy Wong, CEO & president, CharterSAFE, who oversees 275 public sector pool members, was told she may not be able to procure cyber coverage.
"I couldn't go to my members, especially with ransomware as prevalent in the news as it is, and say I couldn't get them cyber," she said. So Chino stepped in, speaking with more than 10 carriers.
"John came up with a creative way to make sure every member had access to cyber coverage," Wong explained. Each member would have four times each year — once during each quarter — to meet a short list of criteria that would make them eligible for cyber coverage.
Valerie Porter, office manager, Arizona Counties Insurance Pool, faced similar hurdles: "Cyber seems to be the only thing we're talking about these days," she said.
Her 13-member pool was facing non-renewal from its cyber carrier and was reluctantly toying with the idea of self-insuring.
But Chino brought his prowess. "He started working with us as far back as pre-pandemic to work on what we needed to do."
That included working with the carrier to create an electronic application for the pool members to fill in. The application identified four items the cyber insurer wanted to see happening within the pool in order to give tier one coverage. If members met the criteria, they received that coverage. If not, Chino had a supplement ready to go.
"Everyone got tier one … John emphasized the importance of this coverage right from the start," Porter said.
2022 Public Sector Power Broker Winners and Finalists
---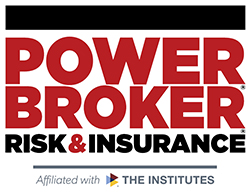 What is a Power Broker?
A Risk & Insurance Power Broker® is an individual who stands out among their peers for the exceptional client work they delivered over the past year. While brokers play many key roles in the insurance industry and risk profession, a Power Broker® award recognizes problem solving, customer service and industry knowledge.
Our goal is to broadly recognize and promote outstanding risk management and customer service among the brokerage community.
Who selects the winners?
Power Brokers are selected by risk managers based on the strength of the testimonials they provide to a team of 15 Risk & Insurance editors and writers.