Brown & Brown Broker Michael Perron Recognized at a 2023 Utilities Power Broker
Michael Perron, Senior Managing Director, Brown & Brown
In May and June 2022, three photovoltaic projects in Texas were significantly damaged by hailstorms, resulting in more than $30 million in insured damage. Prior to 2022, the industry saw only one hail event larger than any of those and only two hail events exceeding $10 million.
Following these events, many insurers were hesitant to offer coverage for hail in high-hazard zones at any price. Clients went without coverage for hail for the remainder of their policy term or purchased limited coverage. as unlimited coverage was available only at untenable levels.
"Through multiple collaborative engagements with a few other key solar industry stakeholders and myself, Michael [Perron] took a leadership role in organizing and facilitating an insurer webinar in October that focused on the topic of solar hail resilience and risk mitigation strategies," said a company executive.
The event and perspective were particularly important given the significant losses in this area during 2022, the client executive explained. It was also particularly timely because the solar industry is on the cusp of a growth curve, given the passage of the Inflation Reduction Act and its positive effect on solar development.
"Michael helped develop a highly relevant agenda for the industry participants to convey information to the insurer community, resulting in a transparent and timely view of hail risk assessment and mitigation strategies," the client said.
2023 Utilities Power Broker Winners
---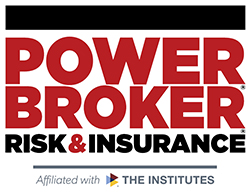 What is a Power Broker?
A Risk & Insurance Power Broker® is an individual who stands out among their peers for the exceptional client work they have delivered over the past year. While brokers play many key roles in the insurance industry and risk profession, a Power Broker® award recognizes problem solving, customer service and industry knowledge.
Our goal is to broadly recognize and promote outstanding risk management and customer service among the brokerage community.
Who selects the winners?
Power Brokers are selected by risk managers based on the strength of the testimonials they provide to a team of 15 Risk & Insurance editors and writers.