Risk & Insurance News + Notes: Everest Insurance Launches New Policy, Sapiens Partners with TruthMD and More
A compilation of the latest announcements, partnerships and products that are likely to have an impact on the insurance industry today.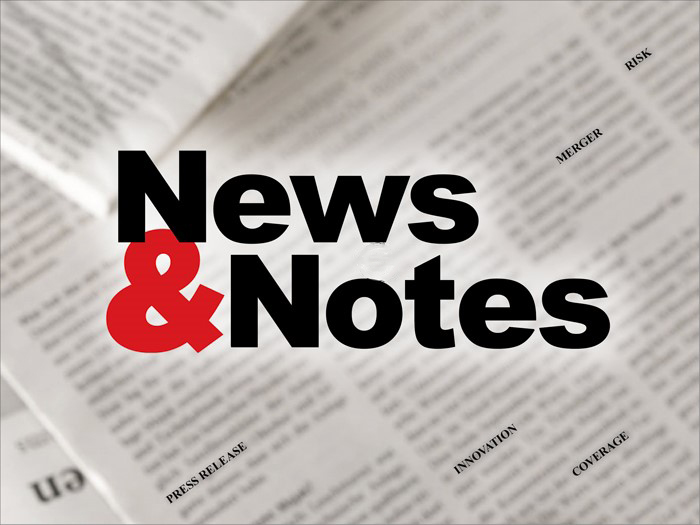 Everest Insurance Launches New Policy to Provide Coverage to Design Professionals
Everest Insurance announced the launch of its new coverage, Everest Elevation Architects and Engineers Professional Liability Policy. The policy's goal is to supply design professionals with "professional, pollution and cyber liability coverage."
The policy was created to address the coverage needs of architectural, design, engineering and construction firms. Each had unique requests for policy coverage, resulting in Everest Elevation offering a wide range of "coverage enhancements and expense reimbursements" for a variety of risks.
"After listening to feedback from our brokers and insureds, Everest has built a best-in-class product that allows design professionals to feel secure in their practice while offering comprehensive protection in the event of a claim," said Joshua Kranz, vice president, professional liability.
Sapiens Announces Partnership with TruthMD to Provide Data Analytics for Insurers
Sapiens International Corporation  has partnered with TruthMD LLC, a health care data analytics provider to ensure correct and timely data on medical providers is available for insurers and patients.
The new partnership intends to focus on delivering accurate data to insurers in real time. Additionally, workers' compensation insurers are being offered the ability to quickly "identify desirable insureds, assess risk, competitively price, underwriter and manage claims."
TruthMD's machine learning-based MedFax has collected over 15 years of accumulated physician data. With the Sapiens partnership, TruthMD's MedFax will combine with Sapiens' CoreSuite platforms for both property & casualty and workers' compensation. This collaboration will enable insurers to access information stored in the MedFax database.
CEO and founder of TruthMD Gemma Cunningham commented, "Working side by side with the Sapiens team provides us with an immediate outlet for our proven, best-in-class medical data solutions, including sanctions monitoring and provider data analytics, while aligning us with a highly reputable, client-focused partner."
Blackstone to Invest in ISN with an Expected Value of Over $2 Billion
Blackstone recently announced a significant minority investment in ISN, a global supplier in third-party contractor and management software. The investment is set "at a valuation of over $2 billion."
ISN provides products and services to contractors and suppliers that serve a number of purposes, maintaining industry compliance and meeting criteria for environmental, social and corporate governance (ESG) practices to name a few.
With this investment, led by Blackstone Growth, ISN will be able to pursue its goal of continuing growth in various areas, such as product innovation and possible exposure on the global stage.
Bill Addy, executive chairman of ISN, said, "As we look to the future, Blackstone Growth's global presence, operational resources, and network across sectors will help us achieve our long-term vision of providing the absolute best solution for our customers to ensure safe supply chain continuity.
"Together with Blackstone, we look forward to continuing our expansion into new sectors and geographies and investing further in our technology solutions to meet and exceed the needs of our customers."
Constellation Announces Acquisition of Coastal Insurance Underwriters and Cybercom
Constellation Affiliated Partners (Constellation) recently announced the acquisition of Coastal Insurance Writers (Coastal) and Cybercom.
Constellation, an insurance consolidator, will still "expand its product offerings to the Condominium Association and Homeowner's Association marketplace" through the new acquisition.
Coastal currently serves several different customers, providing product to the community association market as well as underwriting various sectors — property, general liability and workers' compensation to name a few. Cybercom, the second component of the acquisition, is the current provider of technological services to Coastal.
"The Coastal and Cybercom team bring a wealth of knowledge and innovative web-based programs. Their proprietary technology platform and deeply experienced underwriters will be a great addition to our growing portfolio of innovative, high-quality MGAs, program administrators, and wholesalers in the insurance industry," said CEO of Constellation Bill Goldstein. &
Emma Brenner is a staff writer with Risk & Insurance. She can be reached at
[email protected]