Predict & Prevent™: How to Optimize Loss Prevention Tech and Enhance Worker Safety
Data-capturing technology can help management teams evaluate the safety of nearly every workplace and, in the process, predict and prevent worker injuries.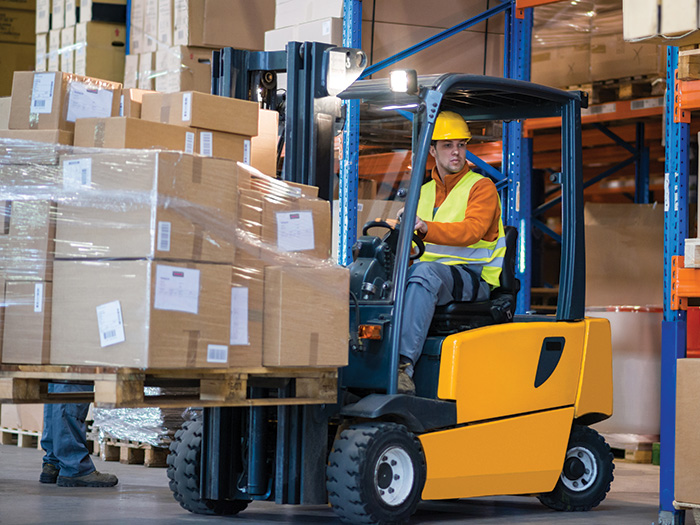 Anyone responsible for environmental health and safety at their organization has probably received countless calls from salespeople offering an array of tech to improve safety.
From dosimeters that measure noise levels to multisensory shirts that analyze how employees move as they work, there seem to be multiple softwares or devices that promise to improve nearly every company's safety profile. Not to mention carriers often reduce premiums for organizations that use some of these devices — especially when it comes to telematics in vehicles.
But much of the predictive and sensory technology on the market is still very much in its nascent stages, leaving many health and safety teams to wonder if it is truly worth the investment.
Brian Benson, director of operations at video intelligence company Voxel, found himself in just this predicament when the pandemic began.
Obstacles in Clear View
Benson became the general manager for one of the largest cold supply chain providers in the country back in 2018. "Anything needing to be frozen or chilled," Benson said, could be stored at the Central California warehouse where he was in charge.
Over his four years with the company, he prioritized building trust with his staff — all in an effort to transform the high-turnover environment at the facility. He even led contract negotiations with the local union toward his staff receiving a bump up in pay.
With a renewed sense of understanding between management and staff, Benson saw productivity and efficiency improvements. "But we still couldn't break the barrier from a safety [side]," he said. "As the leader, my job was to get [workers] in and out every day in the same condition that they came in. And unfortunately, I wasn't able to do that."
As the coronavirus rapidly spread and stores scrambled to keep their freezers stocked, his facility became a key temporary storage location for frozen foods. And his warehouse team went from working five 10-hour days, on average, to regularly working six 12-hour days. Some of these industrial athletes were lifting as much as 20 tons of product every day.
"When you think about that, the only way some of these people were getting days off was either to say they were injured or to really have an injury because they were fatigued," Benson said.
In the midst of those chaotic times, he learned about artificial intelligence-enabled camera vision. As Benson's now-colleague and CEO at Voxel Alex Senemar explains, this technology detects leading indicators of injury. "Typically, that ends up being items in the environment, spills for slip-and-fall accidents, things around blocked aisles, blocked exits."
Ergonomics, PPE and powered vehicle safety risks are also picked up by AI camera vision. "And then we triage those events," Senemar said. "So we'll tell them, here's the worst events; we'll alert the ones that are most significant to act on at the moment, like a spill … to prevent a slip and fall.
"And then other events are more like coaching moments, so they have an opportunity to discuss in their safety meeting and with the different individuals involved."
Caught You Being Safe
Before meeting Senemar, Benson was familiar with AI mostly from the autonomous vehicle context. "But I couldn't wrap my head around, how are we going to be able to use this in a warehouse environment?" he said.
The warehouse Benson managed had analog cameras from the 1980s, so although he was curious, he was skeptical as to how much insight Voxel's software could capture from such grainy images. On top of that, "during a pandemic, there's not a lot of extra capital laying around," Benson said.
And then there was the union element. Benson wondered how using AI to analyze camera footage would affect their relationship — especially coming off a hard-won contract negotiation.
Despite his initial hesitation, his team moved forward. "We were able to download some clips, and after a few weeks, Voxel had run the analytics … and it worked!" Benson said.
What the AI software picked up from the grainy images gave Benson's team a clearer view of issues they needed to address right away. Soon after, he upgraded the facility to 1080p plug-and-play cameras, and then the game really changed, he said.
His team immediately rolled out a safety program they called "Caught You Being Safe." Benson's supervisors started to review flagged clips routinely, and the AI analysis revealed how their trends and patterns were changing.
Instead of focusing solely on staff whose actions prompted safety alerts, supervisors could also clearly see when workers followed safety protocols and caught potential safety hazards themselves.
"I even asked my supervisors to take a picture with one of those teammates every day, and we posted it to social media," Benson said. His team also acknowledged workers who were "caught being safe" with small company gifts like lunch boxes and sweatshirts.
But the real reward for doing the right thing was "you're going home; we're working less hours," Benson would tell staff. "And I think that really paid off."
After a year of using AI camera vision, direct costs at the warehouse went down, the total recordable incident rate (TRIR) went from 6.8 to 1.2, and the lost time incident rate (LTIR) went from 288 days to zero.
Experiencing firsthand how the careful application of technology — in his case, AI camera vision — could quickly turn a safety program around is what ultimately inspired Benson to switch careers. He's now the director of operations at Voxel.
"I've been working in warehousing for 25 years," Benson said. "If you told me four years ago that I'd be [working] in AI and computer vision, I would have said you're crazy."
What's the Problem You're Trying to Solve?
A story like Benson's is inspiring, but with so many tech companies offering what appear to be simple yet sophisticated solutions, it can be challenging to know which ones to try.
Jeff Corder, vice president of loss control at AmTrust, advises insureds to, first, fully understand the safety issue they're trying to address: "Is it really the employees' [behaviors] or is it more of the way the company sets up the process?"
This is where industrial 4.0 and 5.0 mentalities interplay, said David Brodie, ergonomist lead for the North America health and safety domain at Cargill.
"[Industry] 4.0 is all about data-gathering and having technology that helps us understand our exposures at a much deeper level — the measurement phase," he said. "And then 5.0 is the solution — saying, how do we make all of that actionable? How do we turn that around into more functional uses?"
"We all want to move in the direction of risk management and safety, but if we don't build out the infrastructure around it to be able to have corrective measures from a human being, and not just a text message or an email or a beeping buzzer, it doesn't really get to what we're trying to accomplish."
— Phillip Lane, VP at Insurance Office of America
As a large organization with a robust safety program, Cargill has integrated AI camera vision at some of its facilities, as well as multisensory wearable technology, to understand the risks around how workers move.
Cargill workers occasionally wear a lightweight shirt with six sensors seamlessly inserted into pockets to gather feedback on the motions of their backs, shoulders and elbows — three areas prone to injury. "It's very comfortable … You don't even know you're wearing the sensors," Brodie explained.
These shirts are not intended as equipment that Cargill's workers will wear perpetually, Brodie explained. Instead, workers across Cargill's targeted plants will or have been asked to wear the shirts for predetermined periods of time to evaluate approx­imately 5,000 positions.
"We approach it from the perspective of, for a period of time, I want to understand your risk, and what are we going to do to address that risk? Do I redesign the workstation? Do I change something about the job to reduce the hazard we're seeing?" he said.
Getting Past Big Brother
Whether it's AI-enabled cameras, wearables or telematics, the main barrier to getting the most out of any tech designed to help organizations predict and prevent injuries depends on whether or not employees will actually use it and embrace it.
With workers concerned about Big Brother watching, Christina Roll, U.S. casualty risk consultant for AXA XL, says management must be patient and communicate effectively.
"There has to be open com­muni­cation from the company to ensure that employees know that they have a right to express concerns, and that when they come to management with those concerns, they will be heard, they'll be addressed; they will not be discouraged; they will not be discriminated against," Roll said.
"They should be used as preventive [tools] so that management can see what areas of concern they need to address, but also as coaching tools," Roll added.
In Brodie's experience, "you've really got to work hard on your education about what you're doing, why you're doing it and how that data's going to be used."
Above all, avoid using these tools for disciplinary measures, Brodie said.
"Once it's being used for any negative fashion, you're going to lose credibility."
"We all want to move in the direction of risk management and safety, but if we don't build out the infrastructure around it to be able to have corrective measures from a human being, and not just a text message or an email or a beeping buzzer, it doesn't really get to what we're trying to accomplish," said Phillip Lane, VP at Insurance Office of America.
Occasions could arise, though, when disciplinary measures may be in order based on information captured by the sensory technology. "But if you're working together as a cohesive team of employees and employers to prevent losses, these can be very powerful tools for any safety program," Corder said.
Before Making an Investment
As EHS teams consider which technologies may help them address their safety exposures, they'll need to allow space for due diligence as well.
"It is a new field and there are a lot of companies out there just starting up; some are great, [but] I've had clients go with a company and three months later they're gone," Corder said. "We suggest vetting at least five companies of varying sizes … and getting references."
Be wary of the cost of assessments as well, Brodie said. "[The cost of] the hardware is a minor piece of the puzzle. It becomes [about] how many employees or jobs and how much data is being collected … That's where the costs can go up, and you want to make sure you are paying for data that you will use." &
Raquel Moreno is a staff writer with Risk & Insurance. She can be reached at
[email protected]
.