Insuring the Climate Transition: How Rethinking Agricultural Norms Helps Farmers Respond to Growing Climate Risks
The agricultural sector will need to transition to sustainable practices to help fight climate change. Here's how the insurance industry can help.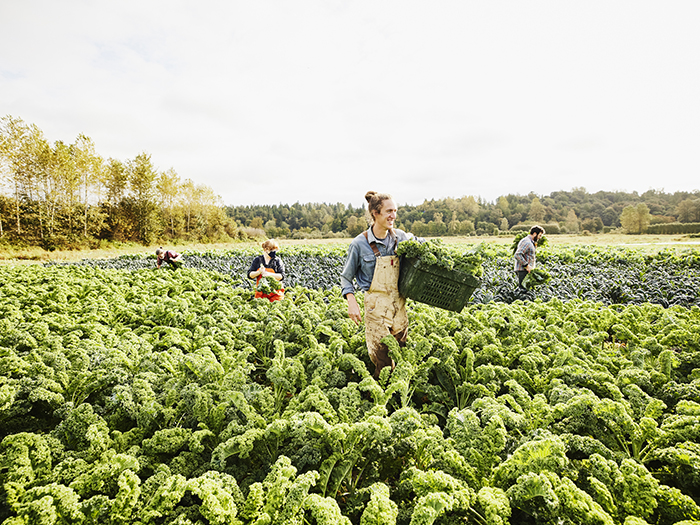 For a rancher Greg Benefield works with, the summer heat turned deadly. Ten thousand head of cattle on that person's ranch died of heat stress.
As the managing director, national food and beverage segment leader, at Marsh, Benefield is accustomed to assisting farmers with a variety of weather-related challenges. High winds and tornadoes destroy crops. Heavy rains or drier than average summers can reduce yields. 
Rancher's livelihoods tend to be a little less dependent on weather. Diseases that pass quickly from animal to animal tend to be a bigger concern. That's why ranchers insure against that risk. 
But this loss was an eye-opener.  
"This is one example where you know the rancher has to put on their risk management hat on to evaluate. If they have X amount of capital allotted for insurance or risk, should they insure against a disease basis for the herd or for heat?" Benefield said. 
Whether it's tornadoes and severe thunderstorms, droughts and wildfires, or even benign-seeming temperature shifts of a few degrees over a season, farmers are struggling with changing weather patterns caused by global climate change.  
"Extreme weather is just creating a multitude of conditions outside of the norms," said Tami Griffin, national practice leader, food, agribusiness and beverage industry practice at Aon.
In 2021, natural disasters caused $12.5 billion worth of damages to to crop and rangeland in the U.S., the American Farm Bureau Federation reports. 
"Many of these events don't seem to be weakening," Benefield said. 
"Whether it's severe rain or flooding or potential flooding to hail and tornadoes, we're seeing more of these events and the ultimate damage and liabilities around these events are more than they have been historically."
Losses from single events can stretch into the millions. In 2020, the drought and derecho (a large windstorm that can feature hurricane force winds and cause tornadoes, thunderstorms and flash floods) that swept over Iowa caused farmers $243 million in uninsured losses, per reporting from the Des Moines Register.    
Changing Weather, Changing Agricultural Risk
When facing losses in the millions and even billions, U.S. farmers turn to insurance, most of which is purchased through the federal crop insurance program, which subsidizes costs. The federal government sets crop insurance rates and pays about 60% of total premiums and farmers are responsible for the other 40%. 
These multi-peril policies protect farmers from natural events, including droughts, floods, insect damage, fire and disease, that result in lower yields. New weather patterns increase the risk of these types of events. 
"You can get frost in June; you can get high heat in March," said Josh Smart, CIC, CRM, AFIS, practice leader and chief sales officer, agribusiness, food and cannabis practice at HUB.  "It puts stress on the crop and it certainly reduces the yield."
Private companies then sell and service policies under these terms and farmers can buy supplemental crop-hail, crop revenue and parametric policies to protect their pocketbooks. More than 90% of farmers purchase insurance through the program, the Insurance Information Institute reports. 
Consequently, U.S. farmers may not be worried about double digit rate increases or an inability to purchase insurance as a result of increased natural catastrophe risk. 
But that doesn't mean risk managers can ignore these increasing risks. Lower yields can result in a reduction in the global food supply, contributing to hunger and political instability. It can also put stress on food production and manufacturing supply chains, leading to low stock of particular foods and rising prices.  
"It makes the whole ecosystem a little bit tighter and a whole lot more complicated," Smart said. "Farmers are high stakes gambling every day."
It's not just severe weather that can pose a problem for farmers. One 2017 study found that every degree Celsius of temperature increase can reduce yields of maize by 7.4%, with a ±4.5% margin of error. So even slight temperature shifts can affect the size of a farmer's crop and the length of their growing season. 
"I've heard many times from farmers that mother nature always finds a way," Smart said. 
"Plants are created to grow and if you can get water and sunlight on them, they're going to do everything they can to grow. So they're resilient plants, but they may not produce to the optimal level."
Sustainable Agriculture: The Path to the Future
Though farmers are already struggling with climate related risks, the situation could become much worse. Scientists agree we're hurtling toward a future where water shortages, prolonged droughts, volatile wind storms, wildfires and massive losses of tillable soil will become the norm. 
Part of a heat belt predicted to span over the majority of the Midwest, Missouri could see days of 125 degree heat by 2053, one recent study found. Water shortages could affect five billion people by 2050, the UN has warned, meaning there will be less water for farmers to grow crops with during incredibly hot and dry weather.  
"Everybody is stressed in the ag sector about where the water is going to come from," said Stéphane Godier, regional head, Americas, AXA Climate. He's based in Chile and has already seen farmers express concern about water rights and possible shortages in the future. 
"If farmers don't want to increase their dependance on the climate conditions, in spite of the increased volatility, the increased severity and the increased frequency of adverse events, they will need to have adopted best practices in order to reduce the impact on this volatility."
Given the intensity of these risks, it's not a question of whether or not the agricultural industry will change. It's a question of  when — and if we'll act quick enough to stave off the worst effects global climate change could have on our food supply. 
That's where sustainable agriculture comes in.
There are a number of insurers, technological tools and government programs that are racing to help the agricultural industry transition to green farming practices. Sustainable agriculture encompasses everything from determining what crops are the best fit for different climates and promoting the cultivation of healthy soil to lowering water use and reducing pollution. 
AXA Climate has developed a number of technological solutions for aiding farmers in the transition to sustainable agricultural practices. The firm is collecting data on weather patterns, and has turned it into a tool to help farmers see what crops will grow best in what regions. "We want to be in the shoes of the farmer, each pedoclimatic situation is specific," said Vincent Marchal, head of agri-transition, AXA Climate. 
In one case, they helped a grower realize that current weather patterns were making it untenable to farm peas in the area. AXA's tool was able to help him weigh the benefits and drawbacks of switching to a different crop.  
"In the future it will be impossible to produce current pea varieties in certain area," Marchal said. "So farmers can test specific indicators for other varieties or new other crops to choose which one will be the most adapted to the new weather patterns."  
Other farmers are eyeing how their data can help them make better decisions about how much fertilizer to use, when to apply it and what irrigation systems they need to implement.
"Farmers and ranchers today have more data available than ever before," Benefield said. "Consequently, we see those that perform best are those who have that information, and make much better decisions." 
And of course the industry is innovating. Carriers are developing new parametric insurance products to help farmers bear the brunt of some of the financial losses they may face due to natural catastrophes or even just slightly abnormal weather patterns. 
"Not all crops qualify for federal crop insurance," Griffin explained. "We've seen clients use parametric solutions that help with unique circumstances for their own crops."
Benefield shared an example of one such parametric product that has worked well for clients: 
"We launched a product in Australia, where four weeks prior to the conventional harvest day, they can actually insure against too much rain or too much sun," he said. "If it's measurable, we tailor products for the risk." 
The Government Steps in
Setting up a truly green agricultural system will take a lot more than farmers and insurers partnering to implement new, sustainable growing techniques. Society as a whole will need to rethink the way they grow and consume food.   
"It's more than just the farmers and ranchers, the government, the food processors and consumers are all going to have to kind of come to the table," Griffin said.
Agriculture, forestry and land use accounted for 24% of 2010 global greenhouse gas emissions, per the U.S. EPA. 
Soon-to-be underpinning the transition to sustainable ag is funding from the 2022 Inflation Reduction Act. This sweeping law will provide over $20 billion in funds to farmers and ranchers to help incentivize sustainable growing, expand conservation practices, reduce methane output and increase carbon sequestration in soil and trees. 
"It's going to be spending about $20 billion on what they call climate smart agricultural practices," said  Dr. Jonathan Foley, executive director of Project Drawdown, a nonprofit dedicated to finding and advocating for climate solutions. 
This investment is huge, but it is still limited. The bill doesn't introduce any incentives that would encourage Americans to change their diets. Consuming less meat and eating locally can reduce emissions that come from food production and transportation. 
"It's missing an opportunity to do a lot more in the food sector," Foley said. "We need to shift a little bit away from such heavy meat diets in America and … encourage more plant rich diets."
It also doesn't address the high level of emissions that comes from the 30% to 40% of food that is wasted globally each year. When food decomposes it emits methane, a potent greenhouse gas that contributes to warming. Actions like composting waste can help reduce these emissions. 
"That's an even bigger, low hanging fruit to cut emissions and also improve food security and improve food safety," Foley said. 
Whatever changes need to be made, Benefield is confident farmers and ranchers will be able to get the job done.  "I don't know of a more resilient group of folks than farmers and ranchers," he said. &
---
Insuring the Climate Transition is a series that explores the critical role insurance will play in decarbonizing the economy and helping insureds adapt to the effects of global climate change. You can read other stories in the series here. 
Courtney DuChene is a freelance journalist based in Philadelphia. She can be reached at
[email protected]
.