Changing the Game
Highlights of the 2013 NWC&D Conference® and Expo in Las Vegas.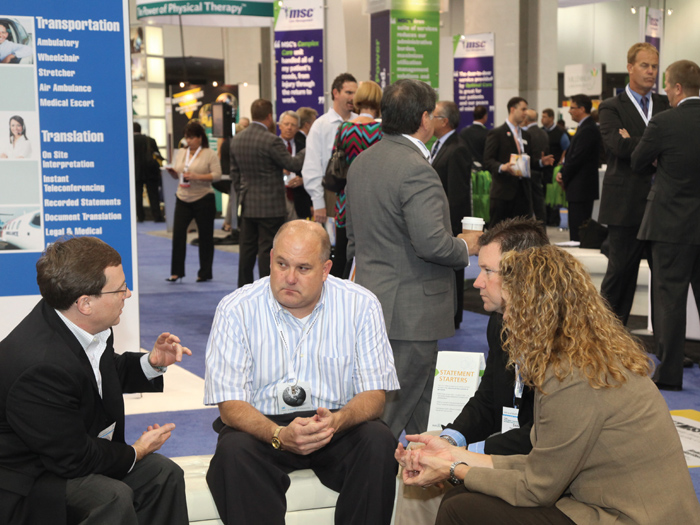 A need for change has shifted the focus in workers' comp from penny-pinching and cost-cutting to ensuring quality care up-front for the benefit of all.
The priority now is on providing "quality medical care as opposed to discount medical providers," said Nancy Grover, National Workers' Compensation and Disability Conference® and Expo program director. "That was such a focus for so long. Well, the cheapest medical care ends up being more expensive in the long run."
The overall theme of "achieving excellence" will be echoed in various sessions at this year's conference, which will be held at the Mandalay Bay Resort and Casino in Las Vegas from Nov. 20-22.
Two sessions, "Misconceptions and Abuse in Orthopedics: Straight From a Surgeon's Mouth" and "The Opioid Crisis: How to Reduce Overprescribing," will be led by doctors discussing how some treatment in the fields of orthopedic surgery and pain management, respectively, pose unnecessary risks to patients. Doctors will also offer insights for claims managers on how to spot roadblocks to recovery, whether that means a worker's special needs, patient malingering or poor communication between physicians and payers.
Greater physician involvement as session speakers reflects the growing emphasis on quality care and is a breakthrough in workers' comp dialogue. "The more doctors we get here, the more other doctors seem to be interested," Grover said.
She also named state reforms as another key trend. "We're looking at cost drivers pre- and post-reform to see how these reforms actually affect costs and the system in general." California state reforms have garnered the most attention, and their shortfalls and successes will be addressed in "California's Legislative Reform: Lessons Learned." Other sessions will examine wider-ranging legislative reforms and their potential impact.
Visit http://www.wcconference.com/ for a more complete look at the agenda. Here's a snapshot of some key sessions to catch at this year's conference:
Opening Keynote: Fighting Myths to Achieve Excellence in Workers' Compensation
What to Expect: Bill Zachry got his first taste of workers' compensation as a claimant, injured at his job as a playground director at the age of 19. Now one of the most respected thought leaders in the industry, he's calling for innovation in claims management. Zachry will discuss key myths holding practitioners back from achieving excellence, and how to move past them for the best possible outcomes.
Who: William Zachry, vice president, Risk Management, Safeway Inc.
When: Wednesday, Nov. 20, 8:30 – 10 a.m.
Session: Risk Scenarios Live! Back to Back Trouble: What Would You Do?
What to Expect: Like reading our Risk Scenarios? Here's a chance to see one live and hear experts weigh in on best practices at several critical points during the case. Narration and video will tell the story of a hotel housekeeper who sustains a run-of-the-mill back injury that devolves into opioid addiction, permanent disability and a $1 million claim. Session attendees can also take a stab at the best proactive approaches via live polling.
Who: Dr. Robert Goldberg, chief medical officer, Healthesystems; Tracey Davanport, director, National Managed Care, Argonaut Insurance Co.; Matthew Kahn, publisher and executive editor, Risk & Insurance®; Dan Reynolds, editor-in-chief, Risk & Insurance®
When: Wednesday, Nov. 20, 11 a.m. – 12:15 p.m.
Session: Misconceptions and Abuse in Orthopedics: Straight from a Surgeon's Mouth
What to Expect: Employers are spending big bucks on orthopedic procedures with unproven medical outcomes. Recommendations for hyaluronic acid injections, platelet rich plasma injections, constant passive motion after total joint replacement and Achilles tendon rupture surgery can be controversial depending on the level of supporting evidence. With rising medical costs going forward, improper procedures hurts both patient and payer. Dr. Paul Legant will provide strategies to identify when a treatment might be unnecessary.
Who: Dr. Paul M. Legant, orthopedic surgeon
When: Wednesday, Nov. 20, 11 a.m. – 12:15 p.m.
Session: California's Legislative Reform: Lessons Learned
What to Expect: S.B. 863 aimed to change California's workers' comp landscape to benefit employers, insurers and injured workers. A year later, both markers of success and some unintended consequences are coming to light. Looking forward, some goals may need reassessment. Medical professionals, insurers and employers affected by the legislation will comment on its daily implications and discuss how other states may impose similar reforms.
Who: Steve Cattolica, director of government relations, California Society of Industrial Medicine and Surgery; Carolyn Horton, regional workers' compensation manager, Costco Wholesale; Mark Webb, vice president and general counsel, Pacific Compensation Insurance Co.; moderator: Mark Walls, senior vice president, Workers' Compensation Market Research leader, Marsh
When: Thursday, Nov. 21, 8:45 – 10 a.m.
Session: Legal Perspective of Latest Workers' Comp Reforms
What to Expect: Reforms may be well-intended, but making them work within changing legislative and regulatory climates poses a big challenge. Listen to expert attorneys explain how current laws could hinder reform, what areas of the law need to change, and what's in store for the future. Coming up with legal solutions that make sense on a daily operational basis could save costs down the line.
Who: Brad Bleakney, managing attorney, Bleakney & Troiani; Thomas A. Robinson, legal writer; Rebecca A. Shafer, president, Amaxx Risk Solutions Inc.; moderator: Stuart D. Colburn, attorney, Downs Stanford
When: Thursday, Nov. 21, 8:45 – 10 a.m.
Session: The Opioid Crisis: How to Reduce Overprescribing
What to Expect: Workers suffering from chronic pain all too often fall prey to opioid addiction that could have been avoided by more careful prescribing. But there are strategies insurers and patients can take to find alternative treatment and curb misuse. Dr. Andrew Kolodny will examine these options as well as broad-based efforts on the federal level to end the crisis.
Who: Dr. Andrew Kolodny, president, Physicians for Responsible Opioid Prescribing; chair, Department of Psychiatry, Maimonides Medical Center
When: Thursday, Nov. 21, 10:45 a.m. – noon
Session: Physicians Speak Out on Whether More Care Early Equals Better Outcomes
What to Expect: New research indicates that administering more care early yields the best outcomes, but that doesn't always sync up with claims managers' best practices. Occupational physicians will share their perspective on how to get patients back to work faster by restructuring and reframing priorities in the claims management process.
Who: Dr. Douglas Benner, chief medical officer, EK Health; Dr. David C. Deitz, vice president, national medical director, Commercial Insurance Strategic Practices, Liberty Mutual Insurance; Greg Moore, CEO, Harbor Health Systems
When: Thursday, Nov. 21, 10:45 a.m. – noon
Session: New Ideas for Your Worst Claims: Addressing Hidden Issues That Cause Poor Outcomes
What to Expect: Some aspects of an injured worker's personal life — home life, relationships, family history or past experiences, for example — make them more susceptible to slow recovery. But these things can be hard to spot. Learn ways to identify workers most likely to end up as long-term cases, and then find simple, low-cost, ideally comprehensive solutions to their special needs.
Who: Dr. Jennifer Christian, founder and lead Maze-Masters guide, Maze-Masters Program; president, Webility Corp.
When: Thursday, Nov. 21, 1:30 – 2:45 p.m.
Session: A New Prescription for Pain Management: Interdisciplinary Team Approach
What to Expect: Battling over-prescription misuse and abuse of addictive pain drugs may take a global approach, according to pain management experts. All treating physicians involved in workers' comp should play a part in managing pain to mitigate risks. That includes understanding biopsychosocial and cognitive behavioral therapy models to treat chronic pain as alternatives to medication. Risk professionals should attend to learn about developing strategies for collaboration.
Who: Michael Coupland, principal, psychologist, Integrated Medical Case Solutions; Tron Emptage, chief clinical officer, Progressive Medical Inc.; Pamela Ferrandino, executive vice president, Casualty Practice leader, Willis North America
When: Thursday, Nov. 21, 3:30 – 4:45 p.m.
Session: 60 Tips for Achieving Workers' Compensation Excellence In 60 Minutes
What to Expect: Each panelist will offer their 10 best tips for workers' comp excellence, but they must deliver each tidbit in 60 seconds or less before passing the mic to the next speaker. A breakout session in past years, this popular segment will run as an expanded general session to accommodate higher demand.
Who: Jill Dulich, senior director, Marriott Claims Services; Dr. Steven Feinberg, medical director, Feinberg Medical Group; Dr. Gary Franklin, medical director, Washington Department of Labor and Industries; Denise Gillen-Algire, principal, Risk Navigation Group; Julia Sfurm, corporate risk operations manager, Elkay Manufacturing Co.; Alex Swedlow, president, California Workers' Compensation Institute; moderator: Matthew B. Schiff, partner, Schiff & Hulbert
When: Friday, Nov. 22, 8:30 – 9:45 a.m.
Session: Embracing the "F" Word in Workers' Compensation
What to Expect: No, that's not an encouragement to relieve stress through colorful language. "Functionality" is the name of the game here. Three speakers will demonstrate how injured workers, supervisors, physicians and claims managers can communicate effectively to speed return-to-work by focusing on function improvement. This means working with a worker's remaining strengths and abilities, rather than concentrating on limitations. With positive interactions and a proactive approach, workers can recover faster, minimizing costs.
Who: Dr. Jennifer Christian, founder and lead Maze-Masters guide, Maze-Masters Program; president, Webility Corp.; Deborah V. DiBenedetto, president, DVD Associates
When: Friday, Nov. 22, 10 – 11:15 a.m.
Katie Dwyer is a freelance editor and writer based out of Philadelphia. She can be reached at
[email protected]
.