Risk Strategies Broker J. Dale Crow Recognized as a 2022 Construction Power Broker
J. Dale Crow, Senior Vice President, Risk Strategies
Finding affordable and comprehensive coverage in the construction market is difficult in the best of times.
So when J. Dale Crow's client, a new technology firm, wanted to quadruple the limits on its technology errors and omissions/cyber insurance coverage to $20 million after landing a large municipal contract, he knew he had his work cut out for him.
Having successfully secured the extended coverage for a slight premium increase, faced with an increasingly hardening market, he managed to do so again at the next renewal. Crow also worked through language barriers, time zones, traditional customs and government requirements and regulations with his broker partners in Europe and Asia to extend coverage to his client's ever-growing local staff base overseas.
Aside from his vast legal knowledge, Crow's key strength is keeping in touch with clients by whatever means, whether on Zoom or sitting at the opposite end of a picnic table, which came into its own during the pandemic, winning him two large clients without even meeting them in person.
Tim Priddy, CFO of engineering firm Smith Seckman Reid, said, "Dale has a wealth of knowledge about construction law and specifically about contractual risks. He also has a strong understanding of our insurance policies and does a great job in helping us to understand the difference in the carrier's policy forms and, therefore, making the best coverage decisions."
2022 Construction Power Broker Winners and Finalists 
---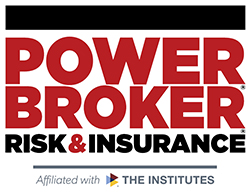 What is a Power Broker?
A Risk & Insurance Power Broker® is an individual who stands out among their peers for the exceptional client work they delivered over the past year. While brokers play many key roles in the insurance industry and risk profession, a Power Broker® award recognizes problem solving, customer service and industry knowledge.
Our goal is to broadly recognize and promote outstanding risk management and customer service among the brokerage community.
Who selects the winners?
Power Brokers are selected by risk managers based on the strength of the testimonials they provide to a team of 15 Risk & Insurance editors and writers.