Marsh Broker Stephen Morton Recognized as a 2022 International Power Broker
Stephen Morton, Senior Vice President, Marsh
Stephen Morton wins praise from clients for being forward-thinking and open-minded.
"He thinks around corners and comes up with solutions for law firms that others wouldn't," said Nicola Gillespie, director, contentious risk-legal & risk for Linklaters LLP in London.
When Brexit was voted in and the United Kingdom withdrew from the European Union in 2020, it brought new challenges for Linklaters and other clients that were setting up new offices.
Linklaters wanted to establish an office in the Republic of Ireland but faced some obstacles.
"We needed to determine how to use our global PI program to meet local insurance requirements without purchasing additional policies," Gillespie said.
"And we needed to structure it so that program allowed the review of different structures while providing the certainty for regulatory approval."
Morton's response was to develop the top excess layer of the existing program to become a regulatory compliance wrapper by adding the necessary compliance clauses and drop-down provisions and securing capacity from carriers.
Through this approach, he secured regulatory capacity across Italy, England, Wales and Ireland at no additional premium and in compliance with insurance requirements from the Law Society of Ireland.
2022 International Power Broker Winners and Finalists
---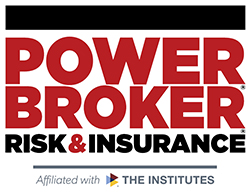 What is a Power Broker?
A Risk & Insurance Power Broker® is an individual who stands out among their peers for the exceptional client work they delivered over the past year. While brokers play many key roles in the insurance industry and risk profession, a Power Broker® award recognizes problem solving, customer service and industry knowledge.
Our goal is to broadly recognize and promote outstanding risk management and customer service among the brokerage community.
Who selects the winners?
Power Brokers are selected by risk managers based on the strength of the testimonials they provide to a team of 15 Risk & Insurance editors and writers.