Marsh Broker Kristin Falzone Recognized as a 2022 At Large Power Broker
Kristin Falzone, Vice President, Client Advisory, FINPRO, Marsh
Half the challenge for brokers is getting underwriters to understand the risk they are writing. It's a skill that, if done well, can save clients significant premium amounts and/or improve their limits, and terms and conditions. That is exactly what Kristin Falzone achieved for her client, investment firm Adams Funds. 
Its primary management liability insurer had substantially reduced limits, restricted coverage, increased retentions and doubled premiums for the 2021 annual renewal.
A large increase in excess rates also made replacing the limit gap in the company's insurance tower expensive and unattractive.
So Falzone immediately evaluated its current limits and carried out in-depth claim scenario analysis and thorough marketing exercise in the global marketplace. Because the firm's risk profile is often misunderstood as self-managed, closed-end funds are uncommon; she also had to educate the markets on the risk.
After restructuring the entire management and cyber liability program, Falzone was able to secure expiring limits, including an additional $5 million in excess employment practices liability and cyber liability coverage, for an 11% total premium reduction. 
Janis Kerns, general counsel, corporate secretary and chief compliance officer at Adams Funds, said, "Kristin effectively navigated that landscape and found newer relationships closely aligned by ratings and quality consistent with and meeting our coverage requirements." 
2022 At-Large Power Broker Winners and Finalists 
---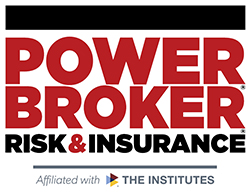 What is a Power Broker? 
A Risk & Insurance Power Broker® is an individual who stands out among their peers for the exceptional client work they delivered over the past year. While brokers play many key roles in the insurance industry and risk profession, a Power Broker® award recognizes problem solving, customer service and industry knowledge. 
Our goal is to broadly recognize and promote outstanding risk management and customer service among the brokerage community. 
Who selects the winners? 
Power Brokers are selected by risk managers based on the strength of the testimonials they provide to a team of 15 Risk & Insurance editors and writers.