Marsh Broker John Katilus Recognized as a 2022 Utilities Power Broker
John Katilus, Senior Vice President, Marsh
Of all the roles played by brokers, the most meaningful may be teacher.
John Katilus was consistently praised by his clients for his ability to help them understand their insurance needs.
"I joined my company just as the renewal requests for our property program were accelerating," said the risk manager for a large client.
"I had no previous experience as a risk manager for a company in this industry. From day one, John and his team worked tirelessly to get me up-to-speed with everything from the insurance program to the industry."
The learning curve was all the more steeper, because premium increases have risen sharply over the last few years.
"With premiums significantly rising in other lines of coverage, especially cyber, we absolutely needed to keep our property program premium flat with last year's to meet my CFO's mandate," the risk manager explained.
"John conceived several creative ideas."
For example, he encouraged them to review their books to ensure that all applicable non-continuing expenses were being removed from the business interruption values.
"John also proposed that I look into how we're insuring our ordinary payroll, and, we determined we were purchasing too much coverage," the risk manager said.
2022 Utilities Power Broker Winners and Finalists
---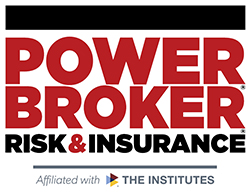 What is a Power Broker?
A Risk & Insurance Power Broker® is an individual who stands out among their peers for the exceptional client work they delivered over the past year. While brokers play many key roles in the insurance industry and risk profession, a Power Broker® award recognizes problem solving, customer service and industry knowledge.
Our goal is to broadly recognize and promote outstanding risk management and customer service among the brokerage community.
Who selects the winners?
Power Brokers are selected by risk managers based on the strength of the testimonials they provide to a team of 15 Risk & Insurance editors and writers.