Aon Broker Giles Harlow Recognized as a 2023 Specialty Power Broker
Giles Harlow, Managing Director, Aon
Having worked in both the London and Bermuda insurance markets, Giles Harlow has unique multi-geographic insurance knowledge. This is evident in his role helping one company complete several transactions over the past year. Harlow understands the vital importance of ensuring that an alignment of interests exists within all parties in any given transaction.
"In particular, he has been a thoughtful mediator to bridge difficult deal points in highly complex transactions," a company representative said. "His in-depth knowledge of the relevant parties, their preferences and constraints, enables him to facilitate a path forward for all parties. Giles is available at all times and has been building an industry-leading team to support his efforts as his business continues to experience exponential growth."
Recognized as a specialty insurance brokerage pioneer, Harlow strives to ensure clients' interests are aligned with carriers' when it comes to the structure of a placement — that in any scenario, the market and the client are working in tandem and don't clash.
Harlow also supported the introduction of MVolution Partners to a universe of specialty insurance companies that are interested in working with the firm: "Giles was able to help us resolve a multitude of significant issues that arose during the execution of our transaction in a way that preserved and improved relationships with all interested parties … We wouldn't have been able to close our transaction without him and look forward to working with him for many years to come," said Michael Weinmann, founding partner, MVolution Partners.
2023 Specialty Power Broker Winners and Finalists
---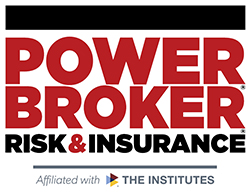 What is a Power Broker?
A Risk & Insurance Power Broker® is an individual who stands out among their peers for the exceptional client work they have delivered over the past year. While brokers play many key roles in the insurance industry and risk profession, a Power Broker® award recognizes problem solving, customer service and industry knowledge.
Our goal is to broadly recognize and promote outstanding risk management and customer service among the brokerage community.
Who selects the winners?
Power Brokers are selected by risk managers based on the strength of the testimonials they provide to a team of 15 Risk & Insurance editors and writers.