Aon Broker Cullen Bickle Recognized as a 2022 International Power Broker
Cullen Bickle, Assistant Vice President, Aon
The COVID-19 pandemic launched a seismic gut punch for the brick-and-mortar retail sector, and many retail businesses have struggled to hit their year-over-year revenue projections.
Cullen Bickle saw first-hand the challenges retailers faced when he assisted a retailing client with its 2020 insurance renewal.
The goal was to simply save as much premium as possible. Historically, he said the company had difficulty pulling exposure data globally for international casualty renewals. The client was able to obtain the relevant payroll data, but in doing so, its exposures increased by more than 3000%.
Understandably, Bickle said the client was concerned that reporting accurate data would hinder a successful renewal and cause a significant premium increase. Bickle's solution was to leverage a long-standing carrier relationship with the insured. He reports he was able to subsidize the exposure increase with an 82% rate decrease — well below the standard market rate for this exposure.
His attention to detail is also appreciated by another client, Netflix, which, unlike brick-and-mortar retailers, was seeing sales growth during the pandemic as people stayed home. Dominic Lopez, manager, risk management at Netflix, said Bickle helped the company piggyback on its corporate insurance policies to insure film locations in various countries across the globe. "It saves us money and gives us more control," he said.
2022 International Power Broker Winners and Finalists
---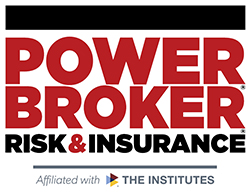 What is a Power Broker?
A Risk & Insurance Power Broker® is an individual who stands out among their peers for the exceptional client work they delivered over the past year. While brokers play many key roles in the insurance industry and risk profession, a Power Broker® award recognizes problem solving, customer service and industry knowledge.
Our goal is to broadly recognize and promote outstanding risk management and customer service among the brokerage community.
Who selects the winners?
Power Brokers are selected by risk managers based on the strength of the testimonials they provide to a team of 15 Risk & Insurance editors and writers.