Aon Broker Alexander Minier Recognized as a 2022 At Large Power Broker
Alexander Minier, Vice President and Team Leader, Aon
Special purpose acquisition companies (SPACs) have taken off in popularity over the last 12 months as more companies have become publicly listed on the stock exchange.
Yet they can be extremely complex deals, as Alexander Minier can attest to when he placed a public D&O policy for his client CarLotz, the U.S.'s largest consignment-to-retail used car marketplace. 
The company was undergoing a deSPAC transaction, and he needed to align the language so that the three D&O policies involved would cover the liabilities for the private company, the SPAC and the new entity.
But negotiations were challenging amid a hard market and insurers were reluctant to provide capital for new public companies. Added to that, late in the talks with the underwriters and weeks away from the deal, CarLotz was served with merger objection litigation.
After engaging each of the dozen insurers on the D&O tower to present the specifics of the litigation and its potential impact on the firm's excess layer, Minier was able to maintain the quoted terms. 
Another client, Janina Diggins, senior director, worldwide insurance, at Parexel, said, "Alexander is exceptionally knowledgeable, not just from a product standpoint but also from an industry perspective. He's also great at breaking down complex terms into a language that everybody understands."
2022 At-Large Power Broker Winners and Finalists 
---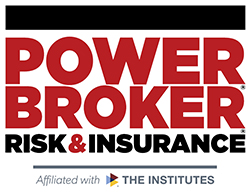 What is a Power Broker? 
A Risk & Insurance Power Broker® is an individual who stands out among their peers for the exceptional client work they delivered over the past year. While brokers play many key roles in the insurance industry and risk profession, a Power Broker® award recognizes problem solving, customer service and industry knowledge. 
Our goal is to broadly recognize and promote outstanding risk management and customer service among the brokerage community. 
Who selects the winners? 
Power Brokers are selected by risk managers based on the strength of the testimonials they provide to a team of 15 Risk & Insurance editors and writers.