Auto Insurers Have a New Risk to Worry About: Luxury 'Green' SUVs
An analysis of claims data by AXA XL doesn't bode well for electric vehicle safety, but it's too soon to tell what reaction that warrants.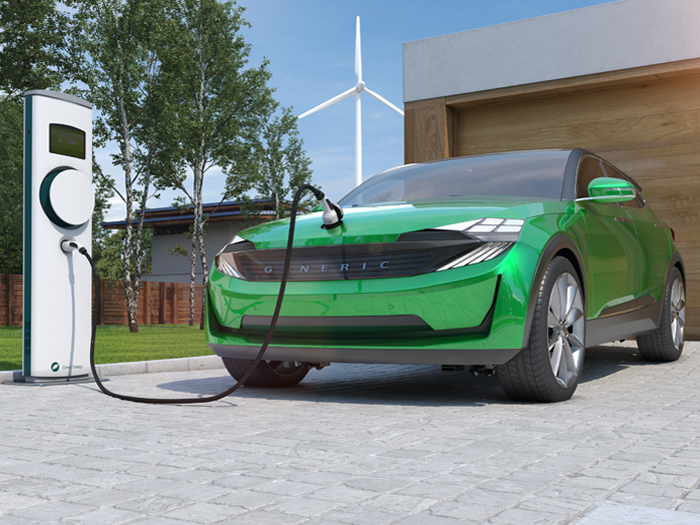 AXA XL recently reported that, according to its liability insurance claims data, electric luxury cars and SUVs are 40% more likely to cause accidents compared to their combustion-engine counterparts.
The findings were based on 1,000 vehicles that had been on the road for seven years — referred to as 7,000-year risks.
Electric vehicles accelerate much more quickly. They can reach top speed almost instantaneously, whereas regular cars take a few seconds to rev up.
In a survey conducted by the insurer earlier this year, half of electric car drivers attested to the learning curve associated with "green" cars' more sensitive acceleration and braking.
Faster speed and reduced reaction time are a recipe for crashes. National data shows that even a 10-mph speed increase ups the risk of a crash by 9.1%.
Risks of Driving Electric
Without the signature hum of a motor, electric cars may also pose increased risk to pedestrians and cyclists who can't hear them coming.
The problem is so pertinent that The National Highway Traffic Safety Administration is requiring U.S. manufacturers of all new electric and hybrid vehicles to install software that will emit sound when travelling at or below 19 mph.
With a compliance deadline of Sept. 1, 2019, those vehicles will just be hitting the streets en masse.
Sales of both private passenger and commercial electric vehicles have been on the rise and are only projected to grow.
This is thanks to more affordable cars, greater availability of charging stations and, of course, a societal desire to reduce CO2 emissions.
A market analysis by BloombergNEF concluded that it expects 56% of light commercial vehicle and 31% of medium commercial vehicle sales in U.S., China and Europe to be electric by 2040.
More electric cars on the road could translate to higher crash frequency.
Crash severity may also worsen as drivers and first responders learn the nuances of managing a scene involving electric cars. Because they can't hear the engine, those on site may forget to ensure it's turned off.
The batteries of electric cars are also likely to overheat and can catch fire up to 48-hours after a crash, which could impair the accident investigation and endanger the environment through the emission of toxic fumes.
What the Data Didn't Address
Interestingly, AXA's claims data study found the opposite to be true for compact and micro electric vehicles, which are slightly less likely to be involved in accidents compared to standard versions. The reasons for that difference are not entirely clear.
One factor not accounted for in AXA's study was the effect of new and increasingly common safety features like seat belt alarms, lane departure and front- and rear-end collision warnings.
According to 2016 data from the Insurance Institute for Highway Safety, automatic braking reduces rear-end crashes by about 40%, while forward collision warning alone reduces crashes by 23%.
These features are becoming standard in newer combustion and electric vehicles alike and could potentially offset some of the risk posed by quick acceleration.
As drivers gain more experience behind the wheel of nimble electric cars, it's also likely they'll adopt the lighter foot needed to drive electric cars safely.
What It Means for Auto Insurers
According to A.M. Best, combined ratio for the U.S. commercial auto market was 112.9 through Q3 2018, up from 111 in 2017 and 110.4 in 2015. The taking agency said this sector hasn't had a combined ratio under 100 since it hit 97.9 in 2010.
More cars on the road, rising medical costs, increasingly tangled questions of liability and skyrocketing verdicts are all contributing to the eroding ratio, as well as years of less disciplined underwriting common in a soft market.
Amid these factors, the relevance of AXA's findings for auto insurers' underwriting and reserving strategies remains unclear at this point.
In comments on the study, AXA's head of accident research and prevention Bettina Zahnd noted that its findings were not statistically significant, and that overall, the accident rates between electric and standard vehicles are roughly the same.
She acknowledged that the connection between electric SUVs and accident frequency was a trend to watch but does not yet elicit a specific call to action.
Currently, many auto insurers offer discounts to drivers of environmentally friendly vehicles. While there's no sign of that benefit disappearing, it will certainly be worthwhile to keep an eye on emerging claims data to get ahead of any worsening exposures. &
Katie Dwyer is a freelance editor and writer based out of Philadelphia. She can be reached at
[email protected]