Risks of Wearables
Wearables bring with them a host of liability concerns.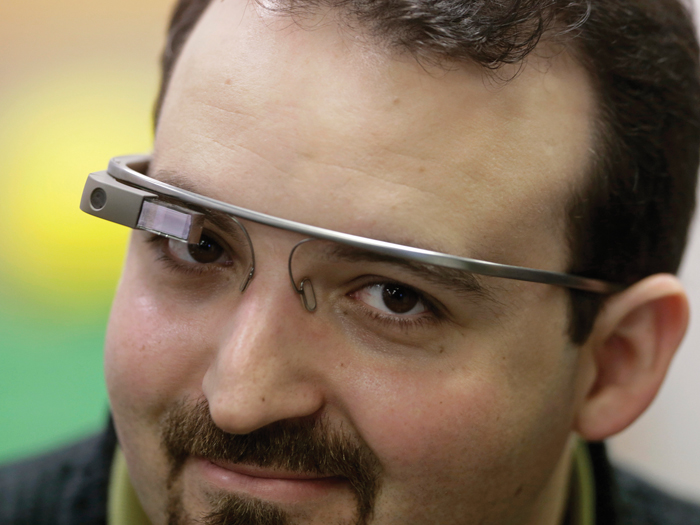 While wearable devices are being touted by many as the next big thing on the consumer computing front, opinions differ on whether or not gadgets like smart glass, fitness tracking bracelets and smart watches will ever match the hype.
Whether or not they succeed in terms of sales and eventual widespread acceptance, however, legal and insurance experts believe this latest tech trend will bring added risk, both for employers whose workers use wearable tech on the job and for those who manufacture and — by extension in some cases — manage those devices.
Much like "bring your own device" (BYOD), where employees conduct company business on their personal smart phones and tablets, wearable technology use requires strong cyber policies to avoid company exposure.
But wearable technology goes a step farther in that products such as smart glass (Google Glass is just one example) bring a new dimension to risks in such areas as workers' comp and product liability.
Currently, there are mixed views on wearable technology's true impact. On the optimistic side, according to Statista, an Internet-based statistics provider in New York City, the global wearable device market is expected to grow from $5 billion in 2014 to $12.6 billion by 2018.
Tempering that is a 2013 Harris Interactive poll of 2,577 U.S. adults, where overall opinions seem to be mixed, with Americans slightly skeptical. According to the Harris poll, about half of Americans believe wearable tech is just a fad (49 percent) and not likely to become as common as smartphones (also 49 percent). Roughly one-third of the respondents (35 percent and 37 percent, respectively) disagreed.
While the jury is out on the "stickyness" of wearable devices, their potential as workplace tools, for example, is undeniable. However, there exists the double-edged sword of balancing productivity with various risks.
Boston-based Anand Rao, a principal in PwC's insurance practice, said that for the insurance industry, smart glass products can augment a claims professional's capability of adjudicating claims.
"Smart glass products can create an almost a real-time assessment of losses in personal or commercial lines," he said. "It could speed up efficiency. I can definitely see smart glass being used more in that area."
Privacy Protections at Risk

Yet, while wearable technology may boost productivity aross several business sectors and in general areas, such as employee training, risk exposures are obvious, Rao said.
For example, an employee wearing company-issued Google Glass might become distracted and cause an accident. Or, they may injure themselves at work after becoming distracted.
"It's definitely an issue by causing a distraction when driving or walking or doing other things," he said. "The notion around changing someone's focus, that is an obvious risk. If an individual consumer does it, there's not much you can do. But if an employer has authorized use and something happens, it becomes a serious issue."
Company-issued glass also can be used to invade someone's privacy, as Google Glass is able to capture real-time facial images and video, and search and/or post data on that person.
Shawn Ram, technology practice leader at Crystal & Company in San Francisco, said companies that engineer and deliver wearable devices such as fitness wristbands also face exposure.
"If a fitness wristband device is collecting information on me, it puts me in a position whereby the company can be broaching privacy-related concerns," he said.
The private health data on such devices also puts the manufacturer at risk if protected data is lost.
"That is a topic that is much discussed, but due to the current nature of wearables, you won't find companies managing the risk like hospitals or large cloud-based companies," he said.
PwC's Rao said regulatory laws are needed. Right now, he said, it is unclear who owns the data and who can see the data generated by wearables.
"If a health or life insurance carrier is getting that data and charging a higher premium, that's not what you want," he said. "It must be used only for the purposes that have been stated. If insurers start making use of data to do something else, that's not acceptable."
Data Security Concerns

Christine Lyon, a partner in the Palo Alto, Calif., law office of Morrison Foerster, said there is concern that employees may use smart glass to collect and record proprietary information.
"For insurance carriers, risk managers and employers, the world of wearable devices will evolve very quickly, making it a challenge to keep up from a risk transfer perspective." — Shawn Ram, technology practice leader, Crystal & Company
"This is not unique to wearables but it's another front that requires attention," she said. "And the smaller these devices get, the harder they are to identify that someone is using one. Also, the smaller they are, the easier they are to lose."
She said wearables are similar to BYOD because a company's workers may have data on third-party devices that have not been properly vetted.
Smart glass, she said, is a "different animal" than other wearables because it is so stealthy in collecting information — raising questions about when and how that data is used.
"This is fertile new territory because so much is unknown right now," Lyon said.
But, she said, the focus should be more on data security than litigation at this point.
Companies need to establish policies with specific rules for the use of wearables, which means they should see if current policies are broad enough to cover the risks associated with wearables.
"We haven't seen any claims or litigation yet around wearables," Lyon said.
"Employers are dealing with it on an ad hoc basis for the most part."
Michele Lange, director of legal technologies for Kroll Ontrack, a data recovery company based in Minneapolis, specializes in issues related to e-discovery and technology's role in the law.
She said wearables should be included in a company's BYOD policies to proactively address issues such as security of the device data and preservation and collection of electronically stored information (ESI) if a regulatory request is issued.
Video: Tech experts discuss medical uses of wearables at the SXSW conference in Austin, Texas.
"The only way to prevent liability is to completely disallow wearables," she said.
"But we know that's an imperfect solution. It's better to manage their responsible use, considering the influx of the technology will be difficult to curtail."
Lange noted that part of the allure of wearables is the promise of efficiency and convenience, and nowhere are these values more embraced than in the workplace. Thirty years ago, computers were not on every desk, but today it's impossible to imagine the workplace without them.
"Whenever technology can offer a business a more efficient employee base and cost-savings due to increased productivity, it will catch on. It'll be no different for wearables," she said.
"As these devices evolve into stand-alone technologies, we can assume more issues will arise because they'll begin to store their own data," she said. "The tricky part for businesses and courts is knowing where to draw the line between personal and private data, and that which is relevant to litigation."
Recovering data from a fitness tracking wearable, for example, could be a great tool to fight a workers' comp claim. But it's also a privacy law minefield touching everything from the Privacy Act of 1974 to potentially even HIPAA, she said.
Wearables are going to be a headache for employers, she said, calling the emerging technology a "high-risk, high-reward innovation."
While tech-savvy firms may hand out wearables to employees to increase productivity, she said, more conservative businesses may not and risk missing a competitive edge.
But what happens if the wearable produces adverse health effects? Or if an employee who is driving to work and using work-issued Google Glass gets in a car accident?
Also, how can you protect trade secrets and intellectual property when an employee can record everything they look at through their glasses — with the employer being none the wiser?
"These are the questions lawyers will be asking in the coming years as even bigger tech players like Apple join the wearables industry," she said.
Product Liability

Speaking of Google Glass as a potential headache-causing wearable, Ram said that product recall is another outcome that may dampen the hype around wearables. Risks arise as wearables become more invasive and closer to the skin.
In fact, in March 2014, the U.S. Consumer Product Safety Commission issued a total recall of the Fitbit Force, one of the most popular fitness tracking wristbands on the market.
Fitbit Inc. had sold more than one million Fitbit Forces, but some users developed allergic contact dermatitis to "the stainless steel casing, materials used in the strap, or adhesives used to assemble the product, resulting in redness, rashes or blistering where the skin has been in contact with the tracker," according to the official CPSC recall notice.
"When you use a cell phone, you can put it down," Ram said.
"Wearables are always on you, other than when charging. Recall for wearables is something not being adequately addressed by the insurance marketplace right now.
"For insurance carriers, risk managers and employers, the world of wearable devices will evolve very quickly, making it a challenge to keep up from a risk transfer perspective," Ram said.
Tom Starner is a freelance business writer and editor. He can be reached at
[email protected]