Risk & Insurance News + Notes: Aon Announces New Cyber Security Program, FM Global Releases Atlantic Hurricane Report and More
A compilation of the latest announcements, partnerships and products that are likely to have an impact on the insurance industry today.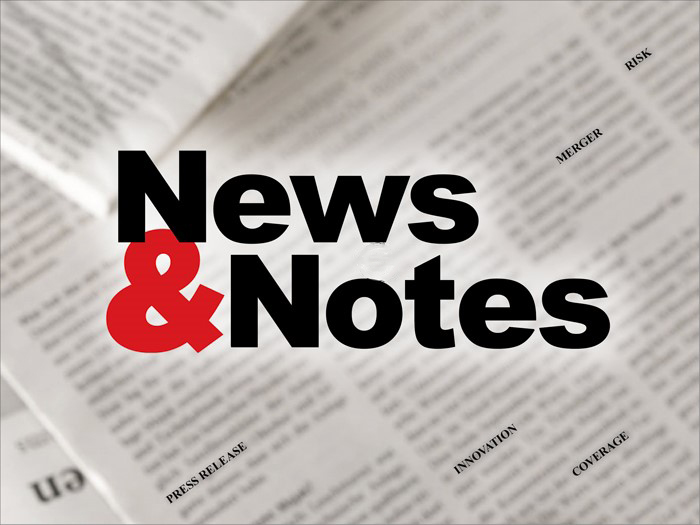 Aon Announces New Program to Highlight Cyber Awareness
Aon recently announced a new program that aims to provide companies with the proper protection against cyber threats in their entirety.
The program will primarily consist of employee training in which employees learn the basic premise of cyber risk, how to identify a risk should it be presented and how to safely mitigate the threat. Training will be presented in the form of several short modules.
Through phishing emails and other ransomware threats, perpetrators seek to break down cyber security by taking advantage of a company's employees. Very recently, a nonprofit in Philadelphia was scorched for close to $1 million through such an attack.
Aon's training program adds another layer of protection as cyber risk is now on every employees' radar as they go through their day-to-day motions.
"Even before COVID-19, cyber attacks were on the rise. But now, with millions of people working remotely, the risk of a cyber incident is at an all-time high," said Christian Hoffman, CEO, Aon's Cyber Solutions, North America.
"Over time, cyber criminals have grown more sophisticated and breaches have grown more expensive. This training platform will help employees understand their integral role in minimizing their company's security vulnerabilities."
Paradigm Study Reveals Company's Successes Over Last Seven Years
Paradigm, which has established its business in solving catastrophic and complex health care challenges while improving the lives of those in its care, has announced the results of an independent study on its claims outcomes. The study was conducted by actuarial firm, Milliman.
The study examined a sample of Paradigm-managed cases from the last seven years and found that, in that time, Paradigm was able to achieve lifetime medical savings of 32% and a return-to-work rate nearly six times higher than industry standards.
"Paradigm is an organization with a highly focused dedication to guaranteed outcomes for the most complex and serious workplace injuries," said Michael Choo, MD, the company's chief medical officer, in a press release from the company.
"This new study once again backs up the effectiveness of our specialized and evidence-based approach with a robust set of claims data and analysis.
The studied cases represented a range of complexities, jurisdictions, locations, patient ages and injury types. In total, 593 cases were reviewed and analyzed.
Full access to the study can be found here.
DentalWorks USA Recently Acquired by Bindley Capital Partners and Brian Bell 
DentalWorks USA, a leading care and cost provider for dental injuries, has been acquired by Bindley Capital Partners and Brian Bell, the former CEO of ForeSight Medical.
Bell joins DentalWorks as a member of its executive leadership team. He spent a large portion of his career working with workers' compensation companies that focused on managing treatment, including pharmaceutical and physical therapy, for injured workers.
He brings 19 years of workers' comp experience, primarily in ancillary health care service, to his new role with DentalWorks.
"DentalWorks sets the industry's highest standards for managing complex dental injures and related trauma," said DentalWorks CEO Greg Cressman.
"We strive to do the very best for our loyal customers and recognize the strategic value of joining forces with leaders who have the depth of workers' comp experience and the resources that Brian and Bindley Capital bring. This acquisition strengthens our capabilities and propels our expansion into additional highly specialized, outcomes-focused service offerings."
Hampleton Partners' Report Praises Insurtech's Fundraising Accomplishment
A recent report presented by Hampleton Partners predicts 95 or more M&A deals for Insurtech in the year 2020. Within the first half of the year, 48 of these predicted M&A deals had already been made.
The report also found that "investor appetite" is increasing, as the global insurance premiums have grown to $4.9 trillion in recent years.
Additionally, fundraising metrics in the Insurtech sector has grown exponentially, increasing four times its amount recorded in 2014.
Private equity acquisitions remained as a significant group of buyers as they made up 39% of transactions.
These successful numbers and statistics leave the industry to ask: Where does this place Insurtech and its products? Moving forward, it appears that Insurtech's popularity is forcing experienced insurers to level up.
In order to remain relevant with insureds, the M&A market is "shifting towards more customer-centric and direct-to-consumer digital insurance options." In the same sense, insurers are moving towards a more collaborative partnership with technology providers.
Miro Parizek, founder of Hampleton Partners, said, "Revenue in the Insurtech market is expected to reach $10.1 billion by 2025. There is no doubt that the M&A, fundraising and partnership activity unfolding at present will continue to thrive as players compete for a piece of this pie in an increasingly digital world."
FM Global Shares Its 2020 Hurricane Report Findings
With the official conclusion of the 2020 Atlantic hurricane season, FM Global released some startling findings.
A record number of hurricanes were recorded in a prolonged hurricane season, with the chance of named storms occurring even into the month of December.
The hurricanes themselves were more forceful than hurricanes in previous years, with a warming climate and rising sea levels being blamed for the increased intensity and frequency of storms. The intensity of hurricanes is rated on a scale of from one to five, but several storms this year exceeded what experts would deem a CAT-5 rated hurricane.
Additionally, FM Global reported that more property was at more immediate risk, despite the fact that in the U.S., anyway, many deny the role of climate change in the increasing number of storms.
"We've just experienced the busiest hurricane season on record," said Katherine Klosowski, FM Global's vice president, manager of natural hazards.
"Although the U.S. didn't experience a Hurricane Katrina-level disaster, there is every reason for a business to remain vigilant and ensure it is prepared for severe events. A great deal of property loss can be prevented." &
Emma Brenner is a staff writer with Risk & Insurance. She can be reached at
[email protected]
.