Risk & Insurance News + Notes: State of Vermont Announces 2020 Licensing Figures, Global Risk Solutions Announces Acquisition & More
A compilation of the latest announcements, partnerships and products that are likely to have an impact on the insurance industry today.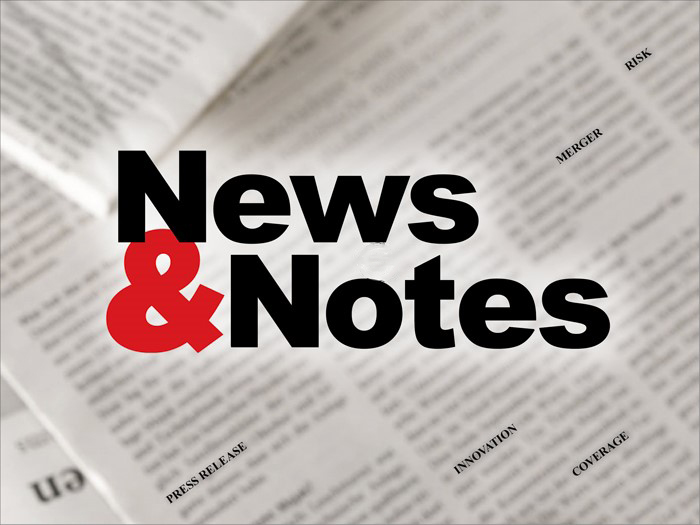 Global Risk Solutions Announces Acquisition
Global Risk Solutions Inc. recently announced the acquisition of Tailored Adjustment Services Inc., a Texas-based firm specializing in property and casualty claims, and litigation management as well.
The acquisition hopes to enhance GRS' strategy of expanding its offerings, business lines and market presence across the U.S.
"With Tailored joining our P&C solutions business unit, we have a much greater presence in the market, a brand name in that space, and deep expertise," said Kip Radigan, group CEO of GRS.
Sapiens International Corp and Click-Ins Partners to Accelerate Claims Management
Sapiens International Corporations announced its partnership with Click-Ins in order to "provide carriers with a comprehensive solution to accelerate claims management."
Click-Ins will partner with Sapiens to ensure that carriers can reap the benefits of artificial intelligence (AI), in the hopes of incorporating a digital, easily understood and productive claims experience.
"AI and deep learning are transforming insurance underwriting as we know it," said Roni Al-Dor, president and CEO at Sapiens. "Click-Ins has the expertise and capabilities needed to drive this transformation, making them ideal partners in our quest to provide comprehensive, customer-centric solutions."
"We are pleased to partner with Sapiens. The need to automate car damage detection and accelerate claim processes is vital in today's industry climate," said Eugene Greenberg, co-founder and CEO at Click-Ins. "The integrated solution will enable insurance companies to better serve their customers."
Insureon to Begin Offering Quoting and Rating Technology
Insureon recently announced its quoting and rating technology to both insurance brokerages and agencies. The technology, Insureon Accelerate, is designed to give brokers and agents access to national carriers through a quote submission process.
The capabilities of Insureon Accelerate should enable brokers and agents to gain a clearer picture of the small- and medium-sized business market. Featured in the technology are the same components Insureon used and continues to use in its e-commerce business.
"For years, the insurance industry has needed a technology solution for the problem of writing commercial insurance for small- and medium-sized businesses in an efficient and profitable manner," said Dan Kazan, Insureon's chief executive officer.
Kazan continued, "Insureon, as an online insurance agency itself, has been doing this successfully for years, and is now opening up its technology for use by the entire marketplace. This is a game-changer for everyone involved — the insurance brokerages and agencies, carriers and most importantly, small- and medium-sized businesses."
Vermont Announces 2020 Licensing Figures
In the year 2020, the state of Vermont licensed 38 new captive insurance companies, making Vermont home to 589 licensed captives. This includes 564 active and 25 dormant captive insurance companies.
After this successful year for the state, it remains the largest U.S. home for captive insurance and the third largest in the world.
The newly licensed captives were found across several sectors, including health care, real estate and technology. Additionally, at least six of the new captives were formed by companies that span internationally, ranging from Canada to Dubai.
The state's success only appears to be accelerating, largely due to the changing industry environment.
Brittany Nevins, captive insurance economic development director, said, "We licensed 11 new captives in the fourth quarter alone. The market that began hardening in 2019 continued rapidly throughout 2020 and now into 2021. Before 2021 began, we had more captives in process for licensing than we had licensed total in the first month of 2020."
"The particularly hard market conditions in commercial property insurance influenced the number of captive formations in the construction and real estate sectors," said Dave Provost, deputy commissioner of captive insurance for Vermont.
"Nearly a third of the new formations this past year had parents from those industries, with price and availability commonly noted as drivers for the captive. The global pandemic has not stood in the way of Vermont's continued ability to be responsive, efficient and collaborative." &
Emma Brenner is a staff writer with Risk & Insurance. She can be reached at
[email protected]
.