Risk & Insurance News+Notes: Mosaic Insurance Celebrates Six Months of Operation and More
Mosaic Insurance celebrates six months of operation and highlights its key milestones so far.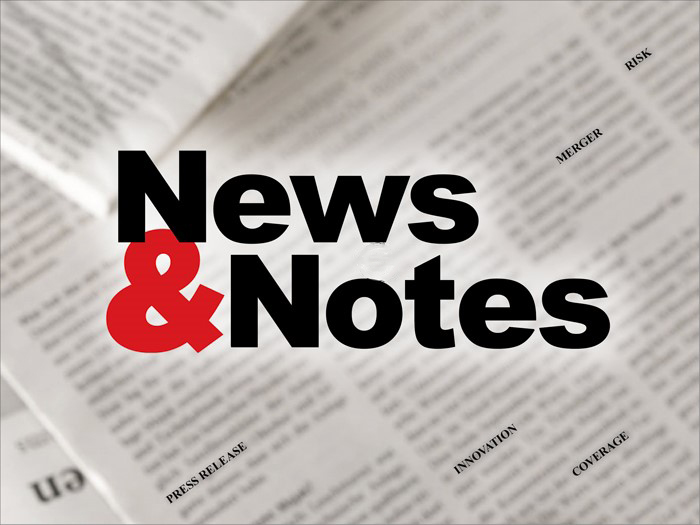 Mosaic Hits Milestones in Just Six Months of Operations
Mosaic Insurance marked six months of growth and corporate milestones in early August.
Among the successes included the opening of three key offices, establishment of four strategic regional distribution hubs, and hiring across six product lines worldwide.
"We've evolved from an ambitious business plan to a powerful reality allowing talent, technology, and an innovative model to flourish together," said Mosaic co-founder and co-CEO Mitch Blaser.
"Our fast-growing team is extremely grateful to our investors, our clients and distribution partners, and to all our market stakeholders for the immense support they've shown us as we've built Mosaic over the past six months."
Backed by private-equity firm Golden Gate Capital, Mosaic launched as a global specialty insurer on February 4, with new Lloyd's of London Syndicate 1609 as its centerpiece and a focus on select, complex lines of business.
The company's hybrid structure has been designed to provide syndicated capacity by combining proprietary and trade capital — allowing Mosaic to source and underwrite business as a primary lead market.
"Thanks to the agility of our model, matched with valuable trade-capital partner relationships, Mosaic has been able to bring much-needed, relevant product to market at a time of great geopolitical risk and uncertainty," said co-founder and co-CEO Mark Wheeler.
Wheeler continued: "We are very appreciative for that, and we remain committed to working closely with clients and their advisors to tailor discerning solutions to their risks and exposures."
MS Amlin Invests in U.S.-Based ESG Start Up InQlusiv, LLC
MS Amlin announced that it has made an investment in InQlusiv, LLC, a U.S.-based environmental, social and governance (ESG)-focused managing general agency (MGA), as it progresses with its recently announced strategy of targeting specialty MGAs in the U.S.
The minority investment supports a start-up that plans to provide a business owner's policy plus a parametric digital business interruption policy option for small- to medium-sized businesses.
It is focused specifically on LGBTQ, women-led and minority/ethnic owned businesses (community-based businesses) across the U.S., as these specific businesses seek to rebuild local economies and recover from the impact of the pandemic.
MS Amlin believes that these communities in the U.S. could be underinsured and potentially struggling to find affordable cover as they rebuild their businesses.
The investment is therefore designed to help provide what MS Amlin believes will be simple and cost-effective cover that can be easily purchased online, as well as accessed immediately post-event via a single parametric trigger.
Launching into the U.S. market later this year, InQlusiv was founded by Andrew Terrell and William Klepp with the goal of providing simple and cost effective ESG-based insurance and risk mitigation products to community-based small businesses.
The company's products will be sold via a digital platform, licensed in 50 U.S. states.
The initial product offering covers both property and liability exposure, alongside the digital business interruption policy.
Over time InQlusiv plans to expand available coverage to include commercial general liability, property, business auto, E-business cover, workers' compensation, small group life and SME health benefit packages to the communities described above.
Johan Slabbert, CEO of MS Amlin Underwriting Ltd, commented: "We're delighted to invest in such an innovative, community-oriented company like InQlusiv.
"ESG anchors everything that InQlusiv does, and we're looking forward to learning from them as both businesses grow together in the U.S. market," Slabbert continued.
"Andrew and William have an excellent track record of targeting previously underinsured niches, as well as a strong commercial pedigree with decades of re/insurance experience." &