Risk & Insurance News + Notes: Lloyd's Adds an ESG Syndicate, TigerRisk and Pinpoint Partner to Provide Predictive Analytics and More
Carisk Partners announces a partnership to provide patient-centered workers' comp case closure and settlement solution.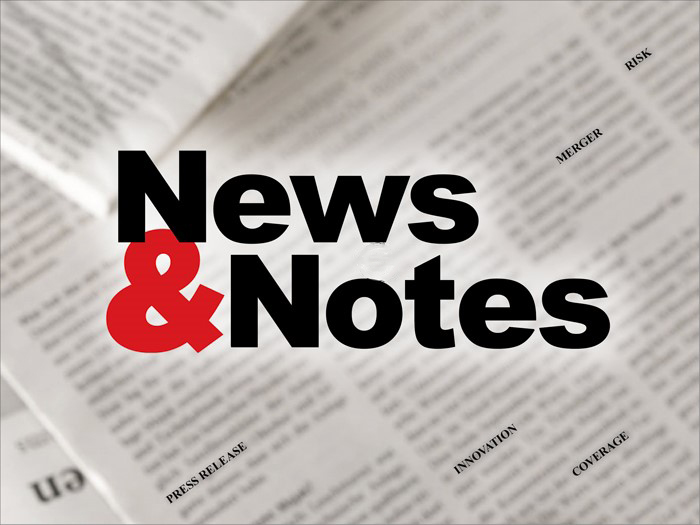 Beazley to Launch Lloyd's First ESG Syndicate  
Specialty insurer, Beazley, is set to launch a Lloyd's syndicate offering additional capacity to businesses that perform well against socially responsible investing metrics. Syndicate 4321 has received in principle approval from Lloyd's to begin underwriting in January 2022.  
The leader of the new syndicate, Will Roscoe, head of the market facilities division at Beazley, said, "Syndicate 4321 is an innovative and tangible way to support those businesses that invest in ESG by offering additional capacity."  
"Evidence demonstrates that businesses with high ESG ratings are likely to have a lower risk profile and we are looking forward to building long-term partnerships with clients that, like us, value doing the right thing." 
Established under Lloyd's Syndicate in a Box (SIAB) framework, the syndicate will operate a consortium arrangement led by Syndicates 623/2623, according to a press release. 
With the goal of ensuring "diversification and balance," Syndicate 4321 will underwrite on a multi-line basis. Initially, the syndicate will accept, D&O, health care, financial institutions, London-market U.S. cyber, property, marine hull, marine cargo, and aviation business.  
All premiums received by Syndicate 4321 will be invested responsibly, in line with Beazley's Responsible Investment Strategy. 
Beazley CEO, Adrian Cox, commented, "By creating the first specialist ESG syndicate at Lloyd's, Beazley is taking an early step in delivering our commitment to embed ESG across our organization, including our underwriting."  
"Beazley has a track record of creating innovative underwriting vehicles and Syndicate 4321 delivers this to clients that have already achieved ESG standards. We continue to support all our clients, at whatever stage they are at in their ESG journey, with meaningful risk management and insurance capacity." 
Carisk Partners, Tower MSA Partners, and Ametros to Provide New Workers' Compensation Case Closure and Settlement Solution 
Carisk Partners, Tower MSA Partners and Ametros have joined forces to offer a new patient-centered case closure and settlement solution in the workers' compensation space. 
The Case Closure and Settlement Program offers "continuity in care and accurate medical cost projections while improving the settlement process for injured patients and workers' compensation payers," according to a press release. 
"We're excited to partner with industry leaders Tower and Ametros on this innovative program that extends the trusted relationship built with the patient in our Pathways™ 2 Recovery program," said Carisk CEO Joseph Berardo, Jr.  
"This bundled program benefits all parties by ensuring an accurate, fair and acceptable settlement and post-settlement experience for the patients we are entrusted to serve." 
The program is structured in such a way that as a patient approaches achievement of their care plan goals, they are guided to patient settlement resources delivered by Tower and Ametros into the Carisk Pathways™ 2 Recovery (P2R) process. 
"Tower identifies all the treatment and legal barriers to settlement," said Tower CEO Rita Wilson. "With the payer's authorization, we proactively apply interventions to resolve pharmaceutical, medical, legal, and jurisdictional issues before we prepare a Medicare Set-Aside." 
She added, "This yields appropriate future care for workers' comp patients, complies with the Centers for Medicare and Medicaid's review policies, and facilitates closure. We are thrilled to overlay our settlement-focused workflow with Carisk and Ametros to create win-win outcomes for both payers and patients." 
Ametros advocates for Carisk patients during and after the settlement process, educating them about the multiple benefits available through professional administration of their MSA. 
For Ametros, CEO, Porter Leslie commented, "Our mission is to help the injured person live a better life after they accept a settlement with an MSA."  
"In addition to paying bills from their MSA, providing discounts on their treatments, and completing required CMS reporting, we have a Member Care Team to help them navigate the health care system after settlement every step along the way." 
Warburg Pincus Makes Strategic Investment in Fortegra  
Warburg Pincus announced a strategic investment of $200 million in Fortegra Group, LLC, an insurance subsidiary of Tiptree Inc.  
The investment will give Warburg Pincus an "approximate 24% ownership in Fortegra on a fully diluted basis and is expected to close in the first quarter 2022," according to a press release.  
Fortegra underwrites over $2.0 billion of gross written premiums and premium equivalents annually in the U.S. and Europe and has proven to be a "consistently profitable specialty insurer."   
Fortegra's CEO, Rick Kahlbaugh, said, "This transaction represents the collaboration of industry experience, capital and investment acumen that will be the catalyst to accelerate Fortegra's growth as a global specialty insurer."  
"Fortegra's talented management team has built a world-class specialty insurance platform delivering high quality products and services to its customers worldwide," said Dan Zilberman, managing director and head of Special Situations, Warburg Pincus.  
"We are excited to partner with Rick Kahlbaugh and Tiptree's experienced management team and are committed to Fortegra's continued growth and long-term success." 
Tiptree's executive chairman, Michael Barnes, commented, "This investment accomplishes many of our strategic goals including raising capital to accelerate Fortegra's growth and recapitalizing both companies balance sheets through the repayment of indebtedness."  
With backing from Tiptree and Warburg Pincus, Fortegra plans to center its next phase of growth on specialty admitted and E&S lines. 
TigerRisk and Pinpoint Predictive Form Partnership to Provide Explainable Analytics 
TigerRisk Partners LLC (Tiger Risk) has partnered with analytics platform, Pinpoint Predictive, to provide a "powerful new predictive signal to insurers via individualized data enrichment and explainable analytics," according to a recent press release. 
TigerRisk's Head of Strategy, Bill O'Keefe commented, "We are continually looking to partner with best-in-class insurtech firms, and we think Pinpoint fits that criteria." 
"Pinpoint is a personality-focused data enrichment platform that provides new predictive power to carriers and MGAs, leveraging the latest in behavioral economics and artificial intelligence, all in a privacy-safe fashion. Factoring individuality into predictions can save $100s of millions per year."  
Using proprietary data and deep learning algorithms, the AI-driven platform is designed to optimize front-end processes across marketing and distribution channels. 
On behalf of Pinpoint, CEO, Scott Ham said, "We are thrilled to be partnering with TigerRisk to offer their clients our unique and impactful platform."  
"Personalizing predictive analytics with Pinpoint provides a tremendous opportunity to treat people as true individuals with future potential". &
Raquel Moreno is a staff writer with Risk & Insurance. She can be reached at
[email protected]
.