Risk & Insurance News + Notes: Liberty Mutual Releases First Quarter 2021 Results, ProAssurance Acquires NORCAL and More
A compilation of the latest announcements, partnerships and products that are likely to have an impact on the insurance industry today.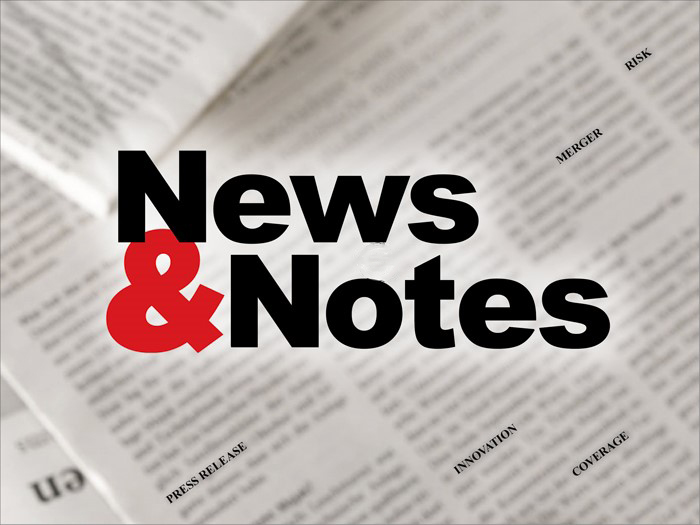 SiriusPoint Releases Environmental, Social and Governance Report
SiriusPoint Ltd. recently released its first environmental, social and governance (ESG) report.
The report centralizes on SiriusPoint's "policies, actions and commitments to create a more sustainable and socially-minded business," a press release announcing the report said.
The report is divided into four categories: governance and ethics, people and communities, sustainable reinsurance, insurance and investments and environment.
Touching on key global events like the impact of climate change and the COVID-19 pandemic, the report also outlines SiriusPoint's response to these issues. The company also described its commitment to addressing several other social concerns, such as promotion of D&I and fighting racial inequality.
"As a newly combined company, we are working to embed responsible and sustainable practices across each element of our business," said Sid Sankaran, chairman and chief executive officer of SiriusPoint. "We are at the beginning of our ESG journey, and our inaugural report outlines the positive foundation we have to build on."
Liberty Mutual Releases First Quarter 2021 Metrics
Liberty Mutual Holding Company Inc. and its subsidiaries released their first quarter data for 2021.
Collectively, the net income resulted in $856 million, which was a $337 million dollar increase from the first quarter of 2020. Additionally, global retail market income increased from $6.5 million in 2020 to $6.8 million in 2021, which was a 5.2% increase from each first quarter.
Looking at operations from both quarters, revenue increased by 13% from first quarter 2020 to first quarter 2021. After evaluating several factors, such as catastrophe net incurred losses, restructuring costs and consolidated net income, the cash flow by continuing operations is expected to undergo a 149% increase.
"For the first quarter, net income attributable to LMHC was $856 million, up 64.9% over the same period in 2020, as strong investment results more than offset elevated catastrophe losses," said Liberty Mutual chairman and chief executive officer David H. Long.
He continued, "Overall, it was a strong quarter despite an elevated level of catastrophe losses, and we are pleased with the progress we're making toward key business objectives."
Bermuda Captive Conference Set to Go Digital This June
The Bermuda Captive Conference registration is set to take place virtually June 14 and 15, 2021.
The decision to present the conference virtually will produce a variety of opportunities for attendees, which include video conferencing in both individual and group format, interactive breakout sessions and the ability to network more flexibly.
The conference plans to delve into the "emerging trends in the captives market," and also plans to "provide meaningful network experiences," a press release announcing the conference said.
Gemma Godfrey, COO of The Whitfield Group and Conference Management Team member, said, "As much of the world still finds itself in lockdown, or just starting to emerge from stay-at-home restrictions, we knew that hosting the conference physically would be challenging."
She continued, "Although there was initially talk of developing a hybrid event model, this was not feasible, and so the decision was made to host the event virtually again…We are excited for this year's Bermuda Captive Conference and believe that we will be elevating the event experience for both sponsors and attendees alike."
To register for the conference, visit the Bermuda Captive Conference website.
ProAssurance Announces Acquisition of NORCAL
ProAssurance Corporation recently announced the acquisition of NORCAL Mutual (NORCAL).
Through the acquisition, ProAssurance has retained 98% of the NORCAL Insurance Company stock. The transaction is set to be closing at $441 million.
"The completion of the NORCAL transaction marks a significant milestone in our Mission to Protect Others," said Ned Rand, president and chief executive officer of ProAssurance.
"NORCAL is one of the leading writers of medical professional liability insurance in the country. We believe their contributions to our customers and culture will expand our product capabilities with broader geographic scale and efficiencies and will support a true nationwide platform to deliver value to our customers and stakeholders.
Sandra Beretta, MD, immediate past chair of NORCAL's board of directors, said, "I am delighted that NORCAL is now officially partners with such an impressive organization. NORCAL has been a stable, long-time participant in the medical professional liability insurance marketplace, and the combination with ProAssurance will bring policyholders further confidence, knowing NORCAL will be able to offer them an even higher level of financial security and service." &
Emma Brenner is a staff writer with Risk & Insurance. She can be reached at
[email protected]
.