Risk & Insurance News + Notes: Liberty Mutual Releases 2020 Earnings, New No-Fault Comp Program for COVID-19 Vaccines and More
A compilation of the latest announcements, partnerships and products that are likely to have an impact on the insurance industry today.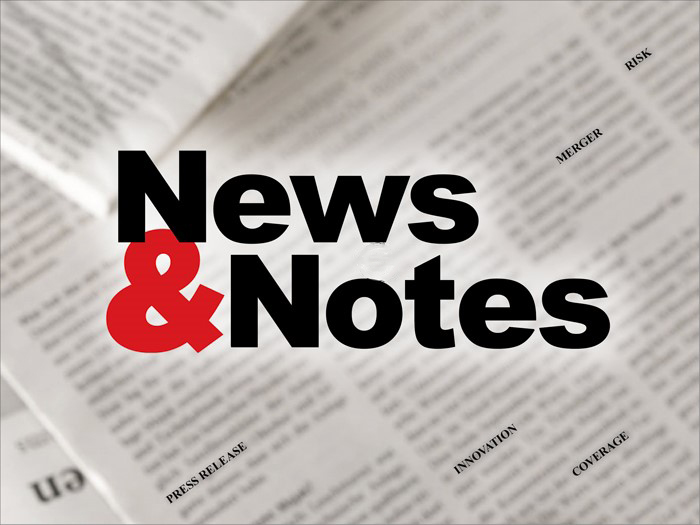 Liberty Mutual Insurance Releases Fourth Quarter and Full Year 2020 Results
Liberty Mutual Holding Company recently released both its fourth quarter and full year results for 2020.
It reported a net income of $162 million for 2020's fourth quarter and $758 million for the entirety of 2020.
Other fourth quarter data also looked promising. Several sectors had more successful quarters than the same period in 2019, with net written premium experiencing a 3.5% increase, partnerships increasing by $349 million and net realized gains increasing by $365 million.
Similarly, the data from 2020 outperformed 2019's numbers, with a 2% increase in net written premium, a 1.4% increase in partnerships and 78.3% increase in net realized gains over the same period in 2019.
"Throughout 2020, in the face of challenging economic conditions, an ongoing pandemic, an increased awareness of systemic racial injustice, and a rapidly evolving insurance risk landscape, our employees remained focused and our business proved resilient," said David Long, Liberty Mutual chairman and chief executive officer.
He continued, "Despite COVID-19 losses, prior year reserve strengthening, and the one-time charge from our early retirement offer, the Company ended the year with $758 million of net income, driven by favorable core underwriting results and strong investment performance."
IBM Institute for Business Value Releases CEO Surveyed Study
IBM Institute for Business Value recently released a study that surveyed CEOS throughout the industry. The study concluded that a top challenge CEOs will face within the next few year is "managing an 'anywhere' workforce."
The onset of the COVID-19 pandemic forced remote work to become the norm, thus proving that the success and productivity of a company does not entirely depend on its in-person capabilities. As vaccine rollout continues to increase, discussions surrounding a post-pandemic work environment are beginning to emerge.
IBM found that surveyed CEOs made "empowering a remote workforce" their top priority in 2020. Additionally, half surveyed CEOs concluded that the continuation of an "anywhere" workforce will remain as a top leadership obstacle.
However, more than 75% of CEOs concluded that prioritizing the health and wellbeing of employees will be of the upmost importance. Navigating a hybrid work setting will likely present hurdles for businesses and companies in the coming years, so IBM recommends that CEOs "consider carefully the longer-term challenge."
The survey also included that both technological factors and the importance of partnerships will contribute to a business or companies' success currently and post-pandemic.
The Transitions Announce Launch of Mentorship Program
The Transitions, a group of workers' compensation industry experts aimed at tackling the industry's talent gap crisis, announced the launch of an industry-wide mentorship program.
The program, which was announced in The Transitions' third webinar, is aimed to "elevate the next generation of workers' compensation leaders."
The free program works to connect industry mentors with mentees with the intent of providing young workers' comp professionals opportunities to grow both personally and in the workplace.
The Mentorship Advisory Council, composed of 14 industry leaders, is composed of two teams that "will help match mentors and mentees and provide education and ongoing support beyond the matching process."
"A strategic and transparent mentoring program is a critical component for our industry to successfully address the talent crisis," said Mark Pew, senior vice president of product development and marketing at Preferred Medical and co-founder of The Transitions and its mentorship program.
"The fact that The Transitions program is open-sourced and free makes it widely available to those who are passionate about intergenerational knowledge sharing and learning."
Those interested in serving as a program mentor can complete this survey. Industry professionals who are interested in joining the program as a mentee can complete this survey here.
Chubb and World Health Organization to Create No-Fault Compensation Program for COVID-19 Vaccines
The World Health Organization recently announced an agreement with Chubb, through Chubb subsidiary ESIS, to create a no-fault compensation program for COVID-19 vaccines for over 90 low- and middle-income countries.
These 92 countries and economies qualify for support from the Gavi COVAX Advance Market Commitment (AMC) of the COVAX Facility. COVAX works to provide 2 billion vaccines doses to all countries involved, which includes delivering doses to low-and-middle-income countries at the same time as wealthy countries.
This program is the first of its kind, as it is "the first and only vaccine injury compensation mechanism operating on an international scale." It will serve the participating countries to receive compensation for "rare but serious" events that coincide with COVAX vaccines until mid-2022.
"The unprecedented nature of the COVID-19 pandemic has been matched by the largest ever rollout of new vaccines under the ACT-Accelerator and its vaccines pillar, COVAX," said Dr. Tedros Adhanom Ghebreyesus, general director, WHO.
"This no-fault compensation mechanism helps to ensure that people in AMC-eligible countries and economies can benefit from the cutting-edge science that has delivered COVID-19 vaccines in record time." &
Emma Brenner is a staff writer with Risk & Insurance. She can be reached at
[email protected]
.