Risk & Insurance News + Notes: Hiscox Introduces Small Business Cyber Services, Carisk Announces Workers' Comp Initiatives and More
A compilation of the latest announcements, partnerships and products that are likely to have an impact on the insurance industry today.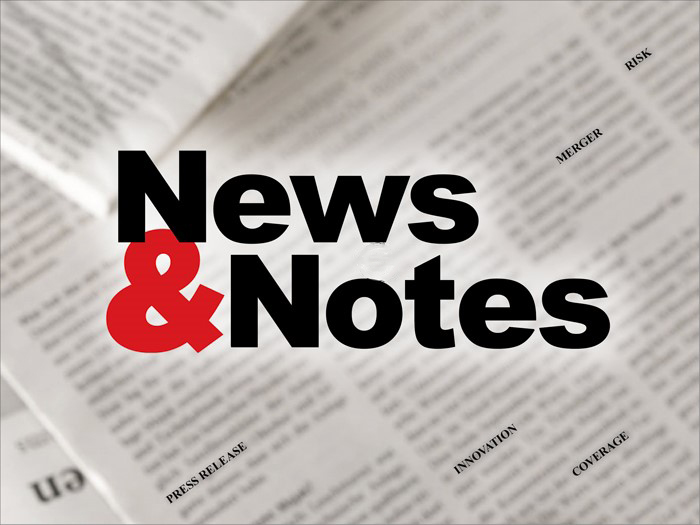 Hiscox Announces New Cyber Services for Small Businesses
Hiscox announced an addition to its Hiscox CyberClear product to better serve U.S. small businesses.
Cyber risks have become increasingly troublesome to several entities, including large corporations and hospitals. A small business that experiences a cyber attack or breach is left extremely vulnerable to these impacts. Hiscox hopes that with its new enhancement to CyberClear, small businesses will be able to both identify and mitigate cyber risks through Hiscox's new intelligence-driven platform.
Partnering with Paladin, Hiscox will send all small businesses that use CyberClear a specific report to assess potential cyber risks and give recommendations on how to respond to them.
Meghan Hannes, cyber product head for Hiscox, said, "Our claims data shows that ransomware is the leading cyber threat against small businesses today, and that threat has only become more virulent and sophisticated during the pandemic."
"Our partnership with Paladin means clients can now access the powerful, enterprise-grade protection they need to help defend themselves against the threat in a friendly, easy-to-use solution."
Xing Xin, co-founder and COO of Paladin Cyber, said; "We're delighted to bring advanced cyber security capabilities to Hiscox that enable them to offer insureds and brokers market-leading solutions to the most pressing risks facing small businesses today. As businesses face rapidly evolving threats, our unified solution dramatically improves their resiliency while saving them significant time and money."
Carisk Partners Announces Two New Initiatives Aimed Towards Mental Health and Workers' Compensation
Carisk Partners will be introducing two month-long initiatives in the month of May.
With May being acknowledged as Mental Health Awareness month nationally, Carisk is partnering with Florida-based jewelry company Bubs and Sass to create a piece to be gifted to donors during the entire month of May. Proceeds from the jewelry sales will benefit Kids' Chance California and Kids' Chance Florida, an initiative that looks to aide children of injured workers.
The distribution of the statement jewelry pieces will serve to recognize injured workers and families who may have experienced behavioral health implications due to a physical injury.
In addition, Carisk will also be the designated Workers' Compensation Advocacy Awareness Month (WCAAM) on the National Health Observances Calendar.
This partnership allows Carisk to highlight an important component of an injured worker's recovery: advocacy.
The goal is in providing advocacy can ensure a recovery process with less confusion and stress, thus producing an optimal outcome. Carisk's feature with WCAAM will display both education and support around a patient-centered approach.
"At Carisk, we are dedicated to always doing the right thing for each other, our customers, and our communities. Each year we look forward to changing the perspectives and stigma surrounding mental illnesses which might prevent anyone from seeking help or treatment," said Joseph Berardo, Jr., Carisk CEO.
He continued, "Combining our efforts to advance positive patient experiences and shift the workers' compensation relationship from adversarial to advocate is core to our mission and we are happy to partner with the workers' compensation industry to create a consistent approach to communicating in a way that reinforces transparency and putting the patients' needs first."
Ed Broking Joins KYND Limited's Broker Programme
KYND Limited recently announced that global broker Ed Broking has joined and become the newest member of KYND Broker Programme.
The partnership will enhance Ed Broking's ability to assess and mitigate client cyber risk exposure with KYND Limited's cyber services and tool capabilities. Additionally, these services will assist Ed Broking in navigating the "rapidly evolving cyber insurance market," a press release announcing the partnership said.
The pandemic has significantly increased the frequency of cyber security breaches, with the global cyber insurance marketing to grow to an anticipated $20.4 billion by 2025, according to a Cyber Insurance Market Report.
The KYND Broker Programme is responding to the growing threat by providing brokers with KYND's cyber risk expertise and its cyber risk management technology.
KYND CEO Andy Thomas said, "We're are very pleased to welcome Ed Broking as the newest member of the KYND Broker Programme. With today's rapid technological advancement, keeping up with the equally evolving threat landscape can be particularly challenging for businesses. To accomplish this, we enable our partners to take full advantage of complete visibility and a clear understanding of the cyber risks their clients are facing."
"KYND's extensive industry expertise and their innovative cyber risk management products perfectly complement our efforts and support us greatly in delivering on our value proposition which extends beyond simply placing an effective insurance policy," said Henry Warner, head of cyber, professional & executive risk at Ed Broking. &
Emma Brenner is a staff writer with Risk & Insurance. She can be reached at
[email protected]