Risk & Insurance News + Notes: Cybersecurity Insurers Make Pledges at the White House, Bermuda Long-Term Insurers Adopt UN Sustainability Principles and More
The White House recently held a discussion on how to improve the nation's cybersecurity with leading private sector companies and cybersecurity insurers.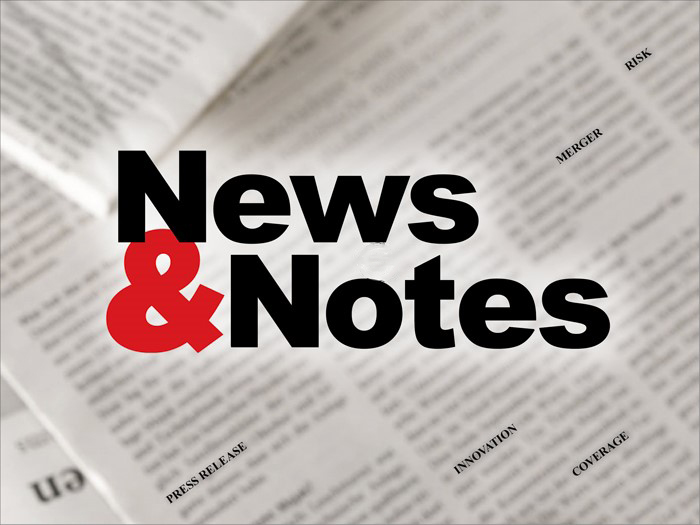 Cybersecurity Insurers Make Pledges at White House Meeting
Prompted by a rise in ransomware attacks across the U.S. this year, the White House recently held a discussion on how to improve the nation's cybersecurity with private sector leaders including Amazon, Apple, Google, and Microsoft.
Cybersecurity insurers Resilience and Coalition were among the private sector companies who made commitments at the meeting toward working with the government to mitigate cybersecurity threats.
Resilience CEO and co-founder, Vishaal Hariprasad, announced a new requirement that Resilience policy holders "meet a threshold of cybersecurity best practice as a condition of receiving coverage," according to the White House press release. Hariprasad is an Air Force reservist and former cybersecurity officer.
Coalition CEO and co-founder, Joshua Motta, announced his organization's pledge to "make its cybersecurity risk assessment & continuous monitoring platform available for free to any organization."
The meeting followed President Biden's May 2021 executive order which changed the federal government's approach in addressing cybersecurity concerns to "include a cross section of private industry leaders," according to a press release.
Bermuda's Long-Term Insurers Support UN Principles for Sustainable Insurance (PSI)
Bermuda International Long Term Insurers and Reinsurers (BILTIR) recently became a supporter of the Principles for Sustainable Insurance (PSI), part of the United Nations Environment Programme Finance Initiative (UNEP FI).
According to a press release, the PSI launched in 2012 with a vision "of a risk aware world, where the insurance industry is trusted and plays its full role in enabling a healthy, safe, resilient and sustainable society." The PSI serves as a global framework for the insurance industry to address environmental, social and governance (ESG) issues and opportunities.
Representing 63 long-term insurance, reinsurance and servicing companies in Bermuda who provide life and annuity products and employ more than 600 people on the island, BILTIR joins more than 180 PSI supporting organizations from around the world. PSI-supporting organizations include insurers representing more than 25% of world premium volume.
BILTIR chair Sylvia Oliveira said, "The long-term sector supports ESG initiatives in several ways, such as designing products to reward positive lifestyle changes, helping an ageing population avoid outliving its savings, mitigating the risk of underfunded defined benefit pension schemes, and relocating assets toward renewable energy products."
"BILTIR looks forward to working with UNEP and PSI to play a proactive part in the pursuit of a more sustainable society," she said.
Swiss Re and Climeworks Sign Landmark Carbon Removal Agreement
Swiss Re and Climeworks have signed a ten-year $10 million purchase agreement for direct air capture and storage of carbon dioxide.
Said to be "unmatched in the voluntary market for this type of high-quality carbon removal," the agreement sends an "important demand signal to developers, investors and other buyers," per a press release.
For Swiss Re, the collaboration marks a milestone towards its goal of reaching net-zero emissions in its own operations by 2030. The partnership also points to Swiss Re's support for the carbon removal industry and gives the group "early access to new carbon removal risk pools and asset classes."
"To mitigate the risks of climate change, the world needs to scale-up carbon removal on top of, not instead of emission reductions," said Christian Mumenthaler, Swiss Re's group chief executive officer and co-chair, World Economic Forum Alliance of CEO Climate Leaders.
"By partnering with Climeworks we can play to our strengths in this endeavour, as a risk taker, investor, and forward-looking buyer of climate solutions," he added.
SiriusPoint Announces Estimated Impact on Q3 2021 Results from European Floods in July
Global specialty insurer and reinsurer, SiriusPoint Ltd., a has amended its previously disclosed estimated third quarter losses resulting from severe summer flooding throughout Europe.
Several regions throughout Germany, Belgium, France, Luxembourg, and the Netherlands experienced severe flooding in the month of July 2021. Following an original loss estimate of $30 million in relation to the flooding, SiriusPoint expects the estimate to exceed $70 million in light of July's weather events.
David Junius, SiriusPoint chief financial officer, commented, "We have been actively monitoring the impact of the devastating European floods in July and have revised our initial loss estimate to be between $70 and $100 million following the significant increase in industry expectations to approximately Euro 10 billion."
"We are also evaluating our exposure to Hurricane Ida and will disclose SiriusPoint's net loss estimates no later than the release of our third quarter earnings. Our thoughts are with our European and North American colleagues and clients as they navigate the aftermath of these events."
USI Insurance Services Acquires Reynolds & Reynolds Expanding Iowa-based Presence and Expertise
USI Insurance Services (USI) has expanded its national risk management, employee benefit and retirement consulting operations with the recent acquisition of Iowa-based risk management and employee benefits agency, Reynolds & Reynolds, Inc. Based in Des Moines, Reynolds & Reynolds has been serving businesses and individuals throughout Iowa and nationally since 1976.
Toward the new partnership, Chairman and CEO of USI, Michael J. Sicard, commented, "We are excited to partner with the exceptional professionals and clients of Reynolds & Reynolds, while introducing a local Iowa-based presence for USI."
"We look forward to leveraging our combined strengths to continue Reynolds & Reynolds' longstanding focus on building long-term client relationships with now an even further expanded suite of innovative risk management and employee benefit solutions."
Reynolds & Reynolds president, Stanley J. Reynolds, stated, "Over the last 45 years, we've worked hard to deliver an unparalleled level of personalized service and innovative solutions for our valued clients. Through our partnership with USI, we look forward to continuing this longstanding tradition of delivering exceptional service to businesses and individuals throughout Iowa and beyond, backed by USI's best-in-class solutions." &
Raquel Moreno is a staff writer with Risk & Insurance. She can be reached at
[email protected]
.