Risk & Insurance News + Notes: Concentra Ventures Investments, Risk Strategies Acquires Gehring Group and More
Athene Holding Ltd. announces Q4 and full year financial results as it enters strategic partnership with Apollo.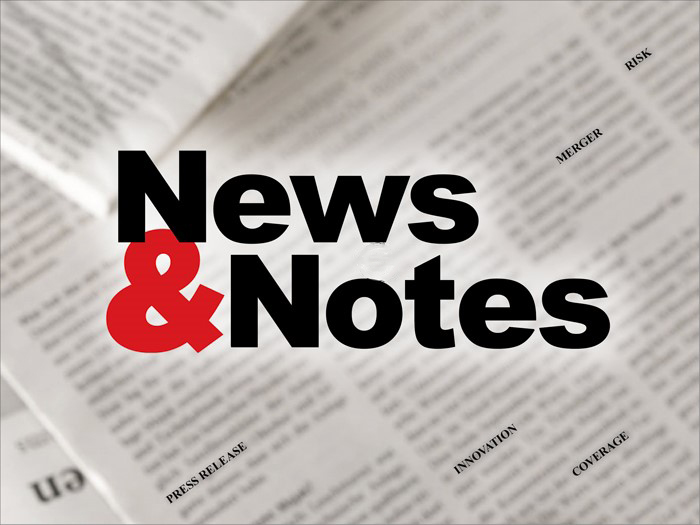 Concentra's Venture Capital Arm Completes First Two Investments
Concentra recently completed the first two investments of its recently launched venture capital arm, Concentra Ventures.
Concentra Ventures seeks to make strategic investments and partnerships that complement the company's portfolio of service offerings and expand. its value to employers and their employees.
Concentra Ventures' first two investments were completed in Q4 2021 and Q1 2022, establishing a capital commitment in and strategic relationship with leading companies in the occupational health services ecosystem, according to a press release.
"Our goal is to partner with other world-class organizations and entrepreneurs, leveraging our knowledge and resources to advance the quality of service we provide to our customers and care we provide to their employees," said Matthew DiCanio, executive vice president, chief development and strategy officer of Concentra.
"Through Concentra Ventures, we can further Concentra's mission of improving the health of America's workforce, one patient at a time."
Concentra Ventures will be open to opportunities for investment with ownership interest at "various levels to help shape the health care landscape of the future," per the release.
Risk Strategies Acquires Gehring Group, Inc. Expanding Footprint in Florida
Specialty insurance brokerage and risk management firm Risk Strategies has acquired employee benefits and risk services consulting firm Gehring Group, Inc.
Based in Palm Beach Gardens, Fla., Gehring Group provides employee benefits and risk management solutions to the public sector in the state of Florida as well as the United States Virgin Islands.
The company's service offerings and capabilities include comprehensive, advanced insurance program design, claims data analysis, plan administration, legislative compliance, client education and training, benefits technology innovation and consulting, award-winning employee wellness program design, and custom communication services.
"Benefit programs are not one-size-fits-all — they require a tailored, service-centered approach to be successful," said Kurt Gehring, founder, president and CEO of Gehring Group.
"To scale our business, we wanted to partner with a firm that viewed benefit program development through the same strategic lens that serves our clients. Risk Strategies presented both a great business fit for our clients, and a cultural fit for our talented team that goes above and beyond in supporting clients every day."
"The Gehring Group brings an expert focus, unparalleled service philosophy and employs forward-thinking technologies that will enhance our clients' experience and company's specialist approach to risk," said John Greenbaum, national employee benefits practice leader, Risk Strategies.
"We welcome Gehring Group to the Risk Strategies family."
One Inc & Origami Risk Announce Technology Integration Partnership for the Insurance Community
One Inc, a digital payments network for the insurance industry, has partnered with Origami Risk to integrate policy administration and claims technology for both inbound premium payments and outbound claims disbursements. As part of the relationship, One Inc will also become Origami Risk's preferred digital payments infrastructure provider for customers in the insurance industry.
Founded in 2009 by industry veterans who saw the need for a unified cloud-based platform, Origami Risk is a risk consultancy that provides SaaS-based solutions for the risk and insurance industry.
"Origami works with many of the world's largest insurers, and we have seen firsthand the urgent need for transformation and digital solutions in payments delivered out-of-the-box and with rapid speed to market," said Chris Bennett, president of core insurance solutions at Origami Risk.
"We are very excited to move forward with this partnership with One Inc, offering top-class payments infrastructure to power a truly comprehensive solution in policy administration and risk management."
"Origami's OOTB integration approach offers a novel route to achieving improved engagement and customer experiences for insurers," said Ian Drysdale, CEO of One Inc.
"Origami Risk's clients will benefit from the leading payments solution in insurance, with a completely integrated, frictionless solution for both premiums and claims. By coming together, we can offer carriers a complete technology and payments platform that will help them scale and thrive in an industry that is evolving at rapid speed."
Athene Holding Ltd. Reports Fourth Quarter and Full Year 2021 Results
Athene Holding Ltd., a leading financial services company specializing in retirement solutions, announced its financial results for the fourth quarter and full year 2021.
"In the fourth quarter, Athene generated more than $9 billion of inflows, completing a record year of organic growth which totaled $37 billion of inflows, increasing 34% versus the prior year," said Jim Belardi, CEO of Athene.
"This is a remarkable achievement that demonstrates our leadership position within the retirement services marketplace," Belardi added. "2021 also marked a record level of profitability for Athene, with $2.3 billion of full year adjusted operating earnings, excluding notable items and appreciation in our AOG investment, an increase of 124% year-over-year."
Belardi said the company's performance drove adjusted book value to $73.84 per share, "which represents a 30% increase year-over-year, and an impressive compound growth rate of 17% per year since inception," as reported in the press release.
On January 1, 2022, Athene completed a strategic merger with global, high-growth alternative asset management company Apollo.
"We're incredibly excited about our next stage of growth as a fully-aligned business and are energized by the tremendous opportunity to continuing building upon our legacy of success," Belardi said. &
Raquel Moreno is a staff writer with Risk & Insurance. She can be reached at
[email protected]