News + Notes: A Hybrid Event Cancellation Insurance Emerges, FEMA's National Fire Strategy and More
The latest announcements, partnerships and products that will have an impact on the insurance industry today.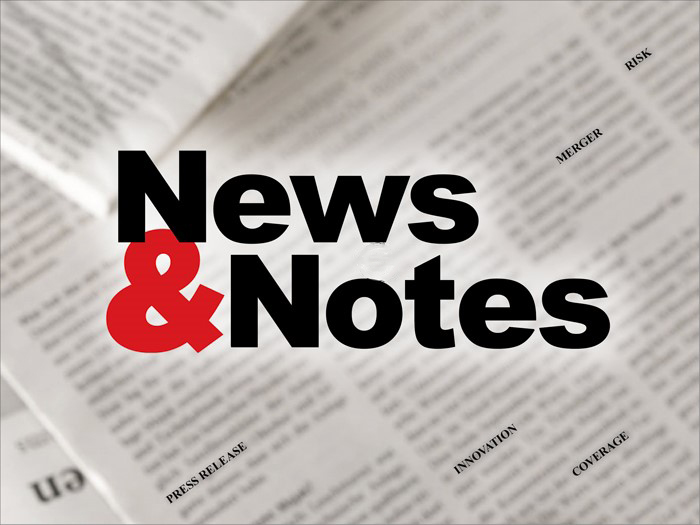 Beazley Launches Specialist Hybrid Event Cancellation Insurance
Beazley, which is focused on writing a range of specialist insurance products, is offering event organizers protection against physical and virtual threats. As sporting events, conferences and exhibitions return in 2023, hybrid events that mix the best aspects of physical and virtual elements remain an essential part of both event planning and increased audience participation.
A hybrid event's success depends on the performance of both technology and physical infrastructure. One failure with these twin exposures can be financially crippling and damage reputations. Beazley's Hybrid Event Cancellation solution offers U.S. companies protection against these multiple complex threats in a single policy.
Ryan McFadden, contingency underwriter at Beazley, said, "Our Hybrid Event Cancellation offering is now available as a single policy, providing protection against both physical and virtual threats that could lead to cancellation, abandonment, interruption, postponement, relocation or curtailment. It provides peace of mind to organizers of all types of events, from sports to entertainment to trade shows and conferences. The solution offers a clear, tailored cover for the wide range of risks associated with hosting hybrid events."
Beazley PLC (BEZ.L) is the parent company of specialist insurance businesses with operations in Europe, the United States, Canada, Latin America and Asia. The product is available now to U.S.-domiciled businesses on a surplus line basis.
Insurtech Joyn Insurance Announces $17.7 Million in Series A Funding Led by OMERS Ventures
Joyn Insurance, an insurance technology company, has exceeded its fundraising target, acquiring $17.7 million to enhance the technology platform integrating insurance, data and technology expertise that it launched in July 2021.
Since entering the market, Joyn has bound more than 500 policies with approximately 80 trading partners, covering more than 300 insureds. Joyn offers E&S coverage for property, general liability and excess for companies across more than 700 NAICS codes in 36 states and Washington, D.C.
"We built this company to remove the pain points and operational inefficiencies that have frustrated brokers and underwriters for as long as we can remember, and we are proud to be delivering on this bold mission," said Joyn CEO Seraina Macia.
The series A funding round was led by OMERS Ventures with participation from Avanta Ventures, ManchesterStory, Cohen Circle, SiriusPoint and several private individual investors. The new funding brings the company's total raised to more than $30 million. TigerRisk Capital Markets & Advisory acted as financial advisor to SiriusPoint in this transaction.
"Despite a high bar for admitted products, the E&S quote and bind experience at many companies is still largely done by pen and paper, and the brokers we talked to have been stunned at how Joyn addresses these long-standing inefficiencies," said David Wechsler at OMERS Ventures.
Joyn Insurance Services Inc. is a Delaware-domiciled, licensed producer and general agent that operates under its "Joyn" and "Joyn Insurance" brands. Joyn is an Insurtech enterprise underwriting commercial insurance in the small and middle markets.
FEMA, U.S. Fire Administration Report Announces National Fire Strategy
The U.S. Fire Administration (USFA), a component of FEMA, announced the executive summary of the U.S. Fire Administrator's report following the first U.S. Fire Administrator's Summit on Fire Prevention and Control, held in October 2022.
Key findings include several crucial recommendations that have become the basis for the Fire Service National Strategy, championed by the USFA. Suggestions include preparing all firefighters for the climate-driven increase in wildfires, investing in a national apprenticeship program to address the shortage of firefighters, and establishing a comprehensive firefighter cancer strategy that provides access to screening for firefighters and reduces and eliminates exposure to dangerous contaminants.
"Despite our vast technological advances, in this country, your chances of dying in a fire today are higher than 40 years ago, and you have the least amount of time to safely exit your burning home than at any time in history. Moreover, this persistent fire problem presents a glaring equity issue, as fire deaths, injuries and displacement disproportionately affect lower-income communities and people of color," said U.S. Fire Administrator Dr. Lori Moore-Merrell.
The summit marked the 75th anniversary of President Harry S. Truman's Conference on Fire Prevention, which took place in Washington, D.C., in 1947. The summit also coincided with the 100th anniversary of the National Fire Protection Association (NFPA) Fire Prevention Week. The Biden-Harris Administration continued President Truman's legacy with virtual remarks from both President Biden and Homeland Security Secretary Alejandro N. Mayorkas, illustrating the entire federal government's commitment to reducing the death toll caused by fires. &
Peggy Fogarty is a business development and technical writing specialist. She is a graduate of the University of Arizona, where she received her master's degree in family and consumer sciences, and Rutgers University, where she received her bachelor's degree in anthropology and urban studies. She can be reached at
[email protected]
.