Legal Roundup: NYC Minimum-Wage Law Goes to Court, Flint Water Contamination Settlements and More
The latest legal filings likely to have an impact on the insurance and risk management industry today.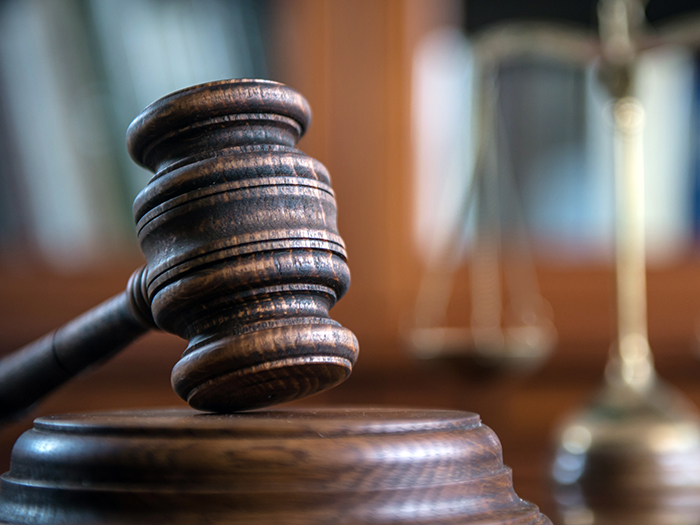 Delivery Giants Bite Back at NYC's Minimum-Wage Law
The Case: In a joint suit filed in New York Supreme Court, Uber, DoorDash and Grubhub sued New York City over a new law "that sets minimum wages for food-delivery workers, escalating a battle between the apps and the city over how the industry should be regulated," according to the Wall Street Journal.
"Starting July 12, the law requires that the companies either pay workers around 50 cents for every minute they spend on a trip, or pay them a minimum of $17.96 an hour for the time they spend active on each app. The latter works out to around 30 cents a minute. Both rates exclude tips. Workers are currently paid a rate per trip that is set by each app."
The food delivery companies argue that the new regulations would result in wages that are much higher than the minimum wage for other businesses, and hurt the flexibility of the gig business and lead to higher prices for consumers.
Scorecard: The case has recently been filed and has not yet reached a resolution.
Takeaway: The case is a stark reminder of the potential for regulatory risk, especially in emerging industries.
As governments seek to regulate gig economy labor rights, businesses operating within it must be prepared to navigate legislative changes.
Risk managers must monitor such developments and adjust their compliance and risk mitigation strategies accordingly.
Sarah Silverman Takes Meta, OpenAI to Court in Copyright Clash
The Case: Comedian Sarah Silverman, along with writers Richard Kadrey and Christopher Golden, "allege Facebook parent company Meta and ChatGPT maker OpenAI used copyrighted material to train chat bots," such as Silverman's 2010 memoir, "The Bedwetter" according to Reuters.
The content creators filed a pair of proposed class action copyright infringement complaints in San Francisco federal court.
"Silverman, Kadrey and Golden allege Meta and OpenAI used their books without authorization to develop their so-called large language models, which their makers pitch as powerful tools for automating tasks by replicating human conversation."
Scorecard: At the current stage, the outcome of these copyright infringement lawsuits remains undecided.
In an effort to settle the case out of court, a federal judge has ordered the dispute to go to Alternative Dispute Resolution, according to Digital Music News.
The plaintiffs seek unspecified damages.
Takeaway: The lawsuits could determine the future of intellectual property rights when it comes to training AI models.
Will they be able to train on copyrighted materials without express permission?
Flint Contractor Settles Water Contamination Suits
The Case: After Flint, Michigan's water supply was contaminated in 2014, residents sued engineering firm Lockwood, Andrews & Newman, known as LAN, as well as Veolia North America, in Michigan District Court, accusing them of not doing enough to treat highly corrosive water or to urge a return to a regional water supplier, according to the Associated Press.
In 2022, Veolia reached a landmark $626 million settlement, but the LAN complaint was still in play.
"Flint, which was under state-appointed managers, used the Flint River for water in 2014-15, but the water wasn't treated the same as water previously supplied by a Detroit-area provider. As a result, lead leached throughout the vast pipe system," according to the AP.
"Flint returned to a regional water supplier in fall 2015."
Scorecard: LAN has reached a deal with the plaintiffs. The terms of the settlement are still confidential.
Meanwhile, LAN settled a separate suit brought by Michigan's attorney general in state court.
Takeaway: The case reiterates the necessity of effective risk management strategies in operations that impact public health and safety. Failures can result in significant legal liability and reputational damage.
It also exemplifies the importance of comprehensive due diligence when entering contracts, especially those involving public services.
Did the Competition Pilfer a Pickle Recipe?
The Case: Grillo's Pickles and Patriot Pickle are often sold side-by-side at Whole Foods markets.
According to the Washington Post, they "are made with the same ingredients and contain similar nutrition facts," according to a lawsuit filed by Grillo's in the U.S. District Court for the Southern District of Florida.
Grillo's alleges that "Patriot Pickle stole its 100-year-old recipe to create its own line of pickles with Whole Foods," according to the Post.
Patriot and Grillo's partnered for nearly a decade, during which time the former gained access to the recipes. Grillo's wants Patriot pickles removed from restaurants and stores.
Back in 2012, Grillo's entered a partnership with Patriot to manufacture, package, label and ship its pickles. Both sides signed nondisclosure agreements.
"Grillo's terminated its partnership with Patriot in the summer of 2021, the lawsuit says, but Patriot did not return all of its copies of Grillo's recipes. Sometime around this May, Patriot began selling pickles under a Whole Foods 365 label," but priced the pickles about 30% lower than Grillo's, according to the Post.
Scorecard: The case has recently been filed and has not yet reached a resolution.
Takeaway: This is the second lawsuit Grillo's filed against Patriot this year.
An earlier complaint claims that "Patriot falsely advertised by claiming its pickles at Wahlburgers were natural when they contained an artificial preservative."
That case is ongoing. &
Jared Shelly is a journalist based in Philadelphia. He can be reached at
[email protected]
.