Legal Roundup: Boeing Shareholders Allowed to File Suit, Detroit Hospital Workers Fight Vaccine Mandate and More
A judge recently ruled that Boeing shareholders are allowed to proceed with a lawsuit against the company following two fatal crashes.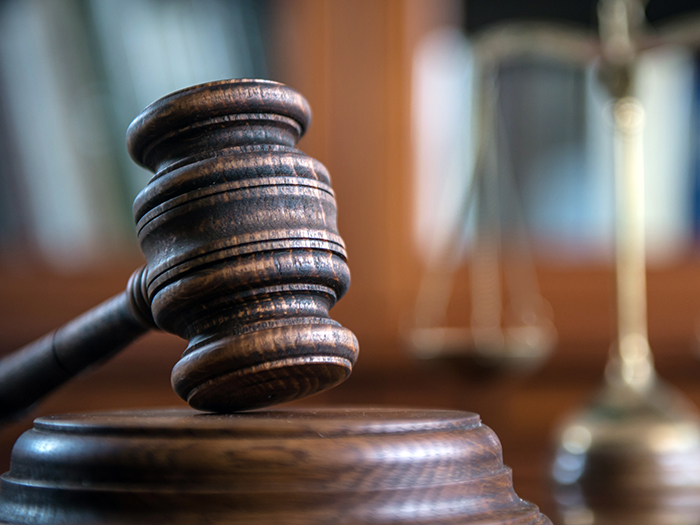 Boeing Investors Allowed to Sue Over Safety Issues
The case: A lawsuit filed by Boeing shareholders alleges that the aerospace company "lied about the company's oversight of its 737 Max 8 airliner and participated in a misleading public-relations campaign following two fatal crashes," according to Al Jazeera. The suit targets Boeing's board of directors and CEO David Calhoun. Boeing asked that the case be dismissed.
Scorecard: While some aspects of the claim have been dismissed, Vice Chancellor Morgan Zurn in the Delaware Court of Chancery has ruled that the case can proceed.
Takeaway: The two crashes within six months of each other killed 346 people, according to Reuters. In her ruling, Zurn said that the first of the two crashes was "a red flag" that should have alerted the board to issues with a safety system known as MCAS.
In November 2020, the FAA lifted a 20-month ban on the 737 Max after the fatal crashes in 2018 and 2019.
In January of this year, "Boeing was charged by the Justice Department with 737 MAX fraud conspiracy and agreed to a deferred prosecution agreement and settlement worth more than $2.5 billion," as reported by Reuters. Boeing is still on the hook for civil lawsuits brought by families of the victims, according to the BBC.
Detroit Hospital Staff Challenges Vaccine Mandate
The case: More than 50 employees including doctors, nurses, and other staff of the Detroit-based Henry Ford Health System have filed a lawsuit in U. S. District Court alleging that the hospital's "COVID-19 vaccine mandate is unconstitutional and infringes on workers' bodily autonomy and right to reject medical treatment," according to USA Today.
Employees who do not comply will be suspended, as per the filing.
The plaintiffs point to the statistic that "more than 13,000 people in the U.S. who were vaccinated against COVID-19 have died, with more than 30,000 reporting permanent disabilities and life-threatening events," according to The Hill. That number comes from the Centers for Disease Control and Prevention's (CDC) Vaccine Adverse Event Reporting System (VAERS).
All of these deaths may not be related to the vaccine, however, as the CDC says vaccine providers "are encouraged to report any clinically significant health problem following vaccination to VAERS, whether or not they believe the vaccine was the cause."
Scorecard: The case has recently been filed and has not reached a resolution.
Takeaway: This filing is one of many recent legal actions brought by employees who do not want to get vaccinated. ABC News reports that "lawsuits have been filed against a Texas hospital, a Los Angeles school district, a North Carolina sheriff and a New Mexico detention center, to name a few."
The Texas case was recently dismissed by U.S. District Judge Lynn Hughes. The other cases are still pending. The Equal Opportunity Employment Commission's guidelines state that employers are within their rights to require vaccines, as long as accommodations are made for health or religious reasons.
President Biden has just mandated vaccines or weekly testing requirements for federal workers, large employers and health care staff. According to CNN, the "new rule puts every American company with 100 or more employees in the same boat: All must get tough on their workers."
MD Brewery Sues North Carolina Agency Over Beer Label Ban
The case: Maryland's Flying Dog Brewery has filed a federal lawsuit against the North Carolina Alcohol Beverage Control Commission, claiming that the company's first amendment rights were violated when the commission rejected the labelling of Freezin' Season Winter Ale. The artwork depicts the "silhouette of a naked man standing next to a campfire," according to the Associated Press.
Scorecard: The case has recently been filed and has not reached a resolution.
Takeaway: Flying Dog says that the label has been approved by every other state in which the beer is sold, according to the lawsuit. This is the third time Flying Dog's labels have faced challenges targeting its product labels. In 2018, a U.K. trade organization claimed that Flying Dog's Easy IPA "could encourage excessive drinking."
Previously, "a federal appeals court ruled in favor of Flying Dog in 2015 regarding a ban of the sale of its Raging Bitch beer in the state of Michigan," according to the AP.
Flying Dog's labels feature the work of artist Ralph Steadman, who is best known for his cover art for Hunter S. Thompson's cult classic novel Fear and Loathing in Las Vegas. &
Jared Shelly is a journalist based in Philadelphia. He can be reached at
[email protected]