Linking Safety and Insurtech: How Employers Can Use Digital Tools to Protect Workers
The report found that workers across several industries want better safety training while utilizing digital tools.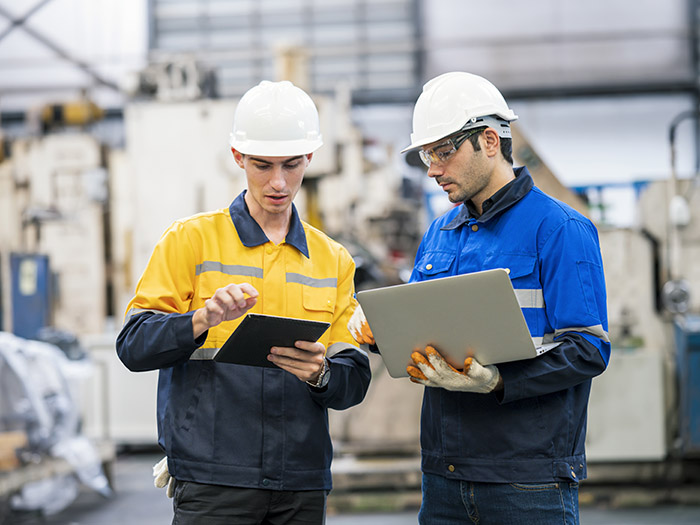 Foresight, an Insurtech focused on middle market workers' compensation, released its "State of Safety in High Hazard Work Environments" report, revealing that a large majority of workers in these industries want better safety training, among other notable findings.
The report, which surveyed 601 workers across the construction, industrial, manufacturing, and agribusiness sectors, highlights how the growth in digital tools to improve safety can benefit workers and employers. In particular, the research cites the worrying results around emergency action plans (EAPs) which are a standard part of any safety program.
A Partnership Fostering Workplace Safety
The study shows that while 62% of businesses still use paper to document safety activities, nearly three quarters indicate that they experience fewer safety incidents when they adopt digital tools.
"We don't just say safety technology, we also include virtual risk management and safety consulting within that, which is an essential component, we believe, for a successful deployment of any technology within an organization," said Peter Grant, CEO of Safesite.
Foresight and Safesite are partner organizations, with Safesite providing the digital tools and assessments to improve safety, and Foresight providing the coverage.
There are currently 4,500 companies on the Safesite platform, but typically, policyholders find out about Safesite through their broker.
"Foresight has engaged with forward-thinking brokers who are looking for a value-added service to attract and retain clients, and also a way for clients to drive down their own premiums through their own engagement in safety and proactive engagement in safety," Grant explained.
The proactive approach Grant references is sorely needed in high hazard industries, which are responsible for an outsize portion of worker deaths. Bureau of Labor Statistics data indicates that a worker died every 111 minutes from a work-related injury in 2020, and while fishing and hunting workers had the highest rates of fatality on the job, the high hazard industries represented in this report, like roofing and construction, follow close behind.
Findings from the Study
Given that backdrop, the study results are striking. Four out of ten respondents reported that they have been pressured to work unsafely in order to complete work faster or to meet a tight deadline. Across industries, agriculture was a troubling outlier – those working in agriculture were 24% more likely than average to say they have been pressured to work unsafely.
And beyond the direct work pressure, high-hazard industry employees also withheld praise for their bosses, with 37% saying that their employer has concealed a workplace injury from OSHA.
Foresight/SafeSite figured as much, in fact, the impetus behind the study was to suss out these harsh truths.
"One of our core values is home safe," said Grant. "And we find that the feedback from the employees out in the field is the most relevant, up to date, and brutally honest."
For employers under Foresight/Safesite, this means a strategy of shared responsibility and accountability for the improvement of safety programs.
"Post-bind, assuming that the Foresight team can come to a price that's acceptable, we then move into the Safesite service," Grant explained.
"We pair each company with a regionally and industry focused Safety Success Champion who will look at their loss history and the industry they're in and talk to the point of contact at that insured. We work with them to design a Safety Success Plan which is a way that we target all of the historical and industry-based loss drivers for that particular company using the Safesite technology."
What that practically means is keying the Safesite app to "make sure that the right people at the right time are conducting the right behavior change and behavior improvement activities that can help us target those loss drivers and drive down the incident frequency," Grant said. He provided the example of a foreman getting a ping explaining the high heat index and how that could contribute to accidents, and suggesting increased break times in the shade.
"Through those safety action reminders and the completion of those safety actions, the project or the company shows Safesite that it is compliant with the Safety Success Plan that we all agreed upon, and we boil all of that data and all of that engagement throughout the organization into one simple score, the Safesite score. That is a patent granted proprietary algorithm which pulls together 80-90 data points from the company's operations. It's like a credit score for safety for the company."
Safesite doesn't provide the hazard score to Foresight, but gives the underwriter the trends across the Safesite score throughout the year. Improvements decrease rates.
Embracing Innovation in Workers' Comp
While the Foresight/Safesite model adds to the Insurtech landscape, the pace of technological innovation in workers' compensation has had its fits and starts, which is underscored by employer reticence.
The State of Safety report found that businesses still prefer paper or manual processes, even despite the aforementioned benefits of digital tools. A full 62% of employers use paper only, and 22 percent use a combination of digital and paper. Both increase the risk of compliance issues related to human error.
"Business leaders and their brokers know that making the move to smartphones and tablets isn't a quick fix for risk management issues, so they often don't take the leap," Foresight CEO David Fontain said in the report, explaining the mood.
"However, digitization is not only more effective long-term but it also opens up opportunities to improve every other business process touched by workplace safety."
As that adjustment continues, the Insurtech market is set to explode. Market research from Technavio projects that the sector will grow by $33.73 billion by 2025. As that growth materializes, the intuitiveness and gamification of EHS solutions will be a key to their success and usage by the average employee in a sophisticated behavior based safety model, with any luck, such solutions will drive down accidents and fatalities toward the ultimate goal – zero. &
Nina Luckman is a business journalist based in New Orleans, focusing primarily on the workers' compensation industry. Over the last several years, Nina has served as Editor of Louisiana Comp Blog, a news site she started in 2014 under the auspices of a group self-insurance fund. She can be reached at
[email protected]
.