Insistent Collaboration: How Dr. Chang-Jae Shin of Kyobo Life Became an Insurance Hall of Famer by Empowering People
As business leaders strive to manage their talent risks, Dr. Chang-Jae Shin, CEO of Kyobo Life, provides a model for how putting people first can propel profits forward quite naturally.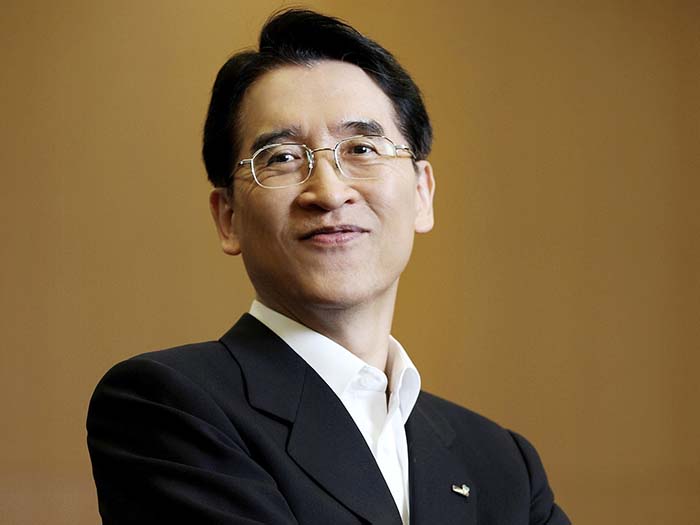 To what lengths will a leader go to effect change in their organization? For employees of South Korean life insurance provider Kyobo Life, CEO Dr. Chang-Jae Shin was willing to go as far as sponsoring simulated on-site funeral exercises — even his own.
Recognized as this year's Insurance Hall of Fame laureate, Dr. Shin has driven change in his organization for 23 years by empathizing with his employees.
"It is more effective to take an emotional approach rather than a rational conversation," Dr. Shin has shared in public interviews. "This will allow employees to voluntarily engage."
When Dr. Shin shifted from his career as an obstetrician and medical professor and took the helm of Kyobo in 2000, Asia was just coming out of a continental financial crisis. And Kyobo Life — the company founded by his late father, Yong Ho Shin — had just recorded a devastating net loss of nearly $200 million (254 billion won).
To steer the company toward a better future, he leaned into the philosophical pillars his father relied upon to establish the company in 1958: When employees are respected as human beings, they can unleash their potential.
It was around these core principles that Dr. Shin introduced his concept of "human-centered stakeholder relationship management," emphasizing the value of seeing all stakeholders — from employees to customers — as human beings first, fostering a holistic connection beyond mere transactional interactions.
"I recall my father, who was not only a businessperson but also an education-focused leader; [he] wished [for] the company's employees to be honest and sincere, self-developing, and cooperating with their colleagues and contributing to society," Dr. Shin said.
"These characteristics have been the guiding principles for cultivating employees and leaders at Kyobo."
Encouraging Employees to Speak Up
Dr. Shin's human-centric approach to managing change was the main reason the International Insurance Society (IIS) named him as its 2023 hall of fame laureate.
"Dr. Shin's commitment to leading with love, affection and respect for all human life based on stakeholder relationship management has established Kyobo as one of Korea's most successful insurers and a pioneer in ESG and sustainability initiatives," said James Vickers, chair of the IIS honors program.
Although his father had laid a foundation of respectful treatment of employees, Dr. Shin clearly saw that to safeguard customer interests and restore Kyobo Life's financial position, a cultural shift was in order. Every member of Kyobo Life would have to bring their best ideas to the table.
Eschewing the strict hierarchical management style that was customary among South Korean corporate leaders for decades, Dr. Shin encouraged greater communication within the organization — at times even quite bluntly.
"Don't come to a meeting if you're not going to speak," a member of his team recalled him saying in response to staff showing up to meetings to merely take notes.
But Shin's strict emphasis on engagement over the past two decades has also come with a modicum of levity: "In an effort to connect with our employees and sales agents, I am a very active participant. You can see me playing the guitar or becoming a chef or even a comedian."
Inviting staff to express their thoughts and opinions can be risky. A member of his team described how Smurf cartoons are prominently displayed on the walls of one meeting room at Kyobo Life's headquarters to encourage naysayers to come forward: "We support Grouchy Smurf," it prominently displays.
Everyone Must Play Their Part
From having to write off $1.8 billion (2.4 trillion won) in assets from its damaged investment portfolio in 2000 to receiving domestic and international accolades for its superior customer service and financial performance, Kyobo Life has come a long way.
Having placed such a strong emphasis on active communication, Dr. Shin's management style stands in stark contrast to the reputation of many South Korean family-controlled corporate structures, known as chaebols. The rigidity of these organizations, according to a member of Dr. Shin's communication team, can often stifle creativity.
"Think of an orchestra," Dr. Shin has said publicly. "If there are no musical notes, [the musicians] will just stare at the conductor."
Executive trainings like staged funerals — including Dr. Shin's — have been key elements of Kyobo Life's exercises in creativity over the years to inspire employees to empathize with the emotional experiences of their customers.
Inspiring his team to imagine how a family feels after losing its breadwinner is just one of the many ways Dr. Shin's work has been said to have ushered in a sense of humanitarianism to South Korea's life insurance sector.
Life insurance should be derived from a "humanitarian" perspective, Dr. Shin mentioned during a speech at the UN for the International Council for Small Business (ICSB), "which urges love, affection and respect for human beings … Life insurance can spare loved ones from anxiety by helping them to prepare for unexpected adversity."
Striking a Balance Between Shareholder and Stakeholder Priorities
With Kyobo Life's employees more in tune with customer needs, the company has dramatically improved its customer service ratings and thereby its profits.
In 2005, the company became the first insurer to be inducted into the Customer Satisfaction Hall of Fame in South Korea. With exhilaration and enormous pride, Kyobo erected a copper monument in the lobby of Kyobo Life's head office to celebrate the achievement.
However, by 2011, the company covered the monument in shame after repeated customer complaints revealed a deterioration in the quality of customer service and a sense of complacency among staff. All employees were asked to work diligently to reduce customer complaints.
In 2013, Kyobo recovered its reputation by receiving high recognition once again, and the company finally unveiled the monument to the public.
Since then, the life insurer has maintained a stable net income and increased its capital. Kyobo Life's financial position has improved to the point that it was able to invest $6.8 billion (8.6744 trillion won) in socially responsible investments in 2022 and issue sustainability subordinated capital securities amounting to $500 million, according to the IIS.
Global credit rating agencies have also recognized the company's financial performance; Moody's has assigned the insurer an "A1" rating for the eighth consecutive year, and Fitch Ratings has given it an "A+" rating for the tenth consecutive year.
But Dr. Shin has openly stated that seeking profit has never been his primary objective. Instead, aligning Kyobo Life's employees with the company's vision, mission and core values has been his priority since day one.
Tapping into his medical background, Dr. Shin often relates managing a business to oxygen's function in the body: "Human beings cannot live without oxygen, but we do not live for oxygen. Likewise, a company cannot exist without profit. However, a company should not exist merely for profit."
In response to a question about how today's leaders often grapple with priorities — shareholder expectations over socially driven initiatives — Dr. Shin shared how he has developed the confidence to put stakeholders first.
"Often, [I've] seen many companies pursue short-term profit rather than winning the hearts of the employees and their customers." However, he added, "when a company considers the value of all stakeholders — namely, employees and customers — they can deliver superior financial performance.
"And only through this approach can a company create a virtuous circle where profit is maximized and all stakeholders, including shareholders, can prosper."
Advice for the Next Generation of Insurance Talent
Recognizing the volatility, uncertainty, complexity and ambiguity that characterize today's economic landscape, Dr. Shin has focused on developing what he calls "VUCA leadership." Under this model, he encourages the next generation of insurance talent to focus on sharpening its ability to bring clarity to complex situations.
"The current business environment surrounding us seems to be well represented by the term 'perma-crisis,' " he said, urging future leaders to prepare for various scenarios, both domestic and international, and respond promptly according to the actual circumstances.
Like many leaders striving to inspire their teams to adopt an innovative mindset as part of their modus operandi, he said innovation in the insurance arena is impossible without truly understanding what customers want.
And having the ability to acquire and utilize data is fundamental to that process.
"The era has come where companies that use data well will win," he said.
Although thorough and purposeful data analysis is becoming increasingly challenging, he acknowledged, "the value that can be obtained from it is enormously significant."
As Kyobo Life internally pursues new insurance frontiers and strategically invests in venture capital projects, Dr. Shin has also encouraged the organization's rising leaders to seek opportunities to collaborate with external entities.
"To keep up with competition against big tech and other digital companies, we need to collaborate with external partners and solve insurance business problems while validating the potential of new businesses," he said.
Dr. Shin will be among the honorees recognized at this November's Global Insurance Forum in Singapore, where sessions will be geared toward generating discussions on how to accelerate the value of insurance. &
Raquel Moreno is a staff writer with Risk & Insurance. She can be reached at
[email protected]
.