From Shortage to Surplus: The Pressing Need to Reinforce the Workers' Comp Talent Pipeline
A claims talent shortage has many in the industry rethinking recruitment and retention.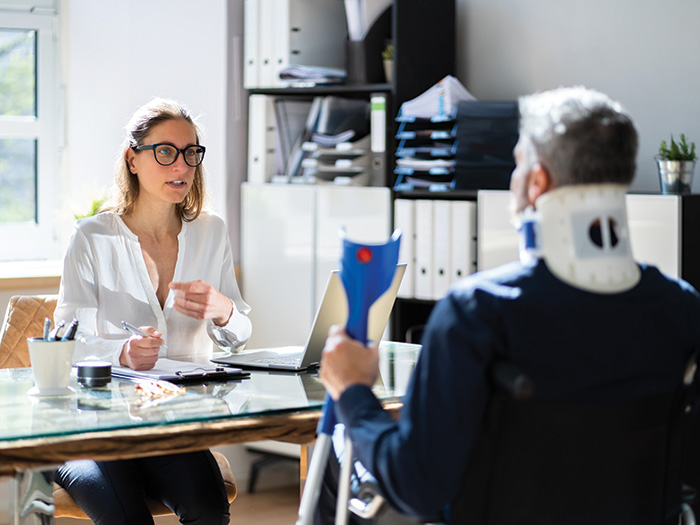 When Craig Deneau was a young man starting out as a claims adjuster, he remembers, he traveled to a weeks-long company training session.
He got to know a whole class of adjusters and explore a new city — all while learning the critical skills he'd need to be successful at his job. The program was fun. It prepared him for a successful decades-long career in adjusting and related insurance industry fields. Now, as vice president of payer partnerships at FIGUR8, he looks back on his time in the program fondly. "You were just immersed with learning the business," he recalls.
The program didn't just introduce Deneau to the industry. It also "instilled a sense of loyalty in the company," he said. They invested in him, so he wanted to stay with them — a trait more and more claims organizations are trying to cultivate in their workers as talent shortages have rocked the industry in recent years.
Since COVID, workers' comp has struggled to attract and retain claims adjusters. Claims organizations are trying new recruitment and training programs, introducing new technologies and employing various other strategies to close this talent gap.
Where Have All the Good Adjusters Gone?
Workers' compensation has known it would face a talent shortage for a number of years now. The industry skews older, so it is facing increased strain from the uptick in baby boomer retirements in recent years.
Exacerbating the issue further: Some claims organizations laid off workers during the economic uncertainty in the early days of the pandemic. "Once COVID hit the insurance industry, there was a large decrease in the amount of workers' compensation claims and liability claims," said Jeffrey Sickles, chief claims officer with Broadspire. "Businesses were closed. Vehicle use was reduced, and some claim organizations at that point had reduced their staff."
Months later, as the pandemic stabilized and vaccines rolled out, those same companies were hit with the Great Resignation, a massive reshuffling as employees sought new jobs and better benefits, which created an adjuster shortage with ongoing ripple effects. "It's driving up operational costs; it's driving up salaries," explained Jeff Gurtcheff, vice president of enterprise comp operations with CorVel.
"We've got to start focusing on really building our own talent in this industry … We need to stop trading talent among companies." — Jeffrey Sickles, chief claims officer, Broadspire
"Salaries exploded because of the demand," Sickles added. "If you have an empty desk, there are ripple effects. Injured workers are not getting phone calls returned in a timely manner, and the overall claims process is slowed down. An empty adjuster desk is a large risk to any company — whether it's a TPA or an insurance company."
A Refreshed Industry Image
The only way to address the increased operational and claims costs caused by a lack of adjusters is to close the talent gap by investing in younger generations of workers. "We've got to start focusing on really building our own talent in this industry," Sickles said. "We need to stop trading talent among companies. Broadspire recognized this as early as January of 2022 and started our own internal early career program. The success has been fantastic and even exceeded our own expectations."
That starts with convincing young people they want jobs in workers' comp. Right now, the perception is that "it's not the sexiest market for young people to get into," Deneau said. He should know: When he suggested one of his sons seek out a career in claims adjusting, "the look on his face — it was quite instructive."
Don't despair for the industry just yet, however. Just because young people think they don't want to work as adjusters doesn't mean that they won't consider careers in the industry. Most people working in workers' comp today didn't know they'd end up in this field when they started college. Young workers who are seeking careers where they can make a difference could really flock to workers' comp if the industry emphasized the importance of injured worker advocacy in an adjuster's responsibilities.
Others are finding new talent through training programs. CorVel, Broadspire and others are recreating training programs like the one Deneau went through decades ago. Those programs had "evaporated over the last 30-some years," Gurtcheff said, as companies tried to cut costs (it's expensive to fly people to training centers across the country!). But now, more and more insurance companies and claims organizations are recognizing the value.
Some are even creating interactive digital versions of those programs for potential talent who prefer to engage in remote training. Tools like Zoom and Microsoft Teams have made it easy to conduct engaging virtual training. "You can ask questions. You can see facial expressions, and you can feel like somebody actually is training you," Sickles said.
Using Technology to Prioritize Advocacy
Once the industry attracts new talent, it needs to make sure that the day-to-day tasks of a claims adjuster align with the advocacy-based model it's pitching to employees. If they're caught up in administrative tasks, they won't feel like they play a critical role in an injured worker's recovery process.
Fortunately, technology is stepping in to reduce some of these tasks. Automated systems are filling in forms, and text messages are creating new opportunities for quickly communicating with injured workers.
Sitting on the expo hall floor at the 2023 National Comp conference, Deneau gestures at the various booths. The view includes a plethora of different companies pitching AI solutions for the industry. "Three, four or five years ago, you would never see any AI companies," he said. "Now, they're starting to proliferate."
As in other industries, AI promises to disrupt workers' compensation in ways that reduce workloads. That could mean claims adjusters use digital tools to automate some of the more tedious administrative parts of claims.
"AI is creating a summary for that adjuster as to what was contained within those four to seven pages of a typical medical report," Gurtcheff said. "It's extracting for the adjuster those key data elements that were found within those documents and exposing that information to them relative to what's already in their file."
"If they're interviewing in different markets, and one is just head and shoulders above another one in terms of technology … then they're probably going to pick that over something that seems old-school." — Craig Deneau, vice president of payer partnerships, FIGUR8
By reducing administrative workloads, AI can give claims adjusters more time to spend with injured workers. That's important from both an advocacy standpoint and because it helps adjusters avoid burnout, which is commonly cited as a reason why talent is leaving the industry.
Many claims organizations have already taken action to help adjusters avoid burnout. The industry has largely pivoted to 100% remote work since the pandemic started — a benefit adjusters say they appreciate — and the aforementioned technologies have stepped in to reduce how much work is involved in an individual claim.
Beyond reducing administrative tasks, these tools can help facilitate communication between the adjuster and the injured workers — a critical part of building a rapport during the claims process: "You can send a very simple SMS message to an injured worker after a doctor's appointment and get some very brief information that you need to help manage that claim and the injured worker's experience," Sickles said.
A technology-focused workplace appeals to younger, tech-savvy workers — a key differentiator for many Gen Zers and millennials on the job market. Eighty-eight percent of Generation Z believes AI will improve their jobs, Forbes reported. Young workers want digital tools.
"If they're interviewing in different organizations or different markets, and one is just head and shoulders above the other one in terms of technology support, then probably, nine times out of 10, they're going to pick that over something that seems old-school," Deneau said. &
Courtney DuChene is a freelance journalist based in Philadelphia. She can be reached at
[email protected]
.