Ford Hacks Its Own SUVs to Reduce the Risk of COVID-19 for the NYPD
Necessity is the mother of all invention. That's how the NYPD inspired Ford to build a self-sanitizing mode for police SUVs.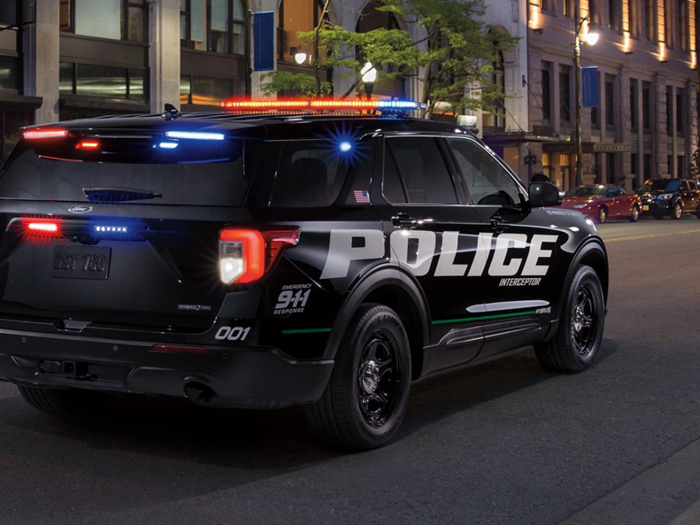 As organizations carefully reopen amid an ongoing pandemic, employers are exploring technologies designed to make workplaces safer. Those that have been on the frontlines with little time to adapt, though, have largely had to rely on distancing, masks and sanitizing products as their first line of defense.
So when sanitizing products suddenly ran scarce, New York City was pressed to find new ways of disinfecting police vehicle interiors in order to keep officers safer. It turned to Ford for advice, Fast Company reports.
What the NYPD sought were alternative product options for sterilizing its shared Interceptor SUVs across shifts.
An engineer at Ford pondered the dilemma and realized that chemical disinfectants wouldn't be necessary if enough heat could be applied. High-horsepower police SUVs generate a lot of heat. The coronavirus can't survive high temps for long.
In barely more than a month, Ford engineers had developed a software patch that would allow the Interceptors' climate control system to self-sterilize in 15 minutes with no contact, no manual labor involved.
How Does a Software Patch Kill a Virus?
Studies have shown that even moderately hot temperatures can kill the coronavirus. With help from Ohio State University, Ford confirmed that 15 minutes at 132.8 degrees would reduce viral concentrations by more than 99% on surfaces and in the air.
The average car heater is already capable of producing temperatures up to 130 degrees. So the Ford engineers' patch created only a subtle deviation from normal operation.
Subtle—but highly effective.
Ford's sterilizing mode patch needs to be installed by a licensed dealer. It's activated by a prompt from either the steering wheel or from a connected laptop. The prompt triggers the engine to idle at highway-cruising speed. The engine's heat is then directed through the heater.
Normal safety protocols would prevent the interior from getting too hot, but engineers overrode that protocol for the sterilization process.
Bill Gubing, Ford's director of passenger vehicles and SUVs, explained to Fast Company, "We've seen north of 180, 185 degrees. So that's substantially more than we'd [normally] operate."
Once the sterilizing mode is operating, the vehicle's hazard lights flash in warning. Brake lights engage to signal the end of the 15-minute process.
Will This Work on Other Vehicles? Yes, But Not Yet
The software patch is available for 2013-2019 Interceptor Utility vehicles. It is currently being installed in NYPD's fleet. It's also being offered free to police officers nationwide through dealerships.
Large departments with their own service centers can install it using diagnostic service tools. Smaller departments should consult their local Ford dealership to have the software installed.
Gubing admits that the solution is more or less a hack and isn't ready for safe and effective application outside the public safety sphere.
That said, Ford is already exploring the possibility of more widespread uses.
"As we look forward, we'll start to figure out what's next with [the feature], based upon the reaction," Gubing said. He did confirm that even small cars could potentially be retrofitted with the same feature.
"Most internal combustion engines have that general capacity," he said.
Clearly, this technology could be a boon to workplace safety across sectors, from other first-responder vehicles to delivery trucks and rideshare vehicles.
Expect More Technology to Emerge in the Fight Against COVID-19
A significant amount of research is underway to adapt other existing technologies and develop new ones – especially in the areas of sensor and camera technology
Michelle Kerr is Workers' Compensation Editor and National Conference Chair for Risk & Insurance. She can be reached at
[email protected]
.