Starkweather & Shepley Broker Jessica Thayer Recognized as a 2023 Finance Power Broker
Jessica Thayer, SVP & Financial Institutions Practice Leader, Starkweather & Shepley
Responsive, proactive and knowledgeable are three words that were repeated by clients when describing Jessica Thayer.
"Overcommunicate, pick up the phone, return calls and reply to email," is how Thayer outlines her approach to client service. These tactics may seem simplistic, but they hold the weight of gold for her clients.
Along with responding to matters as they arise, she keeps her eye on changes in the insurance market and regulatory developments that may affect the finance community.
When two custodians announced new specialized insurance requirements for all advisors planning to remain on their platforms, the added conditions meant potentially significant additional premiums for many of her clients.
By participating in the custodians' working groups, Thayer added insight on what insurance applied to their concerns and provided premium intelligence, benchmarking and statistics from her firm's book of over 2,500 advisory clients. She then collaborated with several insurers to create products that addressed the new requirements so that advisors did not have to obtain separate policies and could instead access a policy addressing all necessary coverages under one aggregate limit.
Over her 20 years of working with financial institutions, Thayer has developed a reputation for the depth of her industry knowledge. "She's risen to every challenge," said Tim Buckley, CFO of 42 North Private Bank. "I totally rely on her as a subject matter expert."
2023 Finance Power Broker Winners and Finalists
---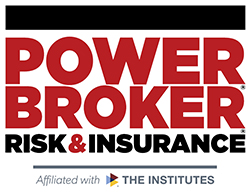 What is a Power Broker?
A Risk & Insurance Power Broker® is an individual who stands out among their peers for the exceptional client work they have delivered over the past year. While brokers play many key roles in the insurance industry and risk profession, a Power Broker® award recognizes problem solving, customer service and industry knowledge.
Our goal is to broadly recognize and promote outstanding risk management and customer service among the brokerage community.
Who selects the winners?
Power Brokers are selected by risk managers based on the strength of the testimonials they provide to a team of 15 Risk & Insurance editors and writers.