Risk Strategies Broker Margaret Bussiere Recognized as a 2022 Fine Arts Power Broker
Margaret Bussiere, Vice President, Team Lead-Fine Art, Risk Strategies
When the Cartin Collection wanted to maintain its insurance on several works out on loan to the Paris Museum of Modern Art, Margaret Bussiere stepped in to make sure the policy was a good fit.
The Cartin Collection wanted to maintain its insurance because if a claim arose, it didn't want to rely on the borrowing institution's policy to provide sufficient coverage.
The collection is very prestigious. Bussiere worked her carrier connections and found someone who in a single afternoon wrote the appropriate contract language so the existing coverage could stay in place.
"She understands the unique needs of a private collection such as ours," Steve Holmes, curator for the Cartin Collection said. "This loan was really important, and it would not have happened had she not been able to find a workaround."
When the basement at another client's gallery flooded, Bussiere "held their hand" through the claims process and subsequent renewal.
Her dedication to her clients is borne out of a love for art and a desire to see it protected. Before beginning her brokerage career, she earned a masters degree in art history and worked in galleries and museums.
"She worked really hard to try to ensure that our policy is always the best fit for us, and she takes a lot of care in making her recommendations to ensure that we're getting the best service and the best coverage," said Erin Schuppert of the Menconi + Schoelkopf gallery.
"I always know that I can come to her and she would be really happy to help."
2022 Fine Arts Power Broker Winners and Finalists 
---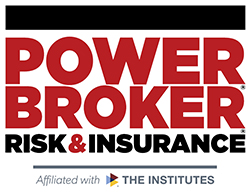 What is a Power Broker? 
A Risk & Insurance Power Broker® is an individual who stands out among their peers for the exceptional client work they delivered over the past year. While brokers play many key roles in the insurance industry and risk profession, a Power Broker® award recognizes problem solving, customer service and industry knowledge. 
Our goal is to broadly recognize and promote outstanding risk management and customer service among the brokerage community. 
Who selects the winners? 
Power Brokers are selected by risk managers based on the strength of the testimonials they provide to a team of 15 Risk & Insurance editors and writers.