McGriff Broker Rob Logan Recognized at a 2023 Utilities Power Broker
Rob Logan, Senior Vice President, McGriff
"We moved our overall relationship responsibility on our new account to Rob [Logan] at McGriff," said one insurance manager. "He provided excellent service for 11 lines of coverage.
During his first year, Rob was involved hands-on with each renewal. Through a fresh, creative approach to our renewals, we realized $2.4 million savings as compared to prior year premiums," which equated to more than 10%.
"We considered that a huge accomplishment during challenging market conditions. Rob's team could not have provided better service in their first year on our account, validating our choice to change brokers." Another client said.
"Rob was instrumental in securing a wide variety of coverages for newly acquired assets. Along with his colleagues, Rob provided clear options with recommendations for insurance types, coverages and limits. He was instrumental in assisting this small start-up company with limited insurance expertise to obtain critical insurance necessary for lenders and equity providers."
The risk and compliance officer at another client credited Logan with saving the company "several hundred thousand dollars on premiums in 2022 as a result of his detailed review of an appraisal performed for our insurance provider for one of our facilities. The mistakes he identified caused the plant to be overvalued. Because our premium is based on asset value. the correction of the mistakes, once reported to the insurance provider and implemented, resulted in a much lower premium."
2023 Utilities Power Broker Winners
---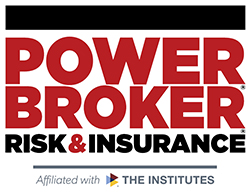 What is a Power Broker?
A Risk & Insurance Power Broker® is an individual who stands out among their peers for the exceptional client work they have delivered over the past year. While brokers play many key roles in the insurance industry and risk profession, a Power Broker® award recognizes problem solving, customer service and industry knowledge.
Our goal is to broadly recognize and promote outstanding risk management and customer service among the brokerage community.
Who selects the winners?
Power Brokers are selected by risk managers based on the strength of the testimonials they provide to a team of 15 Risk & Insurance editors and writers.