Marsh Broker Tina Schmitz Recognized as a 2023 Workers' Comp Power Broker
Tina Schmitz, Senior Claims Advisor, Engagement Lead, Marsh
Creative solutions, industry expertise and high-quality customer service — those are the qualities that earn folks a Power Broker award. Tina Schmitz possesses each and every one of them.
"She's just that person I call for information," one client said. "If I don't fully understand something, she's my main go-to."
Let's start with creative solutions. A large retail grocer realized it had shifting insurance needs as the company grew. Schmitz worked with its carrier to implement a solution for the client's OSHA recordable needs, and she helped the company partner with a TPA to make the claims management process more efficient.
"She sees herself as part of our team," a risk analyst for the client said. "We have a pretty astute team, but what she provides is the legal framework for the more complex decisions of how we're going to set something up."
The program is on track to garner more than $3 million in savings in its first year. "She's probably the best [broker] we've ever worked with," the client continued. "She helped us put a lot of structure around our program."
When it comes to Schmitz's knowledge of the industry and her customer service, clients said she was top-notch there as well. When one reference became responsible for their company's insurance needs, Schmitz walked the client through the workers' compensation industry and helped them understand what went into the claims process.
"It was quite intimidating," the reference said. "I had everything to learn. Tina has been the most incredible resource for me."
2023 Workers' Comp Power Broker Winners and Finalists
---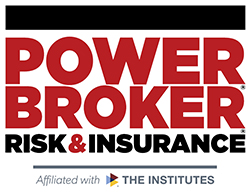 What is a Power Broker?
A Risk & Insurance Power Broker® is an individual who stands out among their peers for the exceptional client work they have delivered over the past year. While brokers play many key roles in the insurance industry and risk profession, a Power Broker® award recognizes problem solving, customer service and industry knowledge.
Our goal is to broadly recognize and promote outstanding risk management and customer service among the brokerage community.
Who selects the winners?
Power Brokers are selected by risk managers based on the strength of the testimonials they provide to a team of 15 Risk & Insurance editors and writers.