Marsh Broker Antony Joyce Recognized as a 2023 Utilities Power Broker
Antony Joyce, Managing Director, Marsh
"Antony [Joyce] has stood out from his peers in terms of being able to bring insurance markets to complex renewable energy projects to manage novel risks, both in size and on a timely basis," said the managing director at one client company.
"In 2022, he was able to help me in placing a unique risk that others
had said would not work. Furthermore, aside from that specific transaction, his counsel and insight into a rapidly changing industry has been invaluable."
"With Antony's careful and thoughtful approach to markets. my company benefits from improving rate and expanding depth of coverage," said one director of risk management. "We went from having a single lead market to five lead markets and half-dozen excess relationships that we can build upon for future deals." "He can handle complexity," the director added.
"The complexity of due diligence multiplies as the number of assets inside a single program goes up. Antony pulled off a single program covering more than 90 assets. As a result, a significant amount of risk was transferred off my company's balance sheet. That was a material accomplishment. He can also negotiate. We have had experience with Antony dealing with 18 revisions of a policy draft. He did not give up until things were well done."
The director continued, "My company benefited from the position Antony took by holding a market accountable. That is the difference between a bindable quote slipping away and closing a deal on schedule."
2023 Utilities Power Broker Winners
---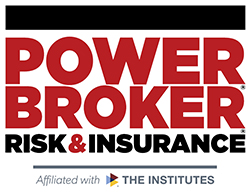 What is a Power Broker?
A Risk & Insurance Power Broker® is an individual who stands out among their peers for the exceptional client work they have delivered over the past year. While brokers play many key roles in the insurance industry and risk profession, a Power Broker® award recognizes problem solving, customer service and industry knowledge.
Our goal is to broadly recognize and promote outstanding risk management and customer service among the brokerage community.
Who selects the winners?
Power Brokers are selected by risk managers based on the strength of the testimonials they provide to a team of 15 Risk & Insurance editors and writers.