HUB International Broker Stephanie Cliff Recognized as a 2023 Construction Power Broker
Stephanie Cliff, Senior Vice President, HUB International
The construction market is tough at the best of times. In Oklahoma, home to violent winds and hailstorms, things can be even tougher.
"Every year, it seems to get more and more difficult to place coverage," said Cindy Johnson, Director of Finance & Investor Relations for the American Residential Group, a Tulsa-based developer of multifamily homes. And for one large ARG project gearing up in 2022, things got tougher still.
The project was funded under HUD's 221(d)(4) program, which insures lenders against losses on default mortgages but requires builder's risk coverage bound at loan closing. The project's start date was pushed back — not an insurmountable problem in itself — but then one of the carriers pulled out of the market mere hours before the deal was scheduled to close, leaving the group with a sudden and unexpected shortfall.
"You have to have the coverage in place when you close," Johnson explained. "I think Stephanie had two or three days to find replacement coverage."
Cliff met this challenge by tapping into her broad network of contacts, demonstrating the site security measures her client had in place (which had been beefed up with her guidance), providing evidence of the general contractor's experience and pointing to a long relationship with the developer.
"Not only did Stephanie switch the coverage, but she did so at a cost savings to the project," Johnson said. What's more, Johnson added, "she's extremely knowledgeable … she almost functions as our risk management consultant, not just our insurance broker."
2023 Construction Power Broker Winners and Finalists
---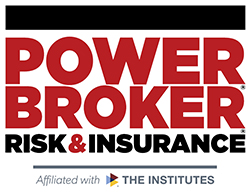 What is a Power Broker?
A Risk & Insurance Power Broker® is an individual who stands out among their peers for the exceptional client work they have delivered over the past year. While brokers play many key roles in the insurance industry and risk profession, a Power Broker® award recognizes problem solving, customer service and industry knowledge.
Our goal is to broadly recognize and promote outstanding risk management and customer service among the brokerage community.
Who selects the winners?
Power Brokers are selected by risk managers based on the strength of the testimonials they provide to a team of 15 Risk & Insurance editors and writers.