Gallagher Broker Daniel R'bibo Recognized as a 2022 Entertainment Power Broker
Daniel R'bibo, Area Senior Vice President, Gallagher
It is easy to forget just how much is required for a stellar production to take off. Not only does broker Daniel R'bibo understand this; he revels in it.
This past year, one of R'bibo's clients, Black Label Media, was producing a period film requiring the display and use of aircrafts from the time of the Korean War. R'bibo had to research the logistics of these plane uses, including actor and stunt training and overall time spent flying the planes, to present enough information to the carrier so that the production would receive maximum coverage.
In the end, R'bibo did just that: "We had to figure out how to minimize those premiums, yet make sure we were covered, especially with training pilots and actors in more current planes, and then [providing] training to them in these older planes," said Bruce Franklin, head of production at Black Label Media.
The production was able to engage in all of the preparation necessary for the shoot, and R'bibo streamlined the process of insuring each plane with the lowest premium possible, according to his Power Broker application.
What makes R'bibo so invaluable to his clients is his deep understanding of what entertainment projects entail. "We can intelligently talk about stunts or other logistics in the physical production space that require special attention," a client said. R'bibo will even read the scripts of the projects he is working to insure.
2022 Entertainment Power Broker Winners and Finalists
---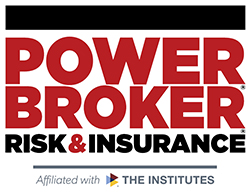 What is a Power Broker?
A Risk & Insurance Power Broker® is an individual who stands out among their peers for the exceptional client work they delivered over the past year. While brokers play many key roles in the insurance industry and risk profession, a Power Broker® award recognizes problem solving, customer service and industry knowledge.
Our goal is to broadly recognize and promote outstanding risk management and customer service among the brokerage community.
Who selects the winners?
Power Brokers are selected by risk managers based on the strength of the testimonials they provide to a team of 15 Risk & Insurance editors and writers.